I am back from my short, yet very sweet getaway to Punta Cana in the Dominican Republic. This was my first time in the Dominican Republic and I already can't wait to go back to explore the other parts of the DR. Such as Santo Domingo!
This trip was booked last minute using the travel site cheapcaribbean.com. I've booked several vacations with them, so I knew exactly where to go when looking for flight and accommodations on such a short notice.
I took a very early flight Saturday morning, which got us into the DR in the late afternoon.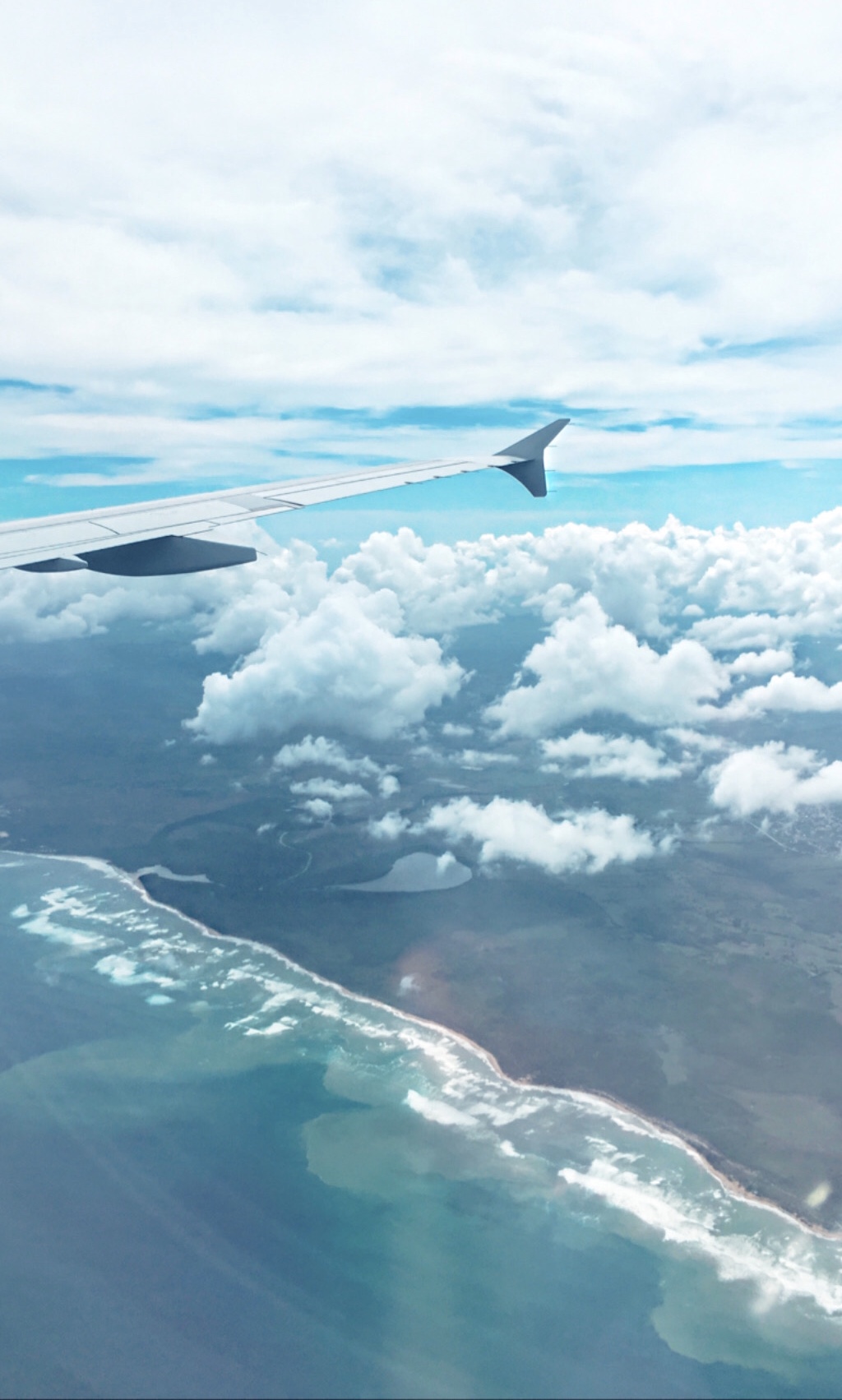 As a part of our booking, cheapcaribbean.com bundled together round transport to and from the airport. The transportation company they use is called Amstar. One of the most reliable and reputable companies in the country. We've taken them several times before and never endured any hiccups during our vacations.
Upon our arrival to the Now Onyx Punta Cana Resort in Uvero Alto. Which is about a 30 minute drive from the international airport. Hotel staff greeted us with a chilled cocktail and hot towels to get our 3 night, 4 day vacation started!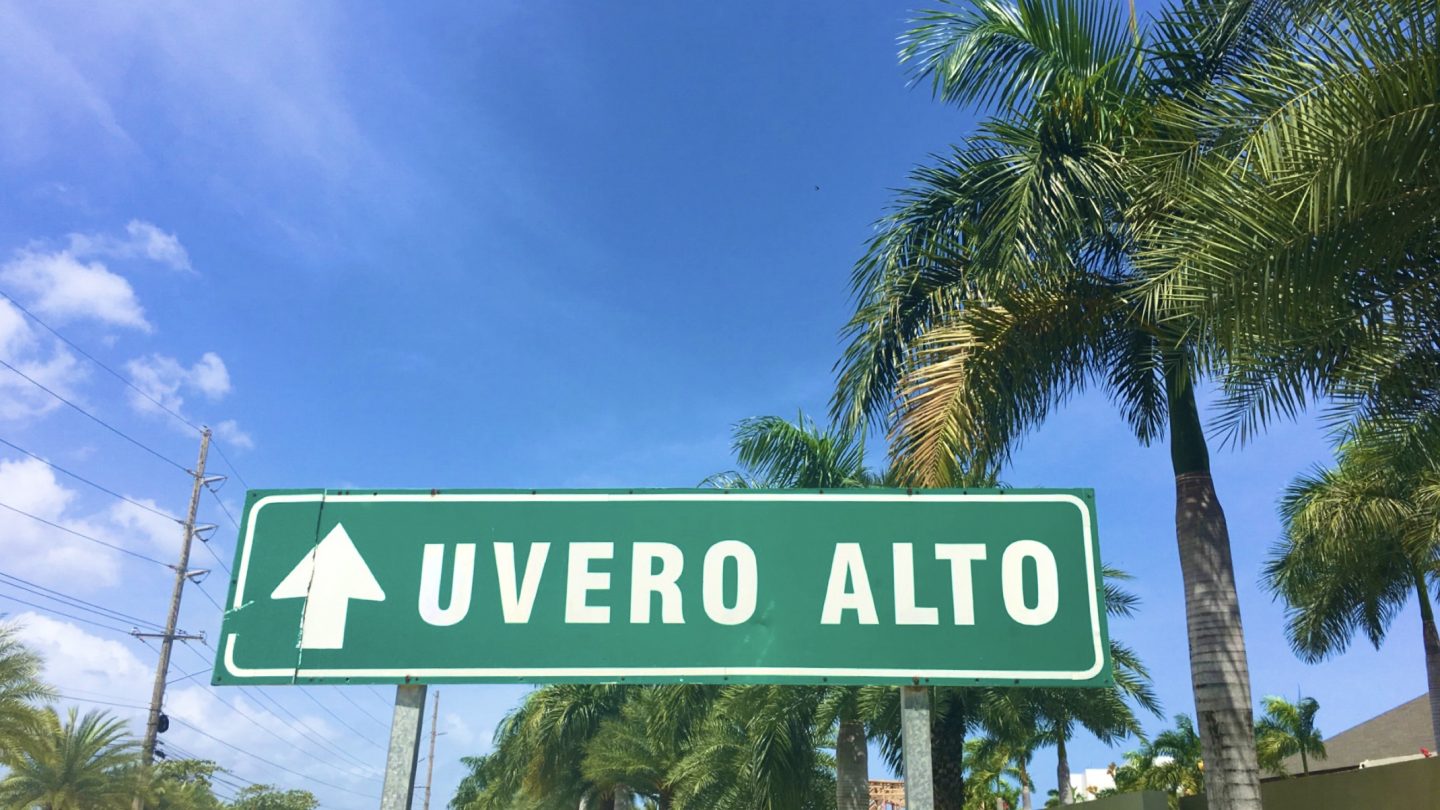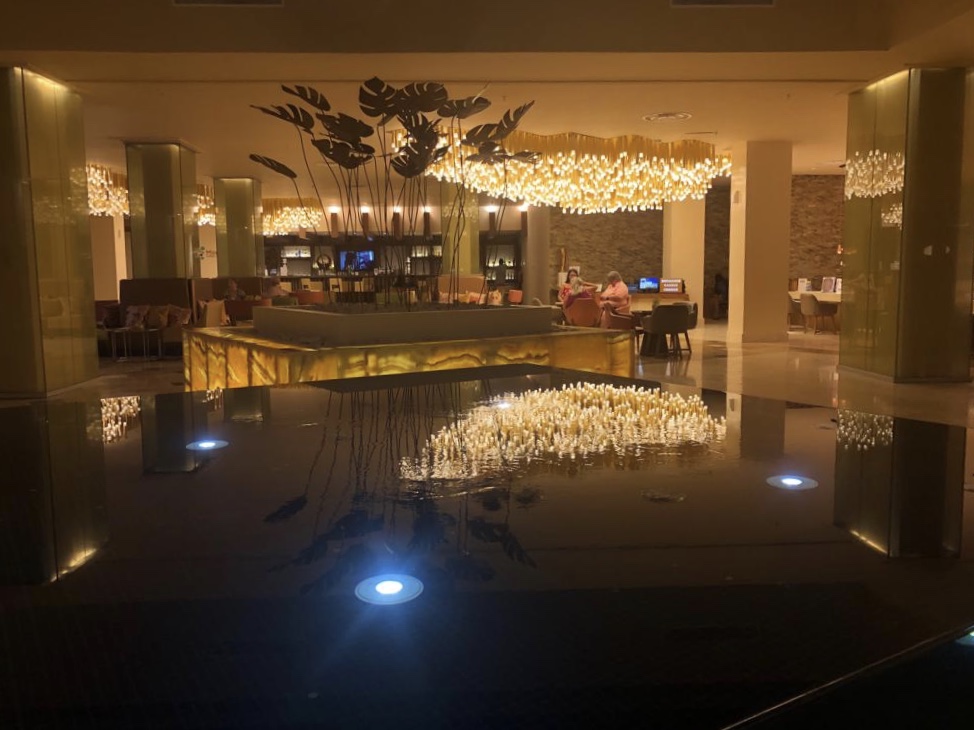 The resort was kind enough to upgrade my friends and I to the preferred suites, which was the closest building to the beach side.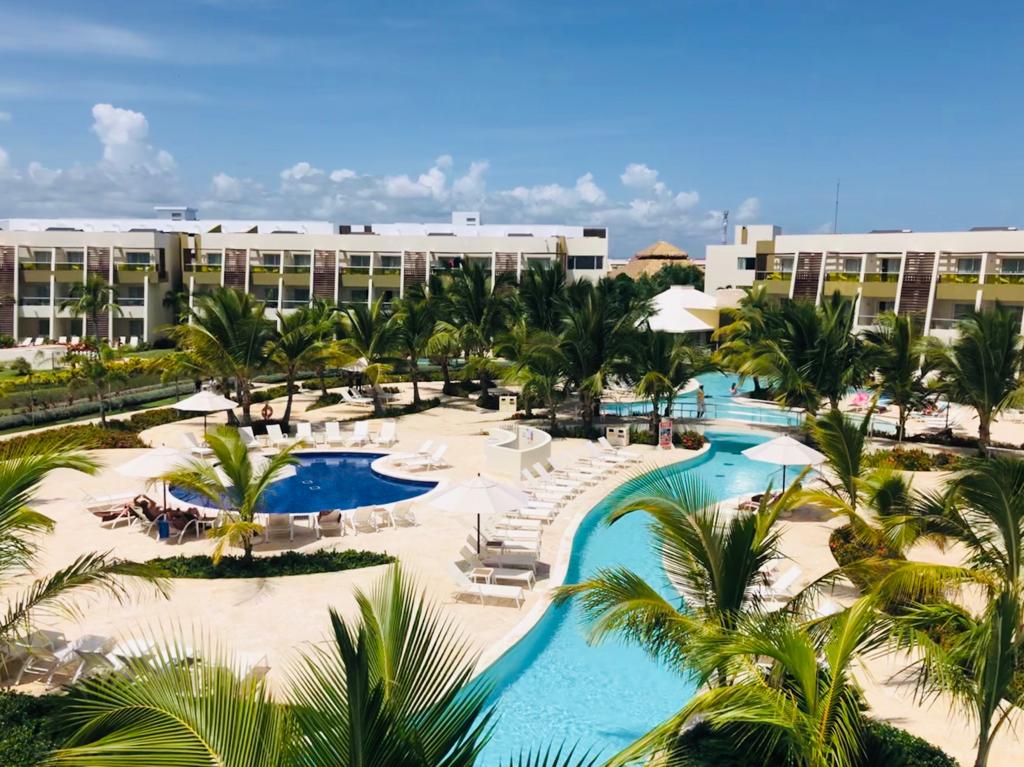 We wasted no time in checking out their dining and drink options. First up was the Barefoot Grill. An outdoor dining experience that served up primarily grilled foods.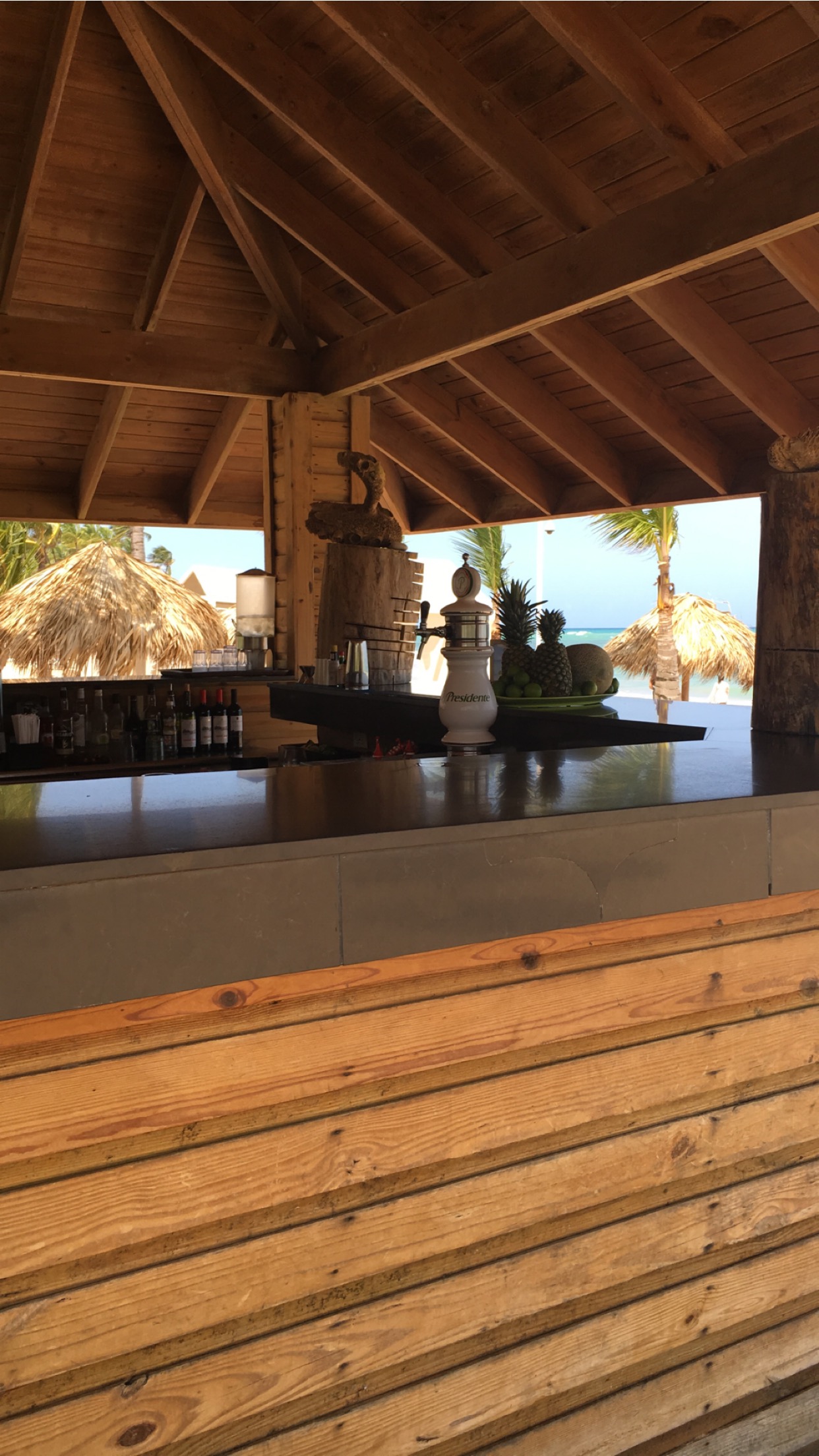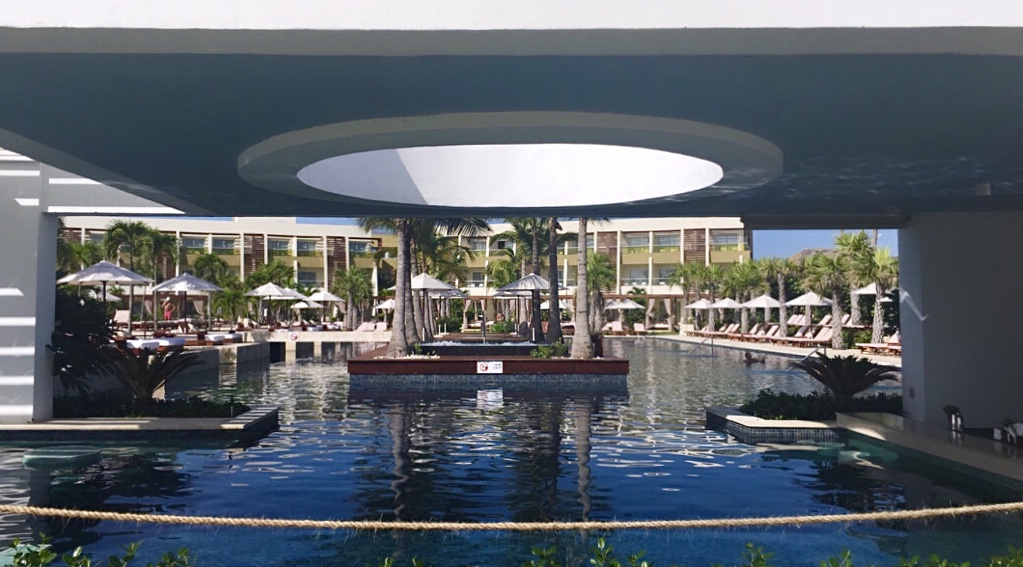 The pools at Now Onyx close at around 7 pm daily. So we had just under 2 hours in the pool on our first day, but loved every minute of it!
Before heading back to our rooms to get ready for the night. We booked our excursions for the following days, right from the resort lobby.
It might just be me, but when I'm on vacation. I have an increased appetite. So after heading back to our rooms from enjoying the pool, it seemed fitting to me that I get room service for while I get ready to head to dinner (lol) and a bar later that night.
Now Onyx provides 4 menus for their room service. Breakfast, Lunch, Dinner and Late Night.
I ordered their chicken quesadilla and nachos. *Not pictured here because I was starving lol.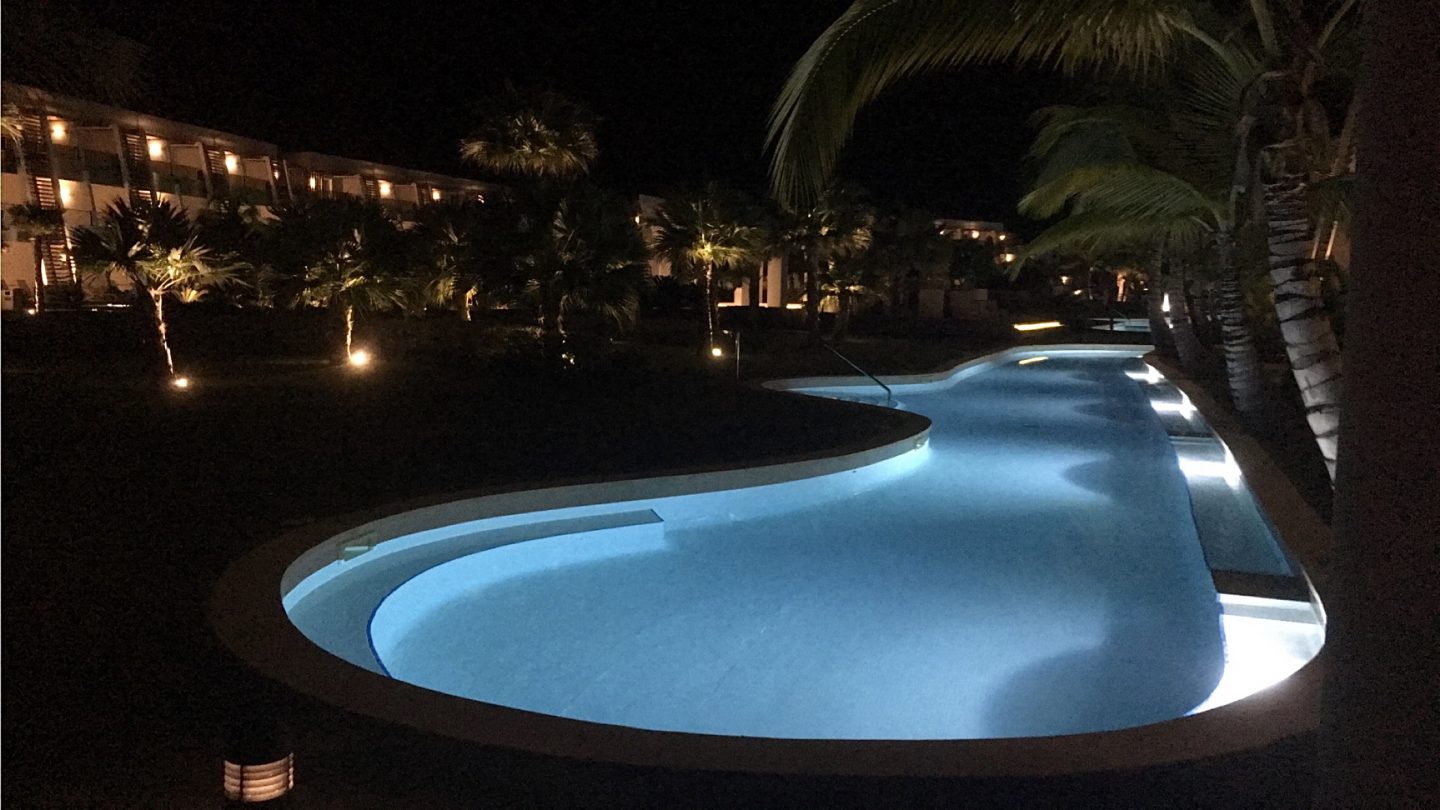 Our dinner reservations were at Spumante, an Italian restaurant located in the neighbouring resort, Breathless Punta Cana Resort and Spa. Golf carts are the means of transportation to and from resorts and are simply a call away.
Dinner was impeccable! I ordered their chicken penne in a spicy arrabbiata sauce.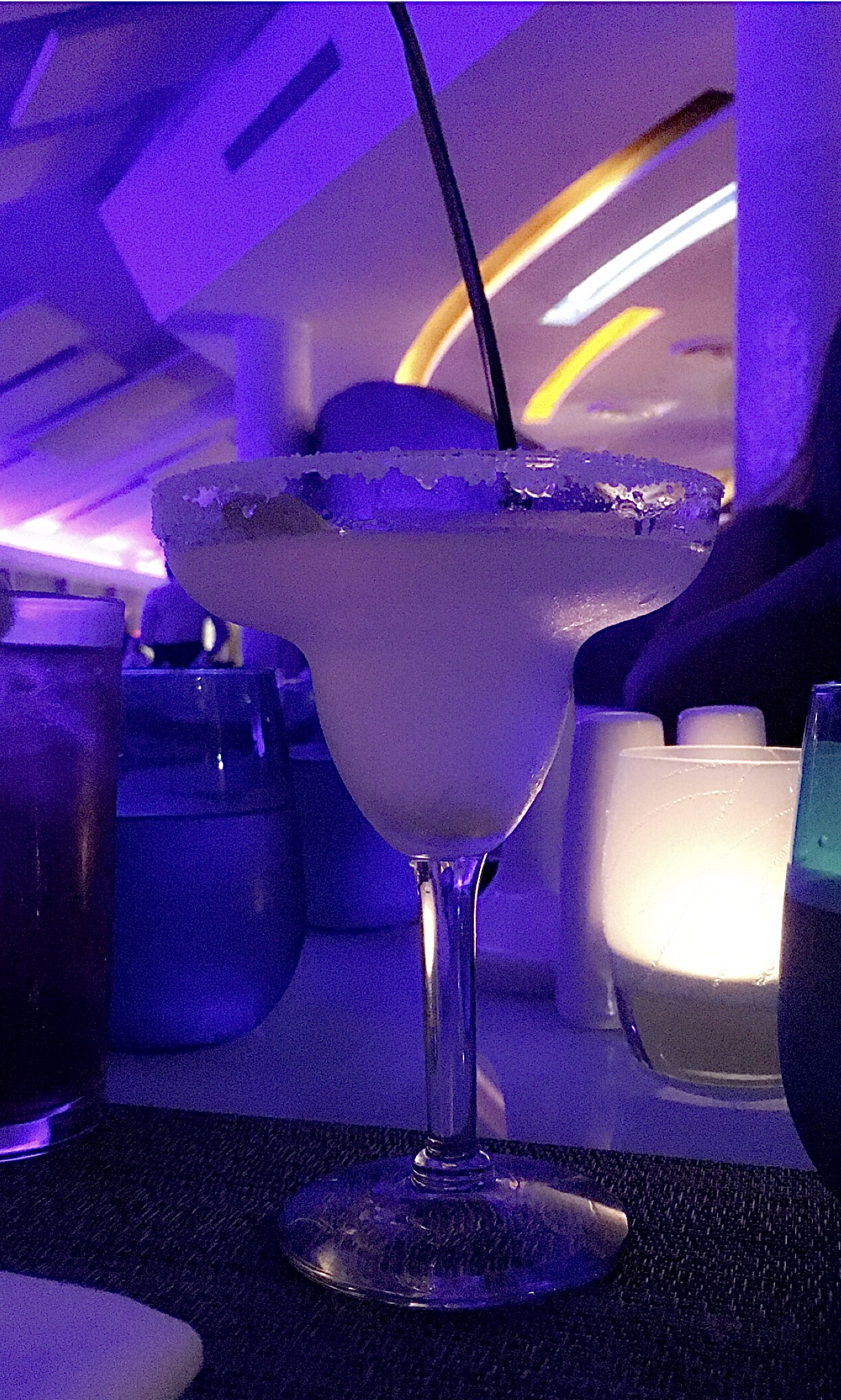 Granted Now Onyx isn't an adult only resort, it does have adult only areas, which are accessible to Preferred Guests. We had heard that their sister property Breathless Punta Cana Resort had amazing nightlife, so headed over for the remainder of the night.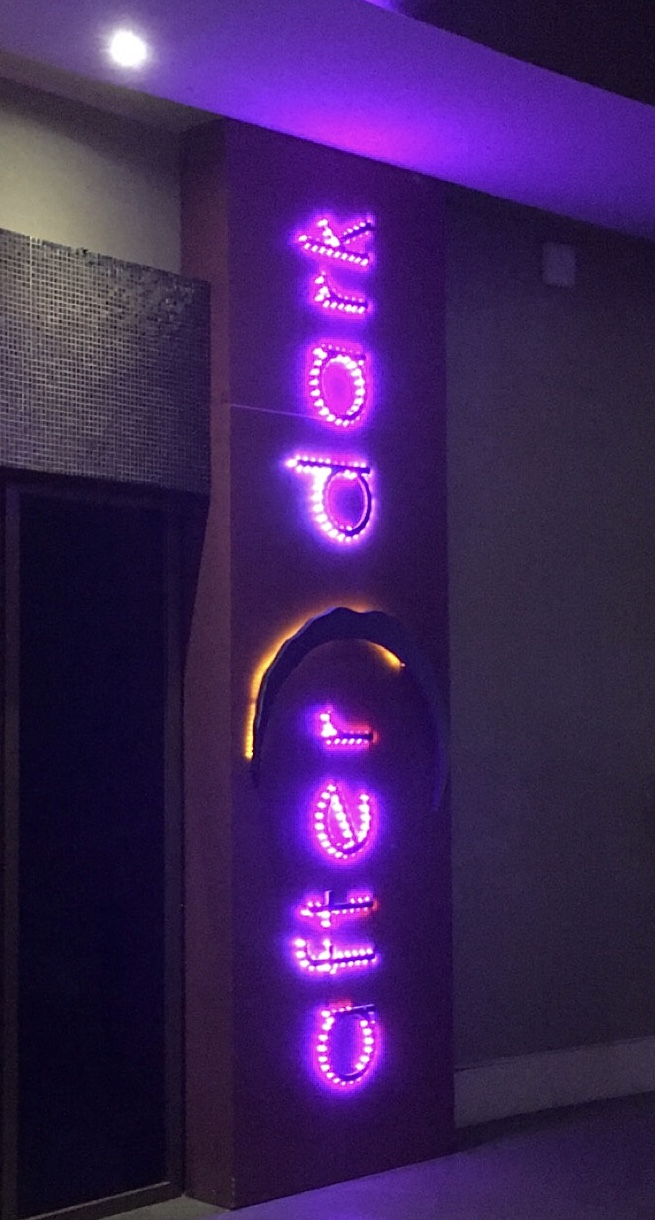 One point that I cannot go without mentioning is that when you stay at the Now Onyx Resort, you gain access to nearby resorts as a part of their Sip, Savor and See program. Guests have access to all bars, pools, amenities and restaurants at the specified sister/nearby properties. Restaurants are however only accessible for dinner and require reservations.
The next morning, I was determined to be up at 5:30 am to catch the sunrise but because of the early start we had the day before, I couldn't get up until 7:30 am.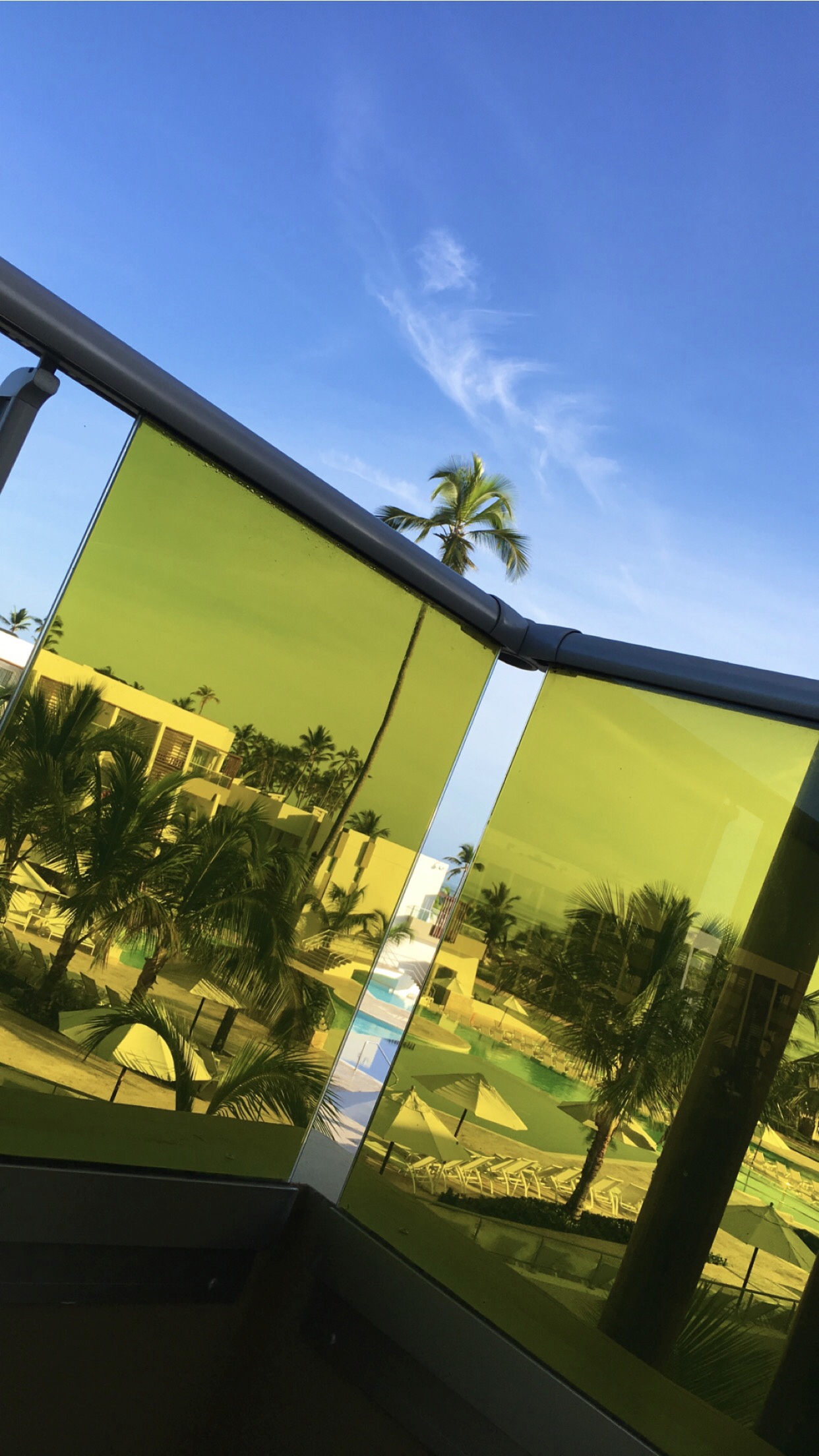 However, the views from my balcony and the hot sun beaming down on me, was nothing short of perfection.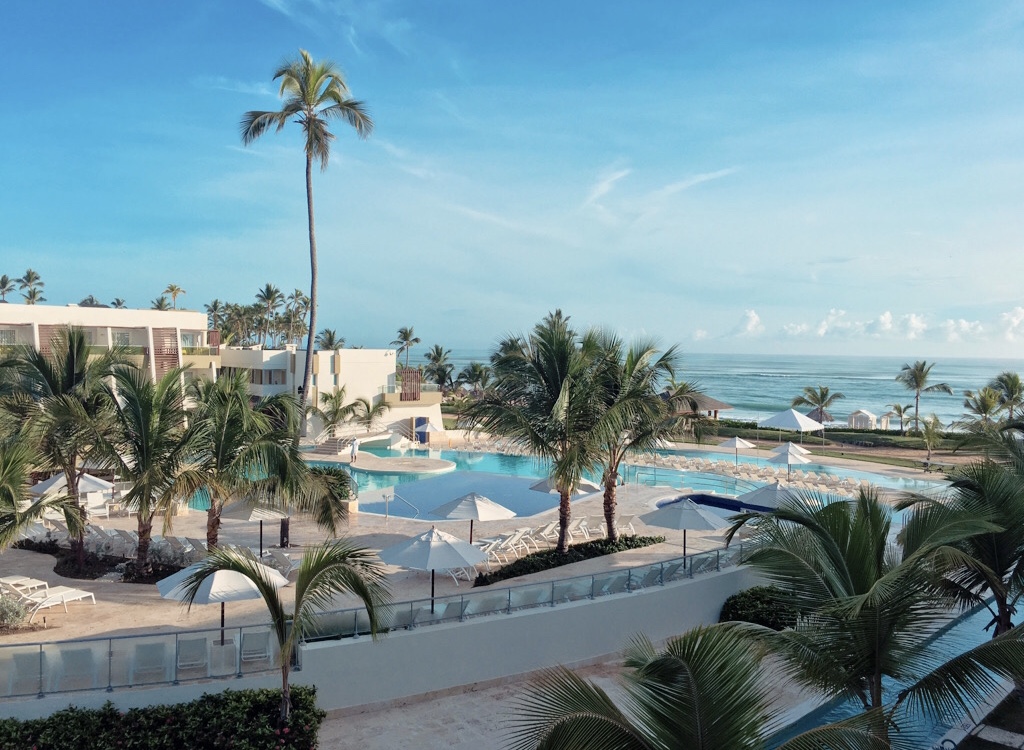 Breakfast this morning was at the Carnival International Buffet. My go to, was made to order omelettes, all of the tropical fruits I could get my hands on and some decadent pastries.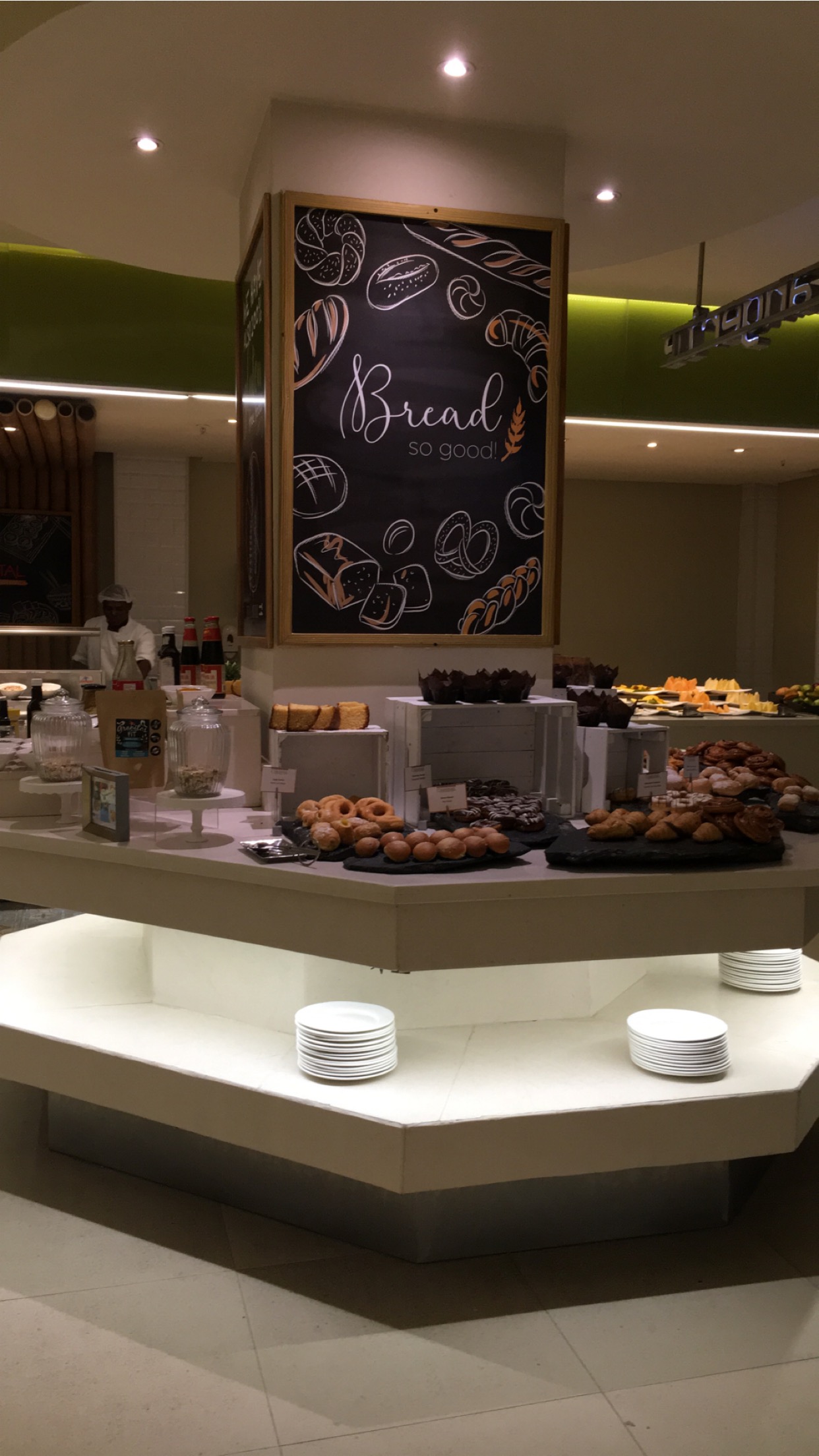 Our pickup for our first excursion was at 12 pm, so it gave us some time to enjoy the pool. As well as nice ice cold Presidente beers brought right over to the pool.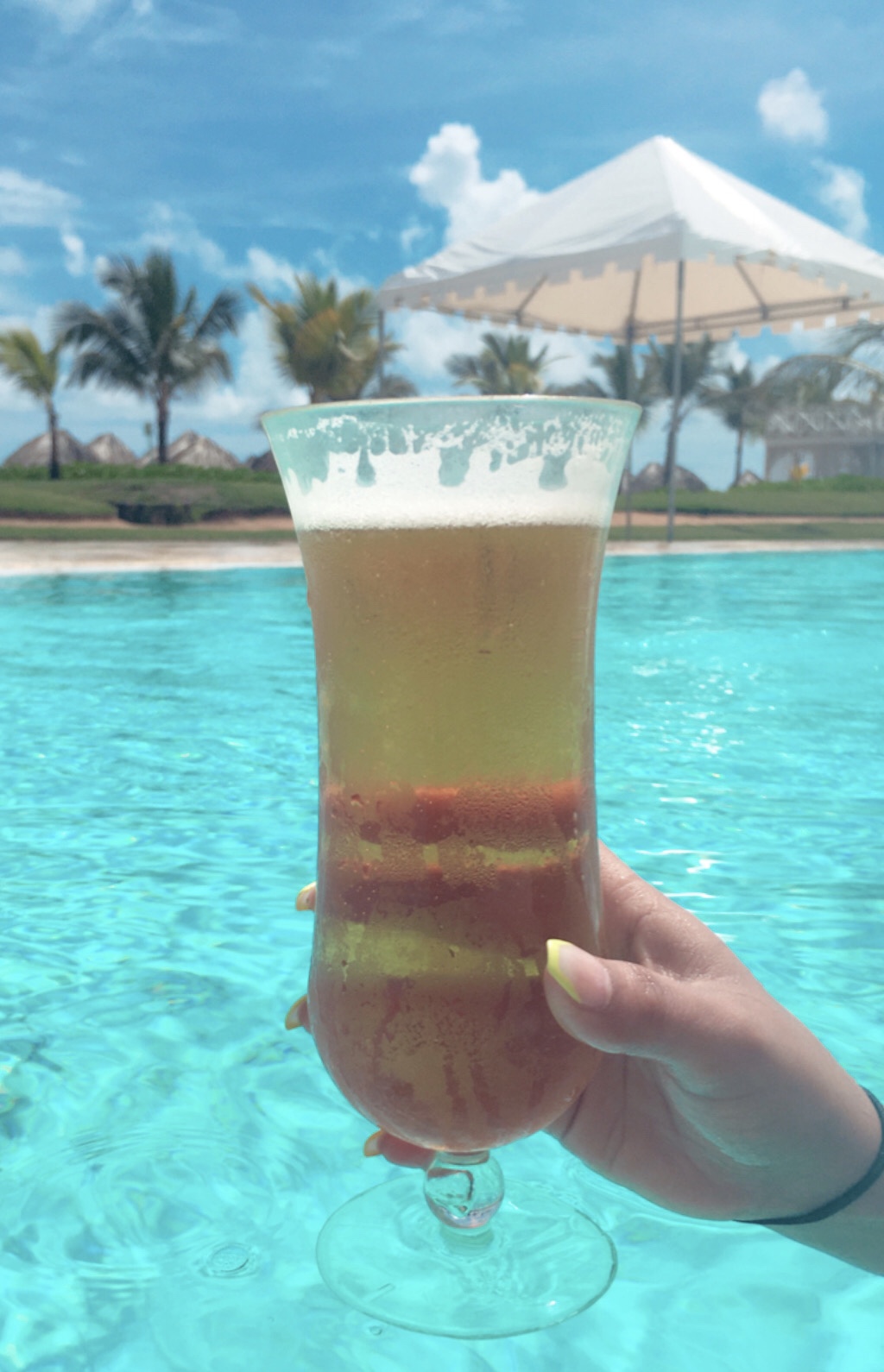 I had suggested doing a 'party boat', as I love catamarans and thankfully everyone was on board with the idea. This excursion involved going to the Marinarium. Where we would board a catamaran, do some snorkeling, swim with the sting rays and sharks. Then end off with some free time to float around in the shallow waters of the beach.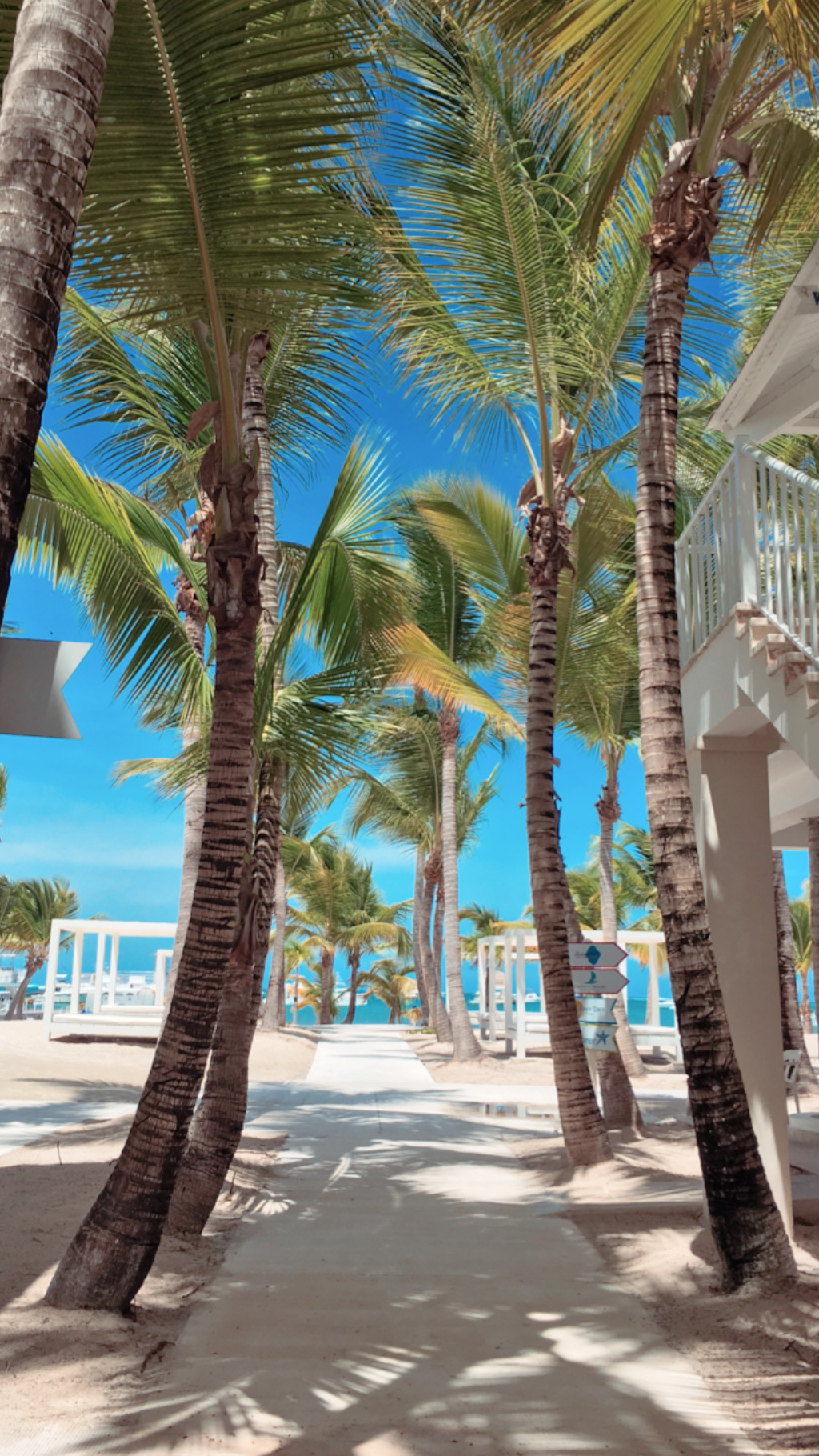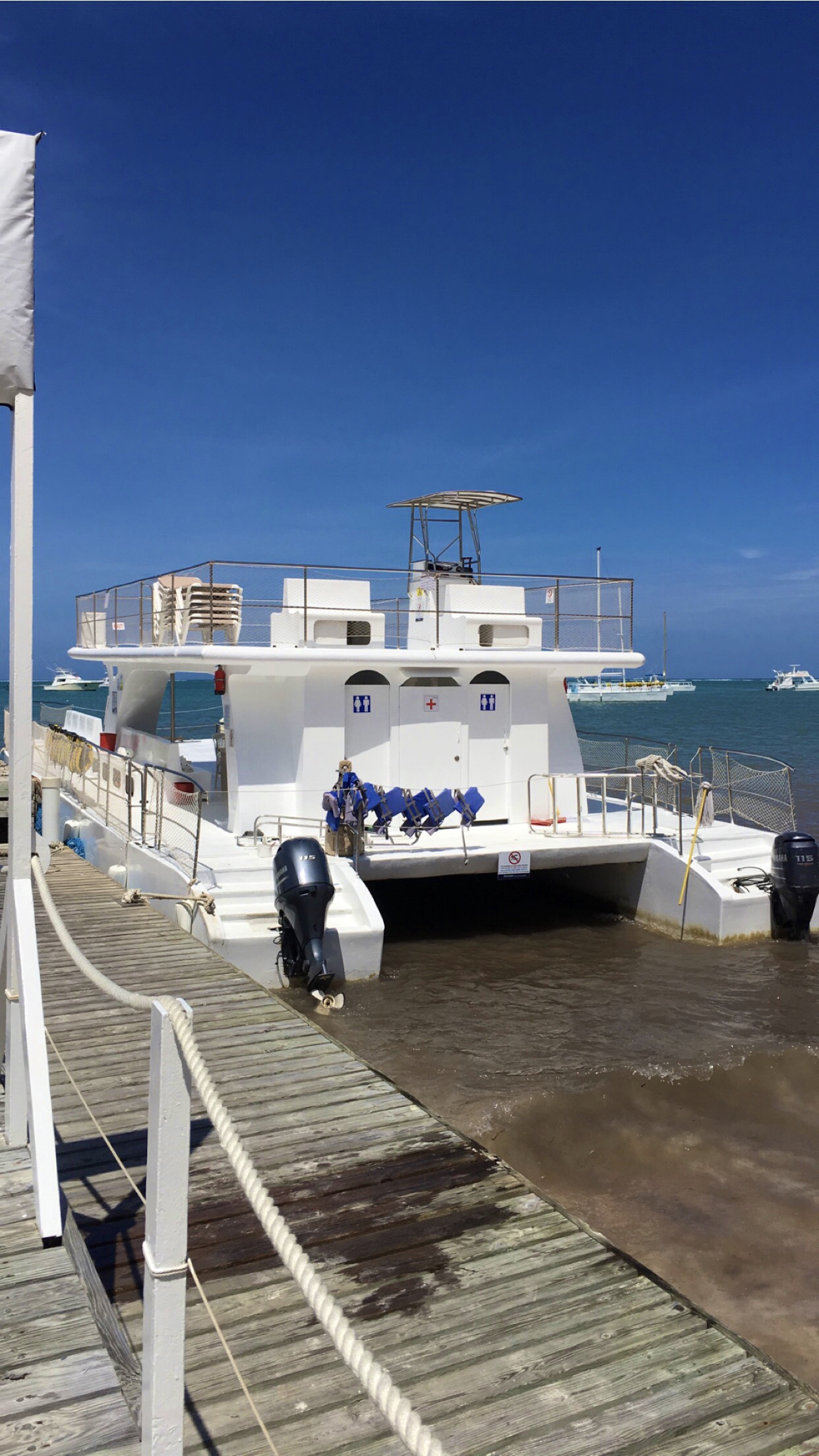 Also, you might ask, why there aren't any images of the sharks or sting rays? Well for one, I am a novice swimmer and the rough waves in 40-50 feet deep water had me holding on for dear life lol. Also, to be noted, I don't know why I wanted to swim with the sharks or sting rays in the first place because I am deathly afraid of both!! I touched the sting ray with one finger and had my eyes closed.
You will never be caught with an empty cup in the Caribbean. The bar service extends out even into the water, with a fully stocked bar in a floating tube!
The following morning we made our way to Coco Cafe, which offered heavenly coffee and treats. Before heading over to breakfast at the Carnival International Buffet.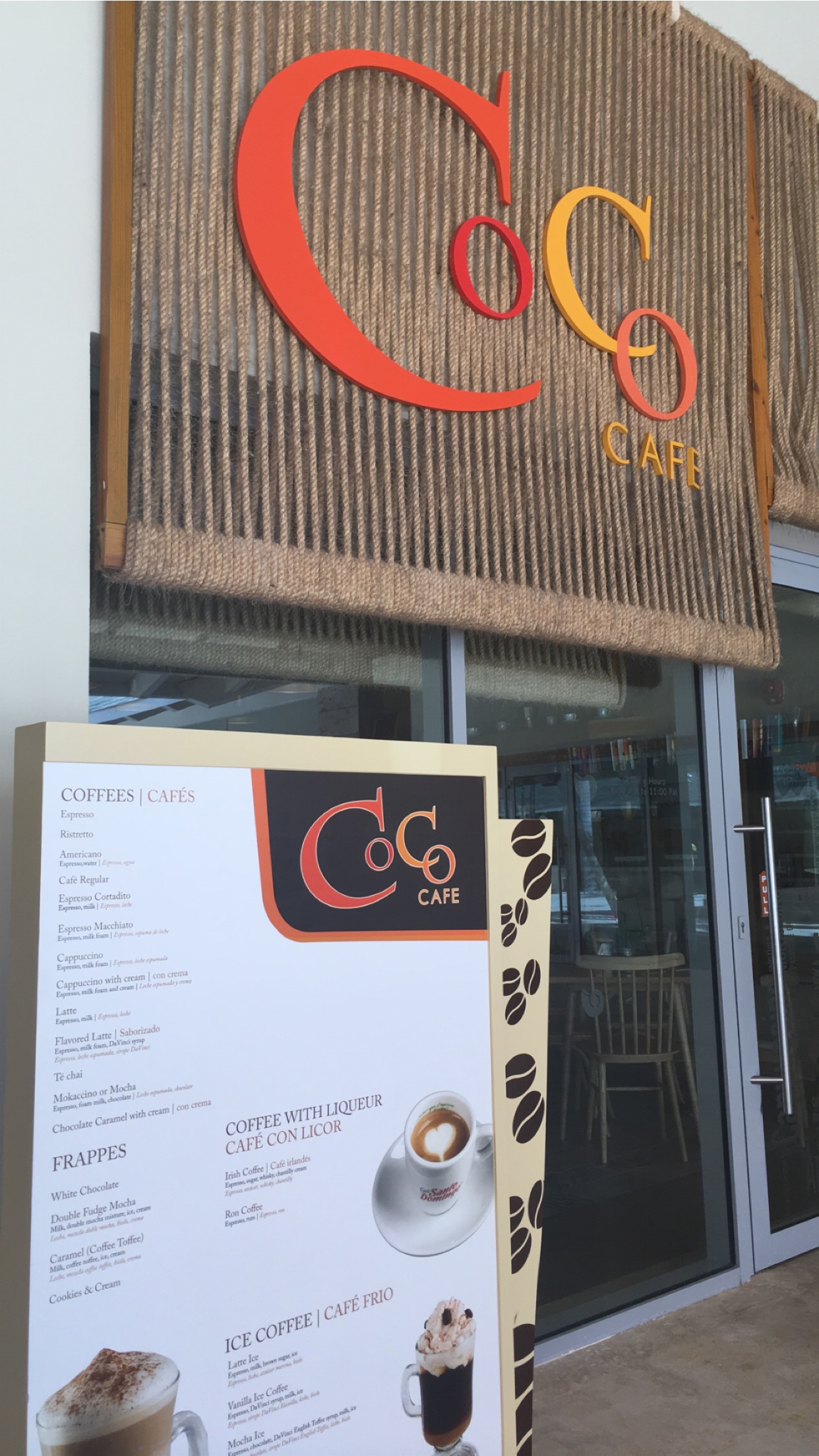 Since it was Monday, a few restaurants on the resort were closed, so we opted to have dinner at the neighbouring resort. I was in the mood for some Asian delicacies and the Breathless Resort had availability at Silk City, a Teppanyaki table.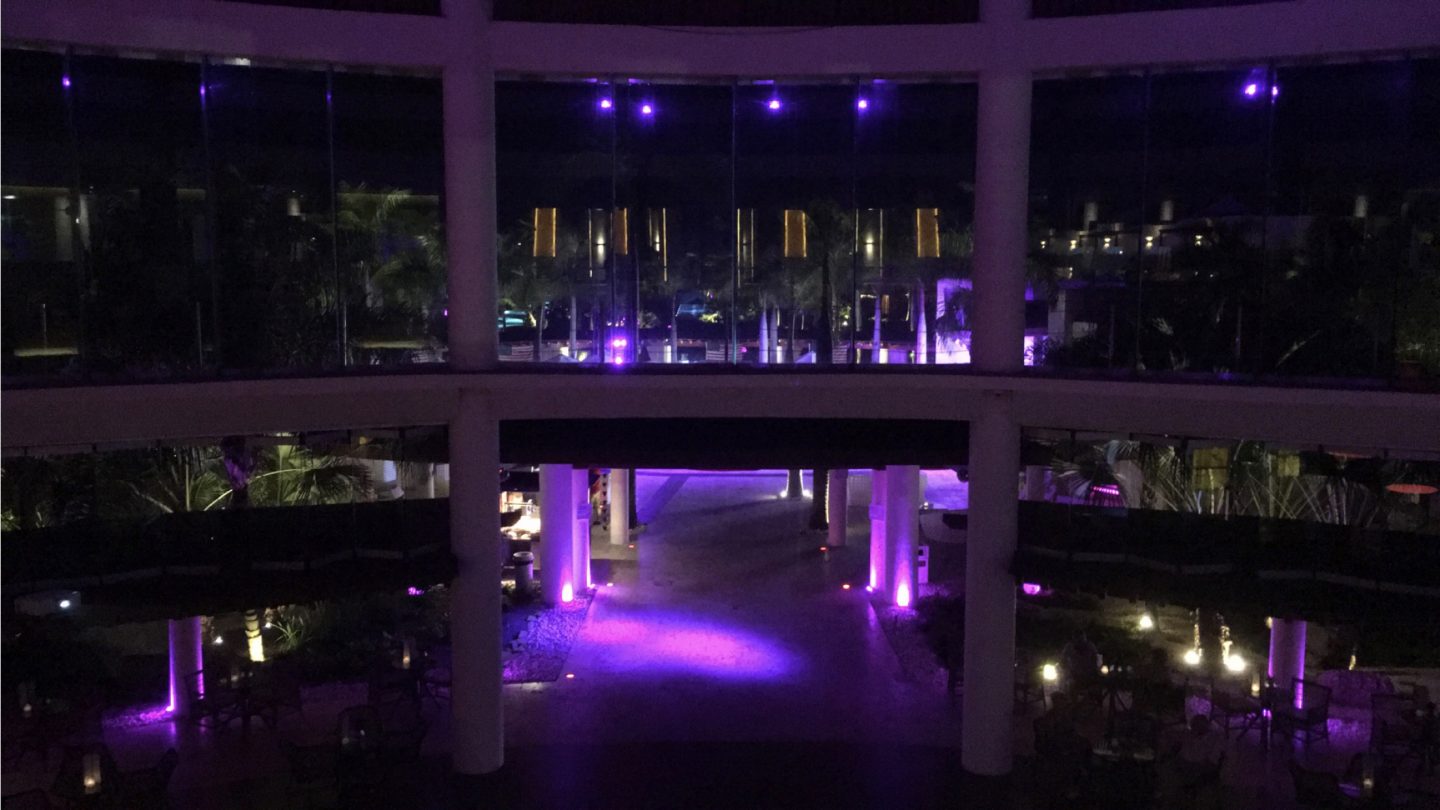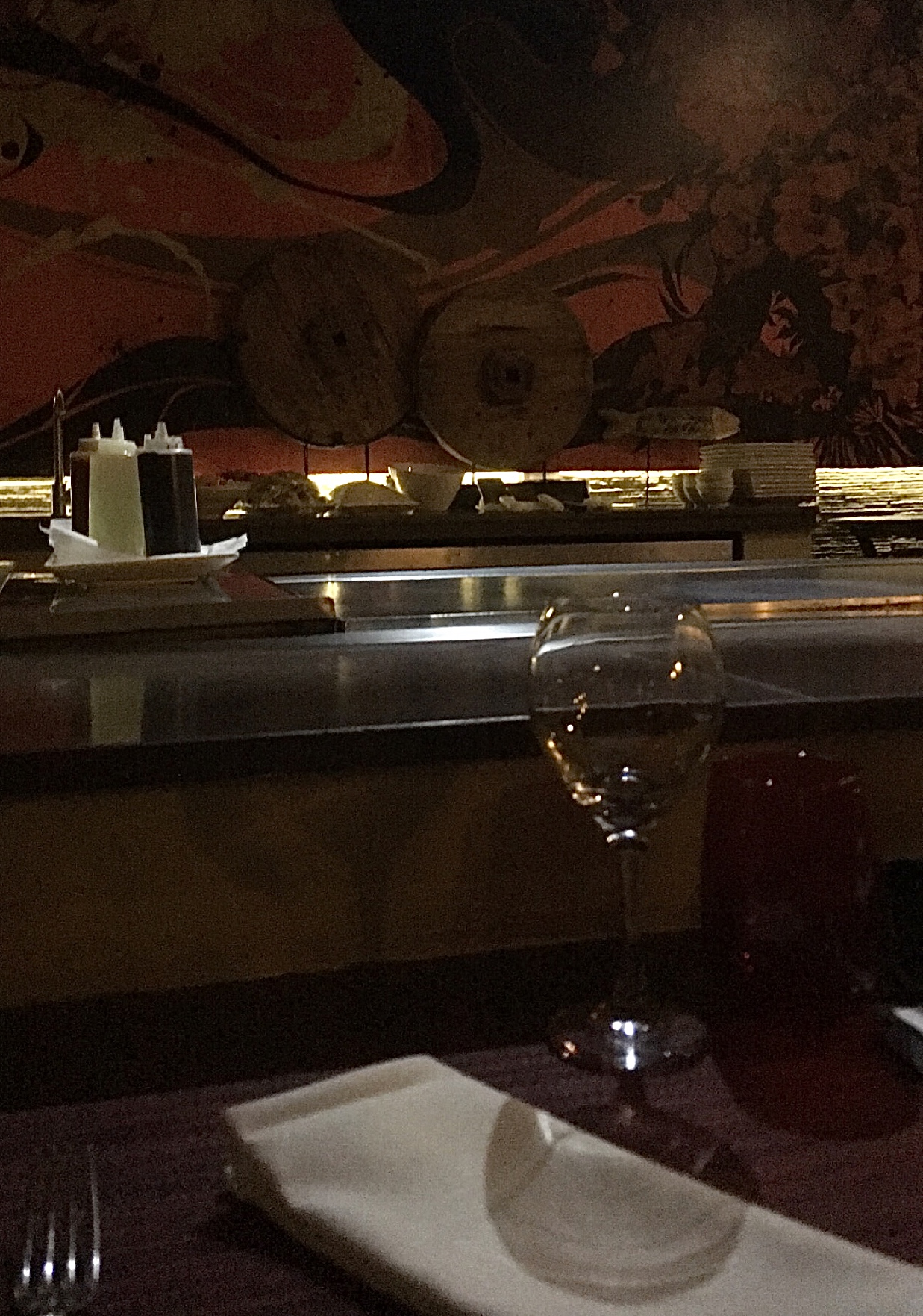 It was 8 pm by now but our night was only beginning, Pickup for our next event was at 8:30 pm. You can't leave the DR without checking out Coco Bongo! A show and disco, all under one very lively roof! When I first heard the showtime, I was kind of shocked. 9 pm – 2:30 am. I really didn't know if I could hang that long lol. From the moment I arrived to the moment I left, the energy remained constant. My favourite part of the show were the aerial performances.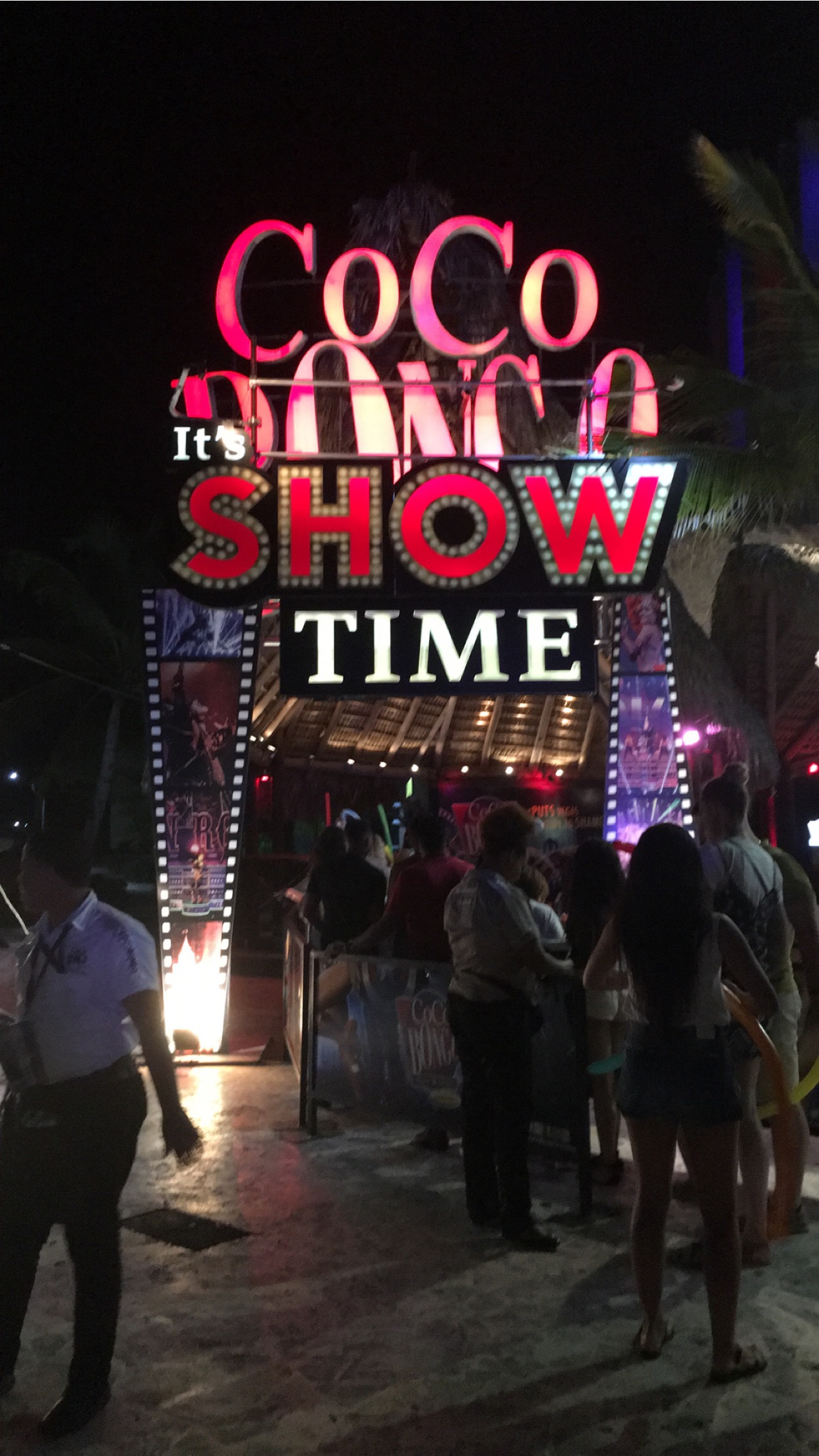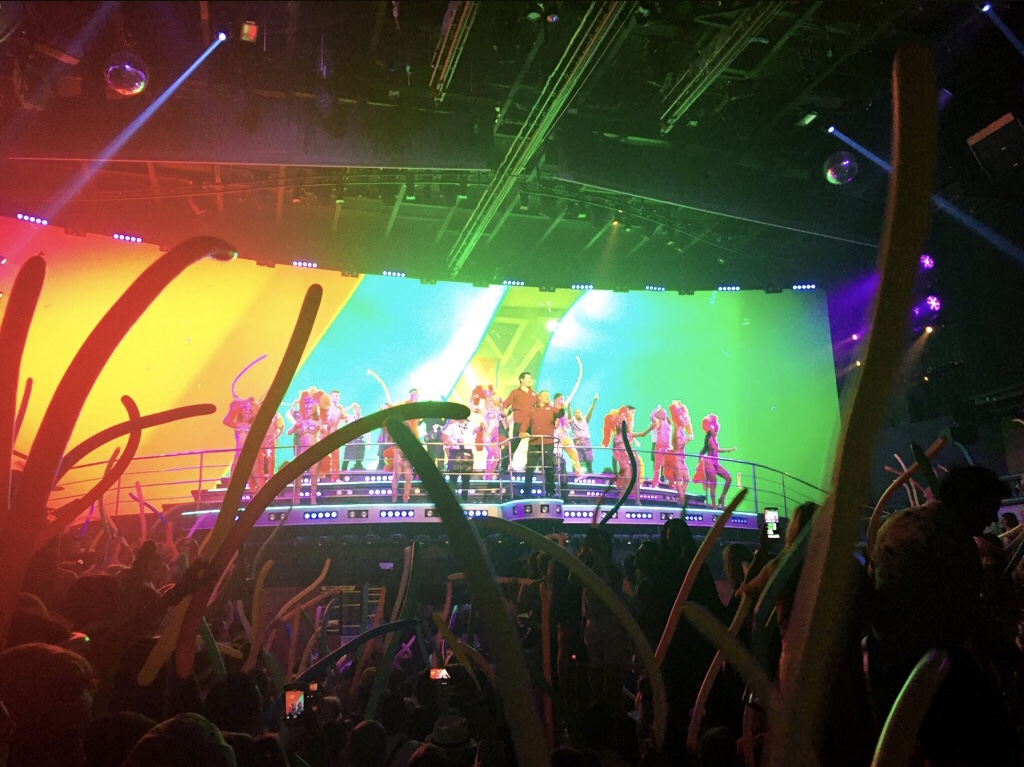 Coco Bongo is about 30 mins from Uvero Alto. So after a night out, I naturally had worked up an appetite. Thankfully room service was available 24 hours and prompt even at 3:30 in the morning.
Our last full day in the DR consisted of waking up to a nice quiet breakfast spread in the comfort of our room.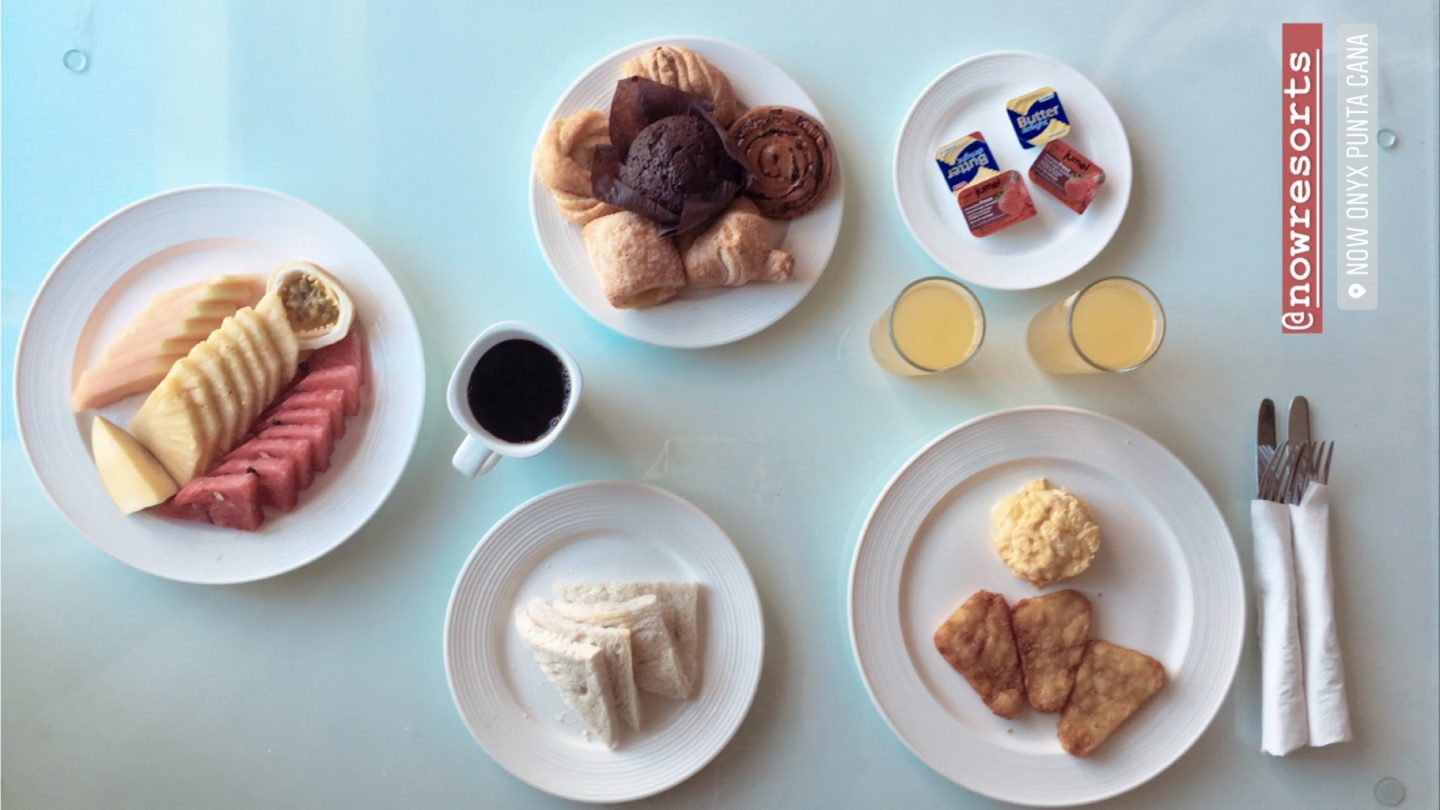 I wanted to get my hands on some authentic Dominican gifts to bring back home with me. Hotel staff suggested that there was a strip of local shops right next to the resort. The walk over was less than 2 minutes and I'm so glad to have shopped there vs the touristy resort gift shops! The shop keepers were wonderful and very inviting. I left with gifts for loved ones and small tokens of appreciation from the shop keepers for giving them business.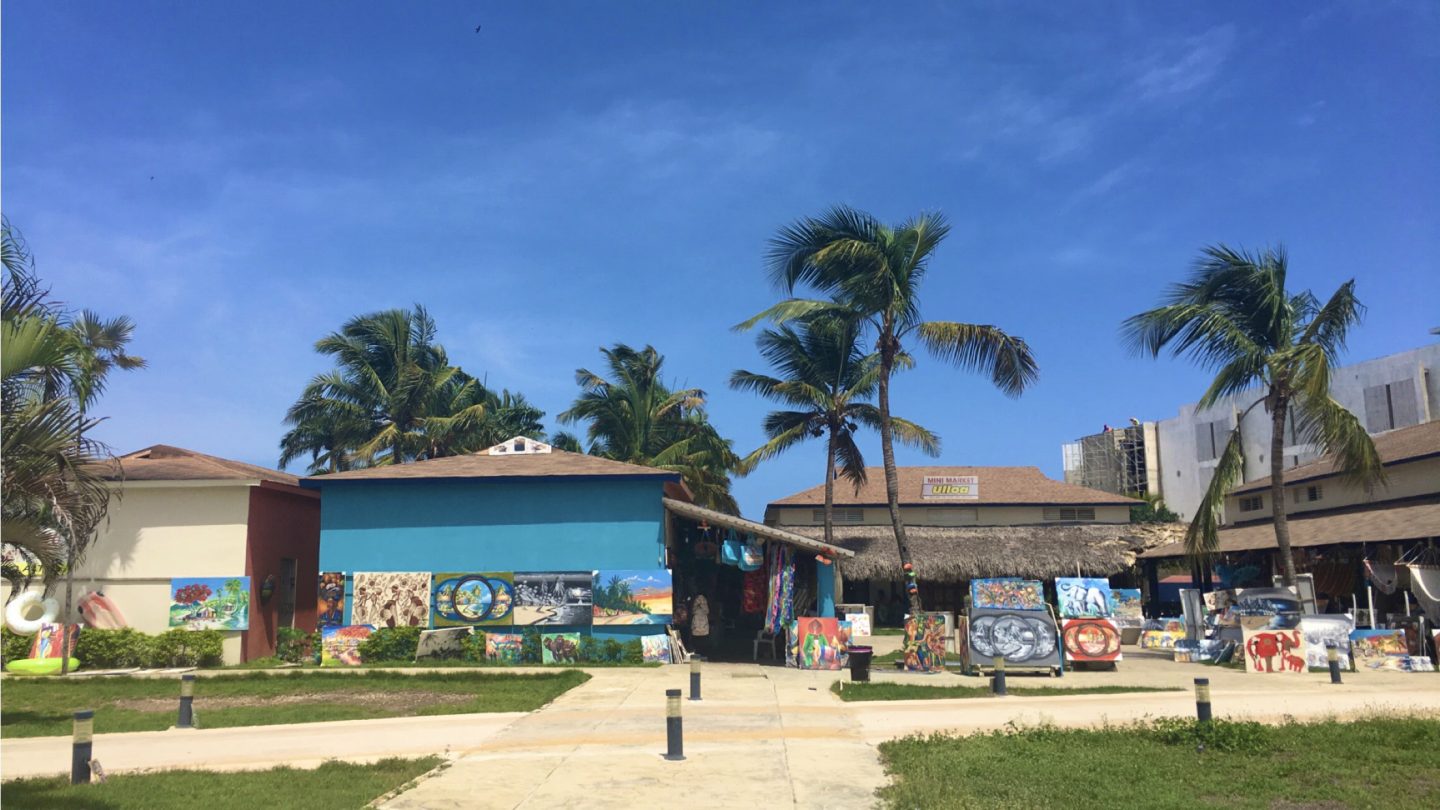 Now Resort provides a complimentary shuttle to their select vendors. One of these vendors happened to be one, I had planned on visiting before I got to the DR, so I was happy to be able to check it out!
The shuttle brought us to an area where you can find authentic Domincican goods, such as cigars, rum, coffee, chocolates gifts and jewelry.
We first did the Don Lucas Cigar tour, which I enjoyed quite a bit.
The tour involves getting to see from start to finish, how a cigar is packed and rolled. All while enjoying a complimentary cigar that you are free to smoke throughout the entire tour.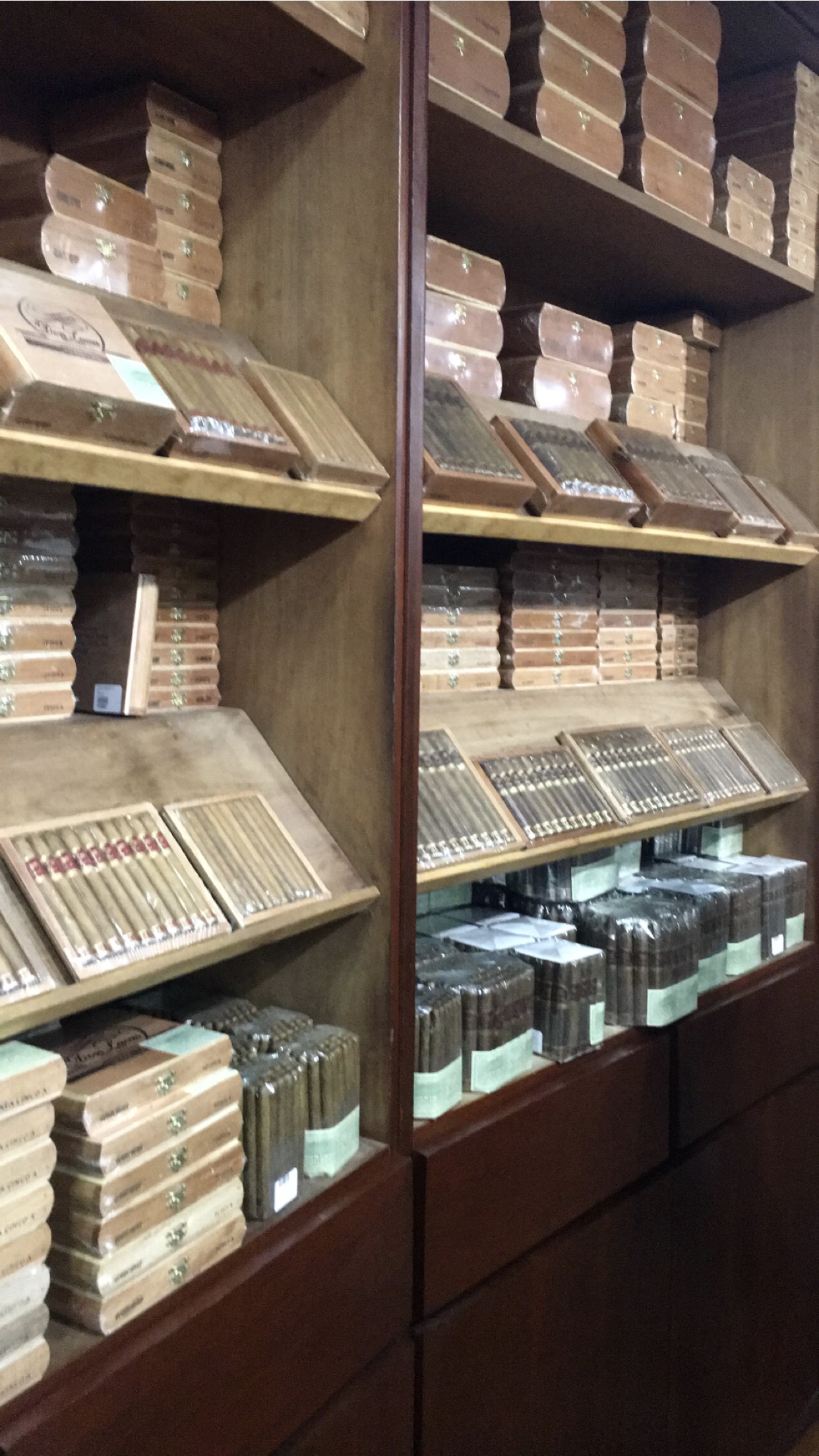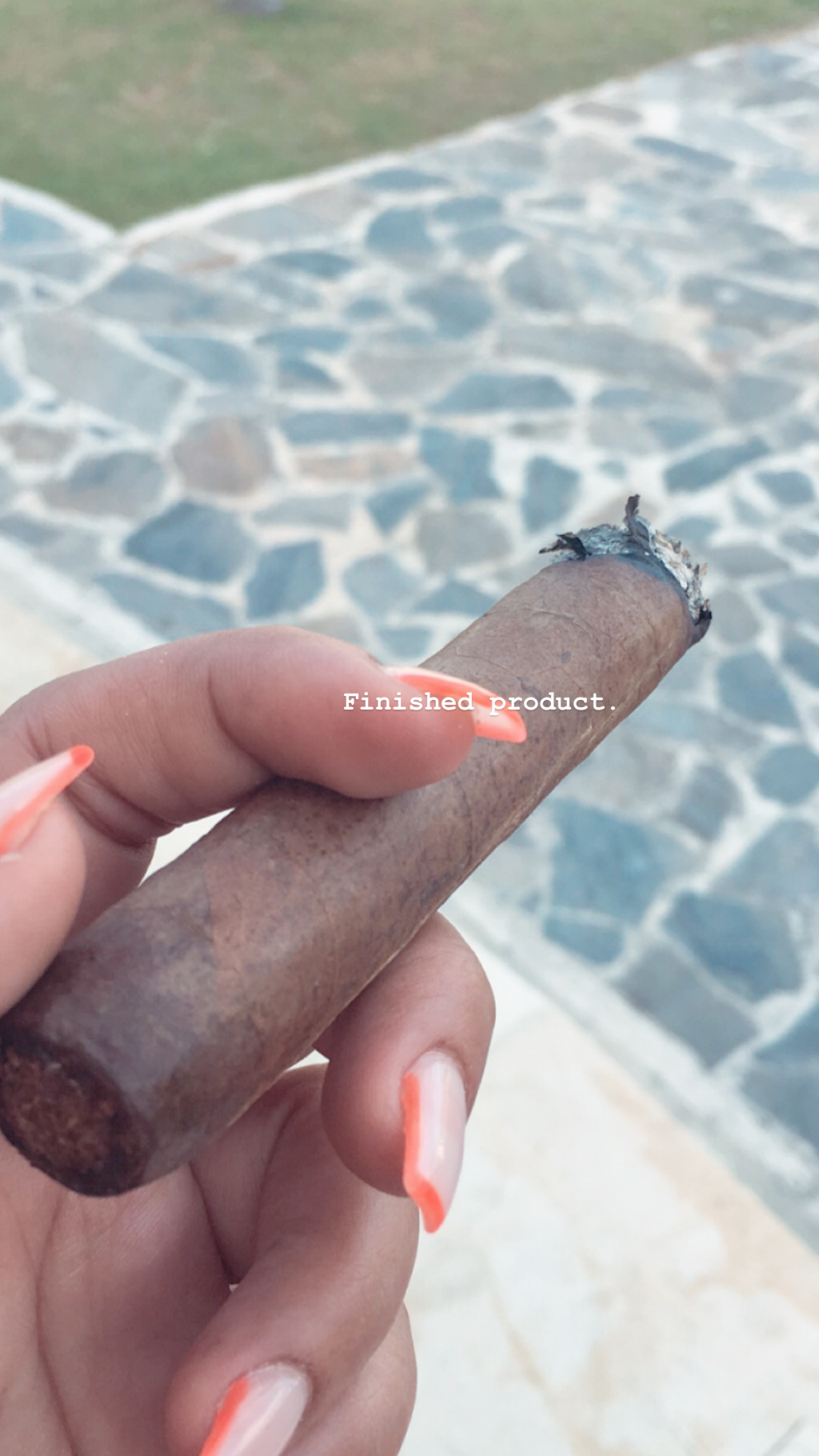 Next up was rum tasting at Oliver, Rums for Connoisseurs. Take a seat in this relaxed bar setting and enjoy a variety of complimentary rum tastings based on your preference.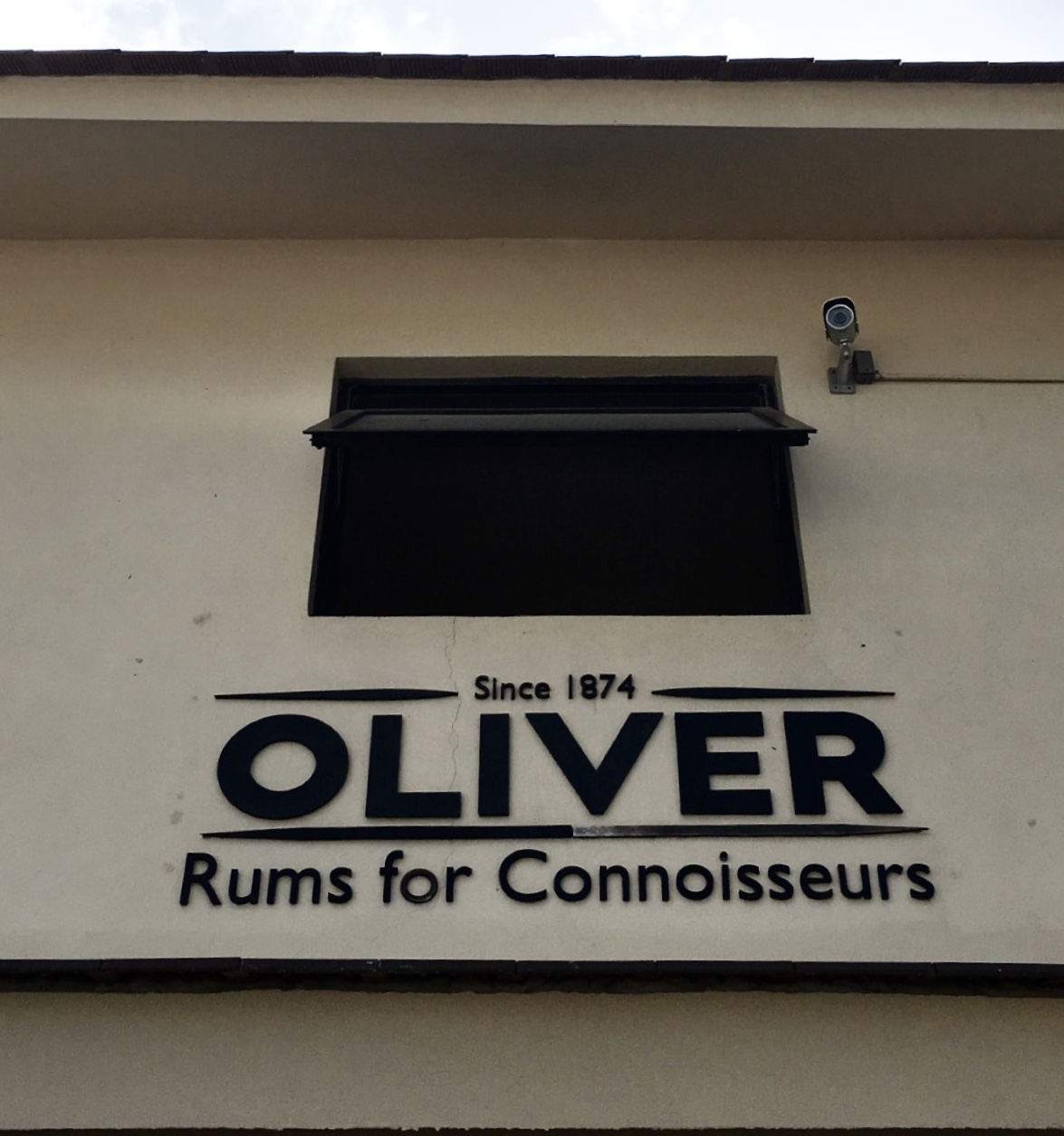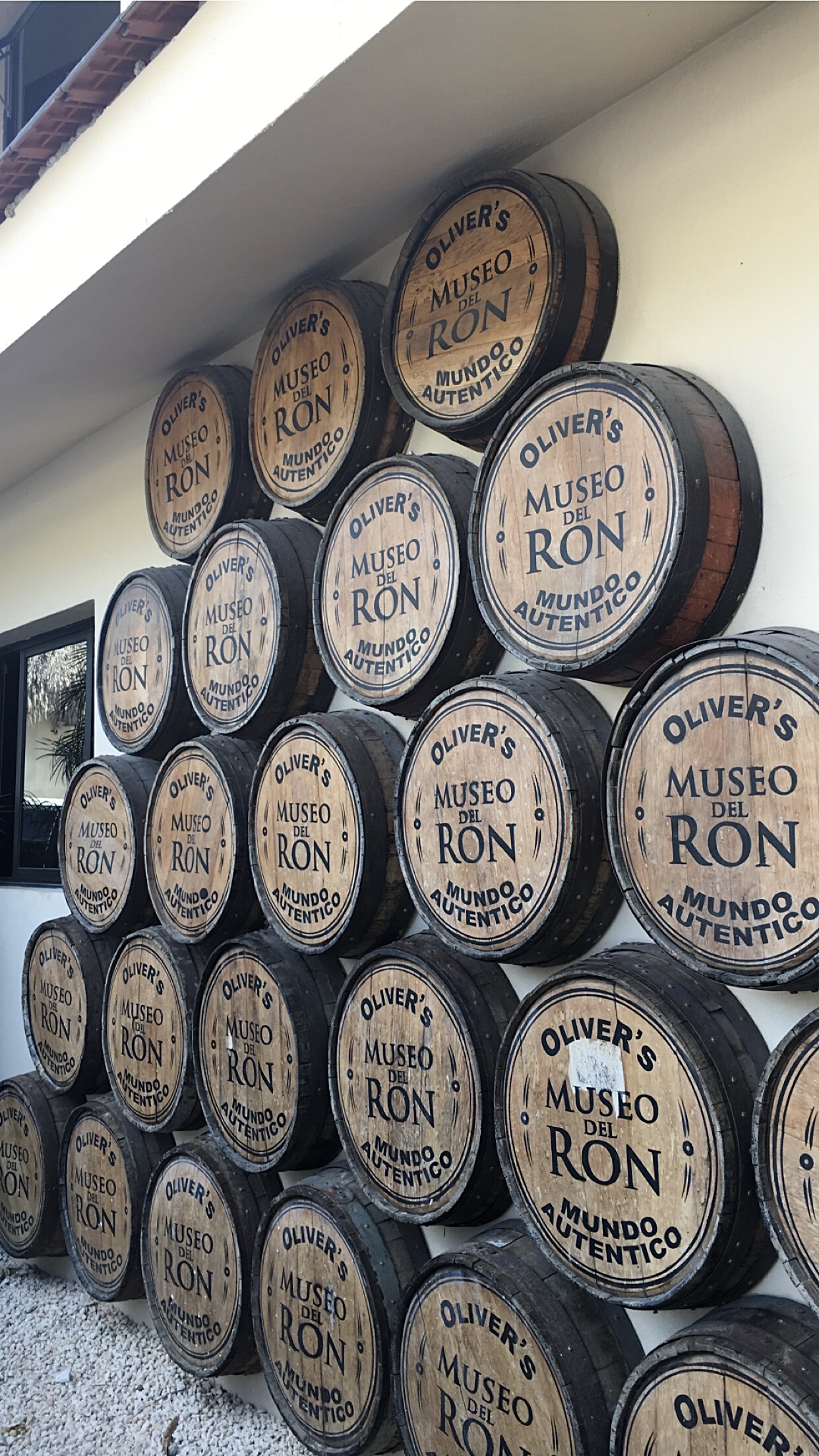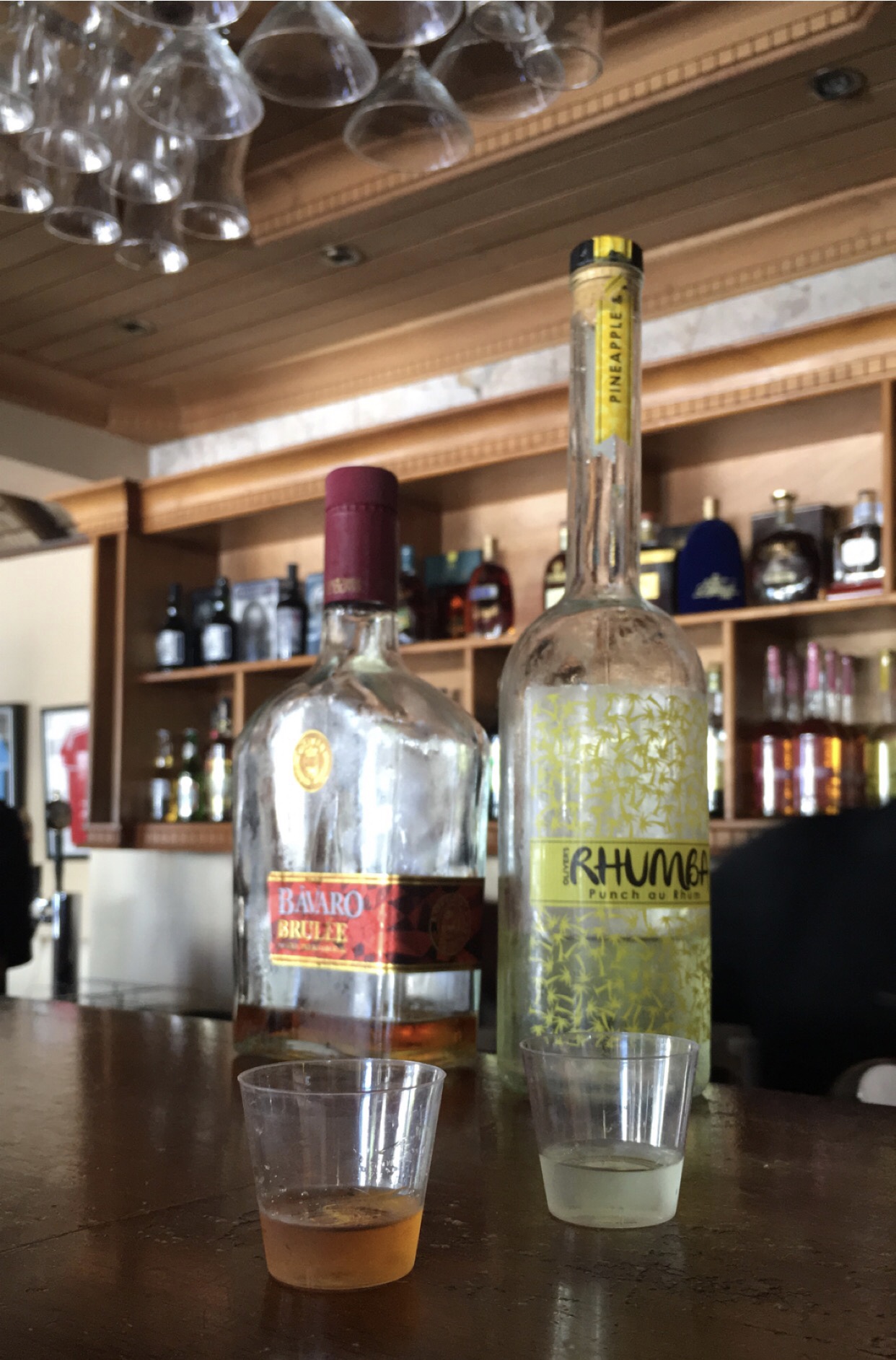 This next vendor, I was quite excited for. El Cibao is where we saw how authentic Dominican coffee is made. From raw coffee beans to the point where they are roasted and packed for sale. The aroma of strong coffee is one I will never get enough of!
Kokoa, was the second last stop. Where you can enjoy all of the sweet treats, from dark to creamy white chocolate and everything in between. As well as stock up on to take back home!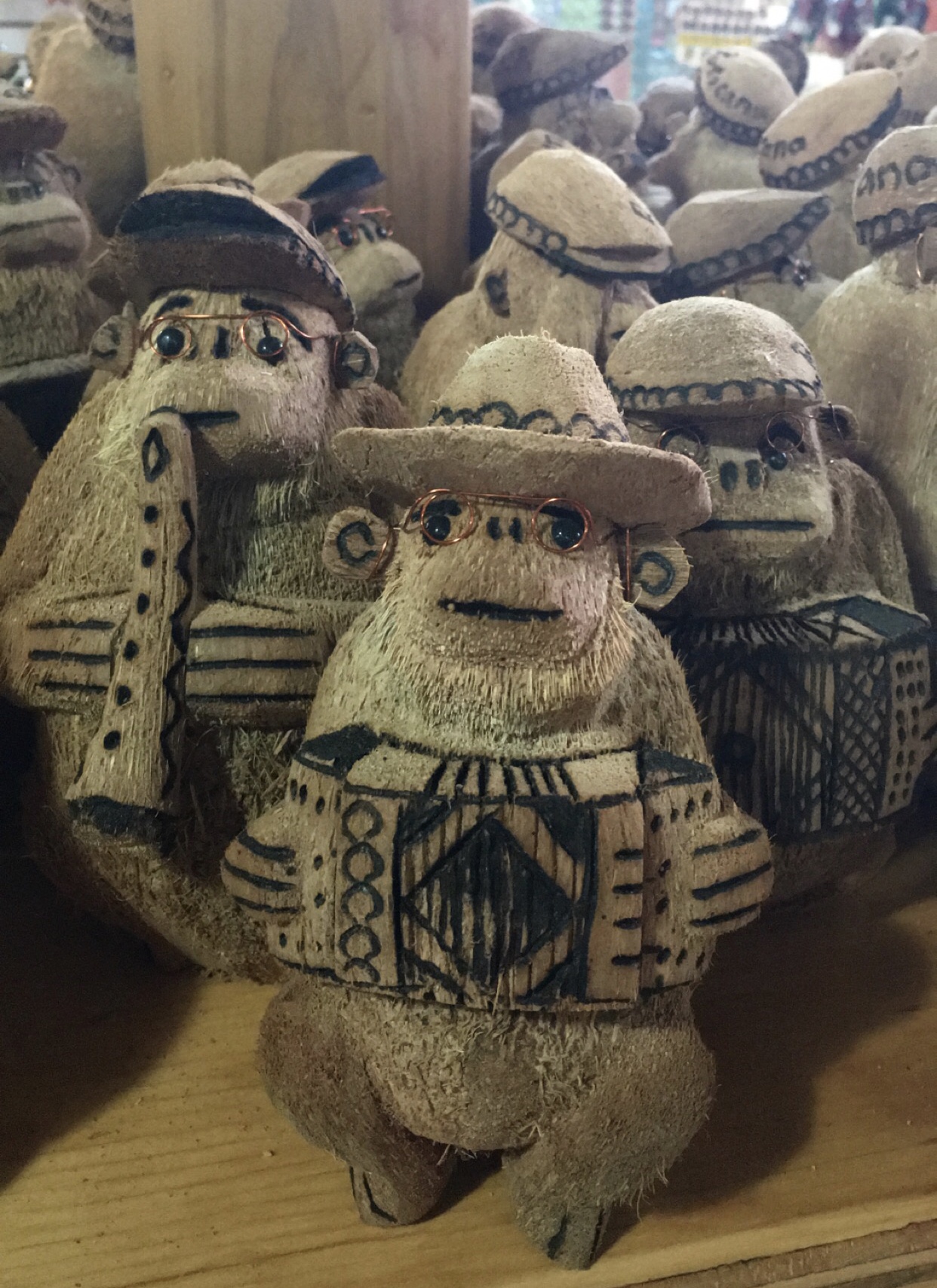 Our final stop was at Azul Mai. A jewelry store where you can find endless varieties of the local Dominican jewels. Larimar, which is a pale blue stone marbled with white and amber. I picked up a few pairs of earrings, which were all beautifully crafted.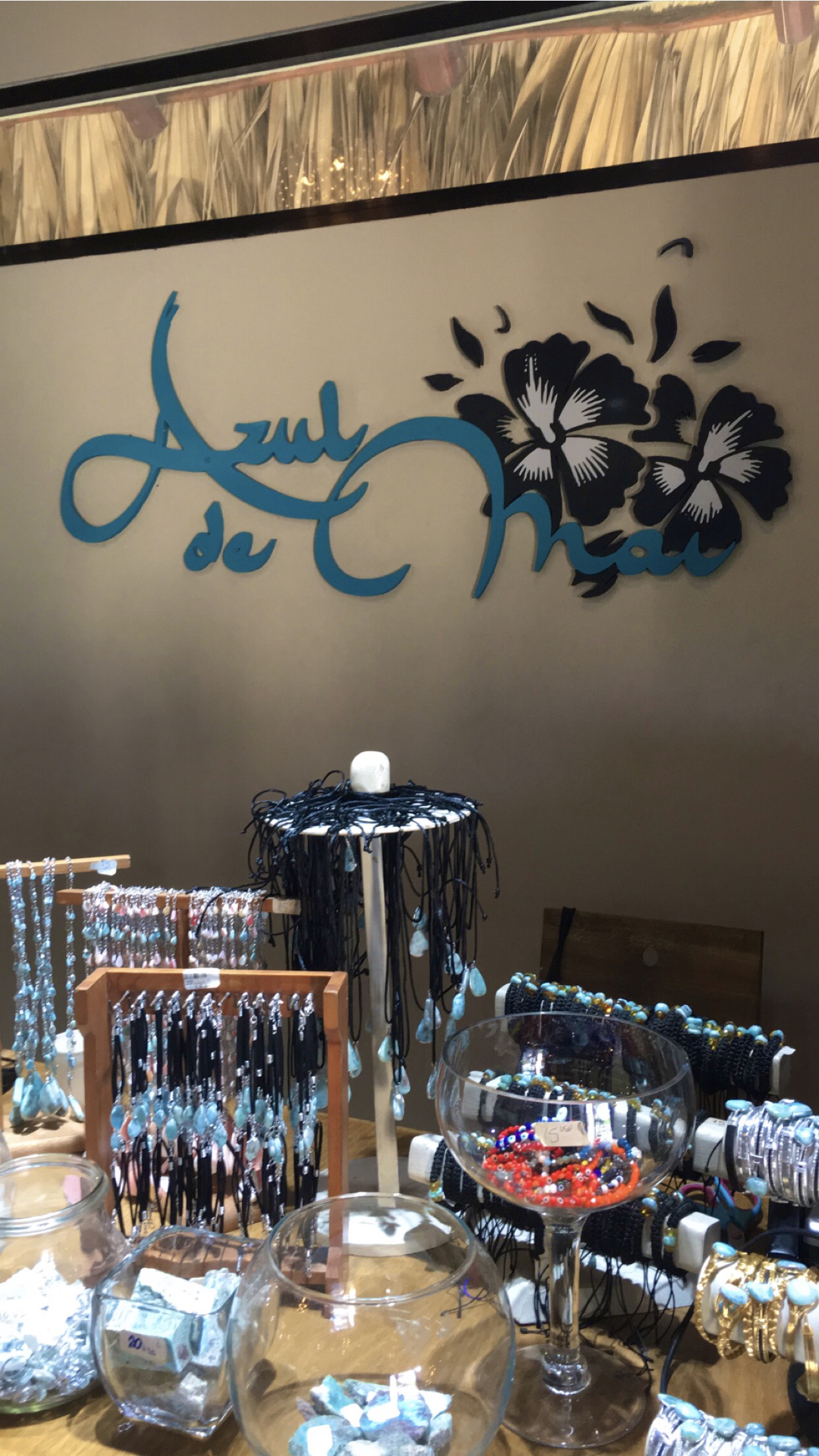 Our final morning in the Dominican consisted of soaking up as much sun as we could! I may have gone a little over board since I ended up with a painful sunburn, but hey I don't regret a thing!
I took my final walk along the beach before I headed back to the room to checkout.
If you're interested in videos from my trip, they can be found in my Dominican Republic Instagram story highlights here.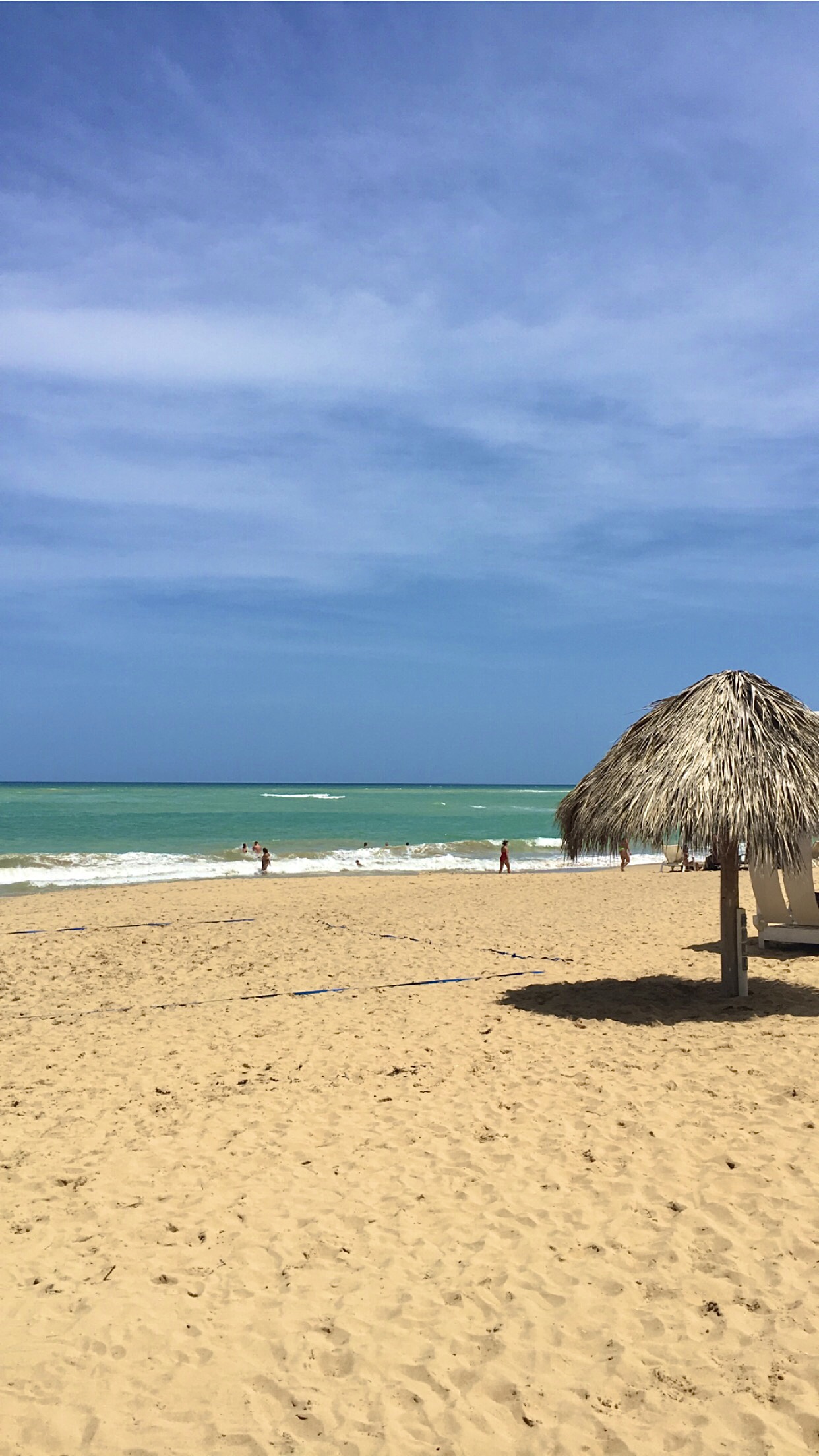 I won't forget this trip! Thank you Dominican Republic! See you next time!