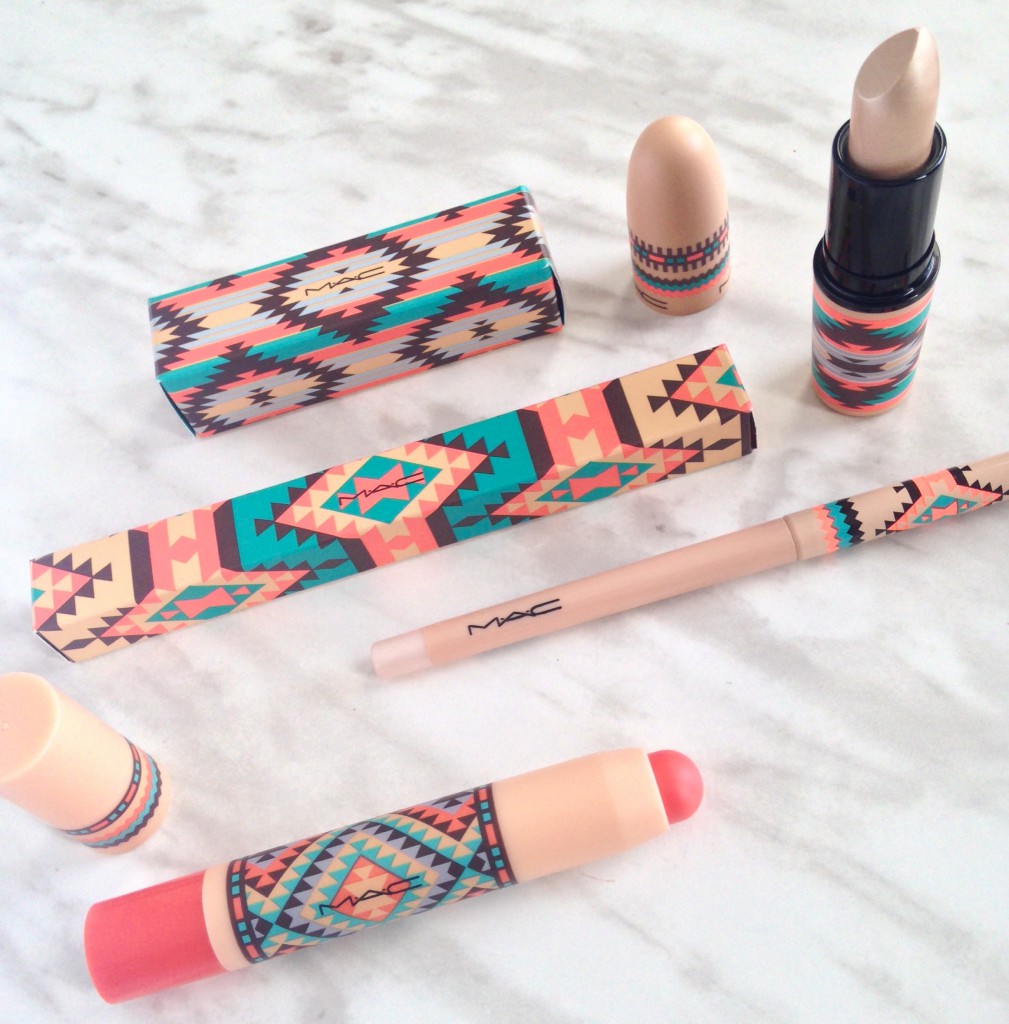 I have to commend Mac Cosmetics latest collections and their packaging! The MAC Vibe Tribe Collection, said to be inspired by music festivals features many bright colours and bold patterns. I was very excited for this collection as it featured looks with bold eyes, bronzed skin and bright lips.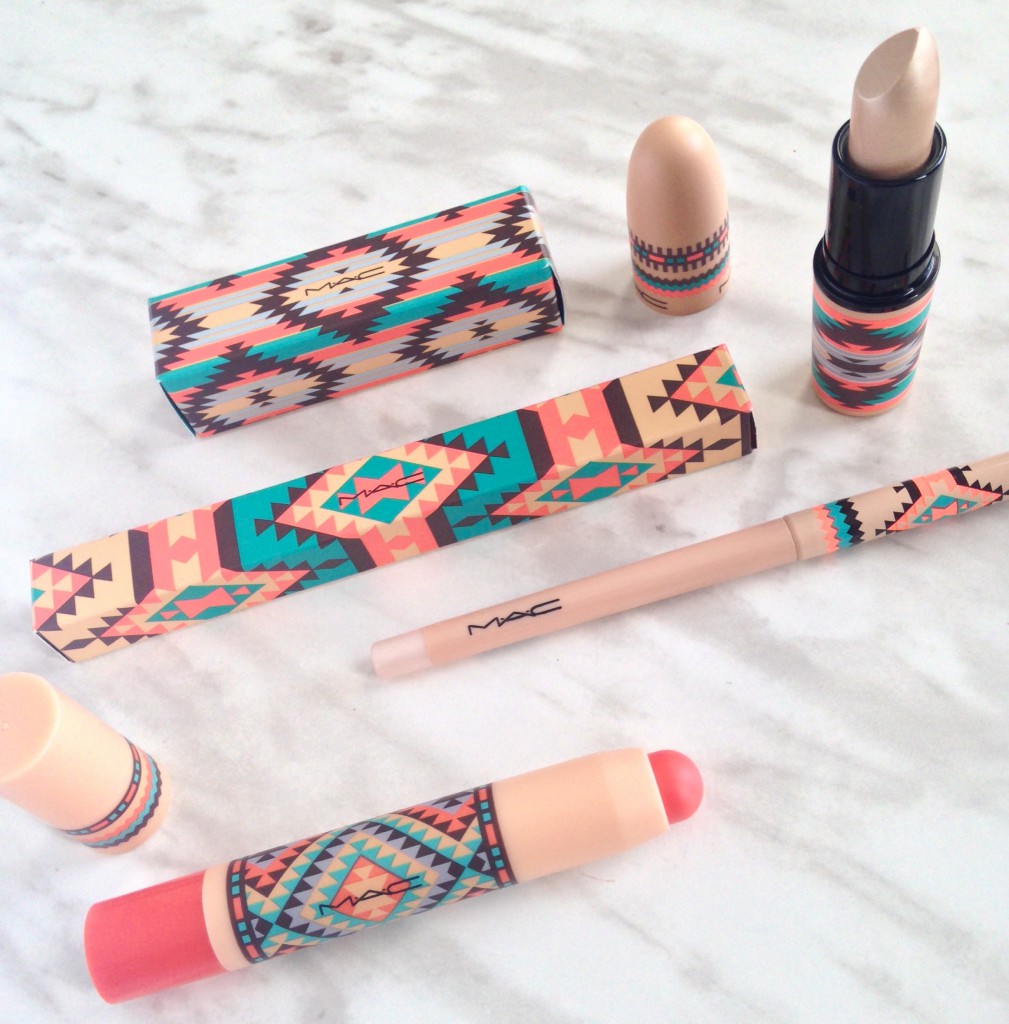 The primary and secondary packing on the Vibe Tribe Collection is a tribal pattern, which matches the name of the collection spot on. I have included details of the entire collection at the bottom of the post.
A few of the products I tried out are, Lipstick in Tanarama, Patentpolish Lip Pencil in Teen Dream and Technakohl Liner in Snowed In.
Lipstick in Tanarama, is a pale beige shade with golden shimmer and a frost finish. At first glance it was totally unlike something I would normally wear but it's swatch was very surprising. Worn alone or paired over top of another lipstick, it adds a touch of champagne sheen to your lips. Apply it to the center of your lips to make your pout appear fuller. The lipsticks in the collection retail for $22.50 CAD.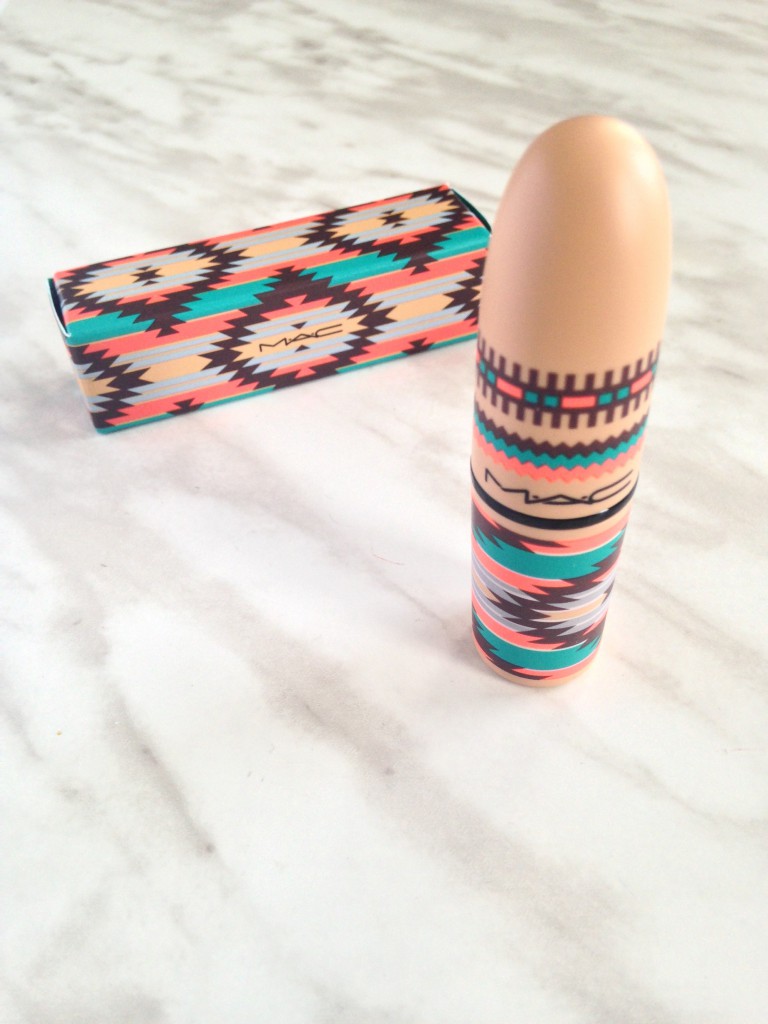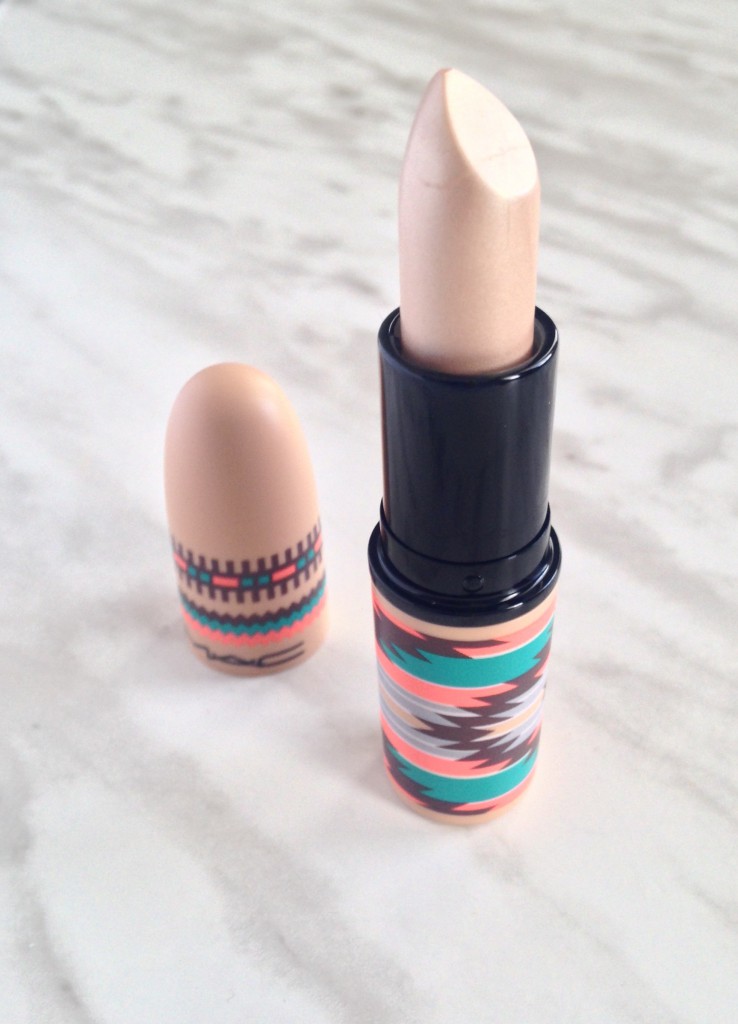 I tried out the Patentpolish Lip Pencil in Teen Dream, which is a bright pink/coral matte shade. It was my first time using a Patentpolish Lip Pencil by MAC and it reminds me most of a chubby eyeshadow/lip stick. It applies like a lip balm and gives a sheer hint of coral to the lips. Teen Dream isn't long wearing but is extremely comfortable to wear. I wouldn't drag this Lip Pencil over the lips as that causes an uneven application. The Patentpolish Lip Pencil retails for $25.50 CAD.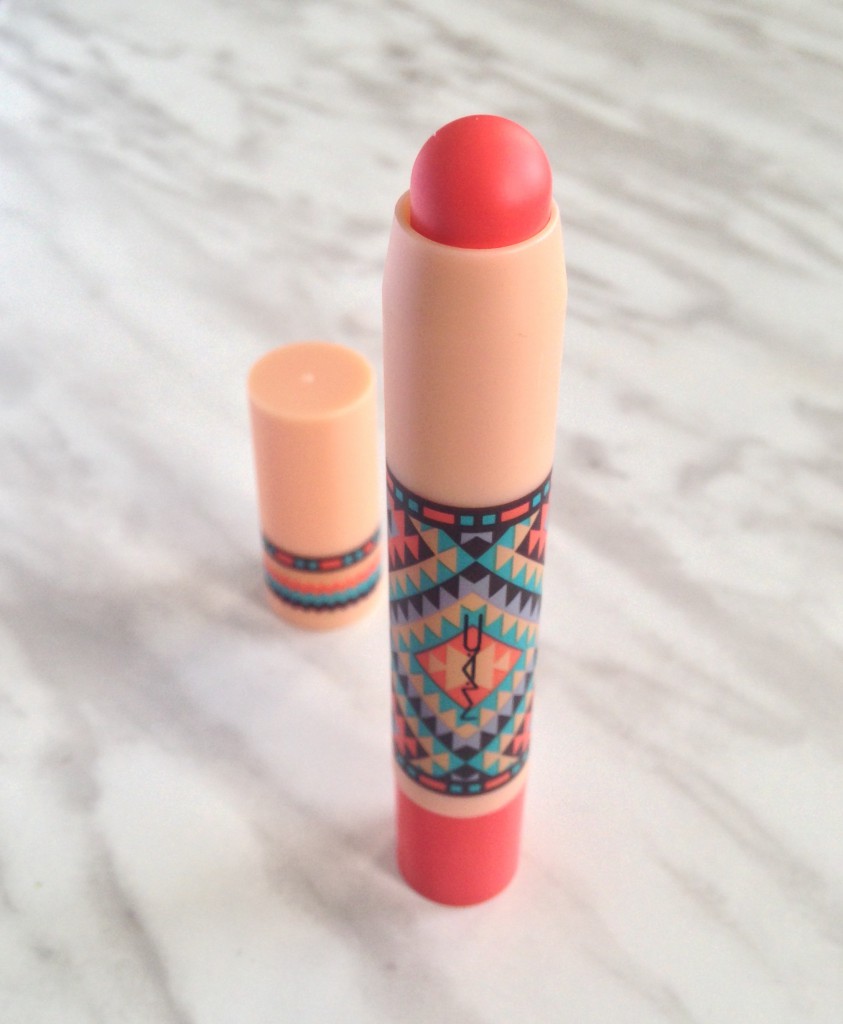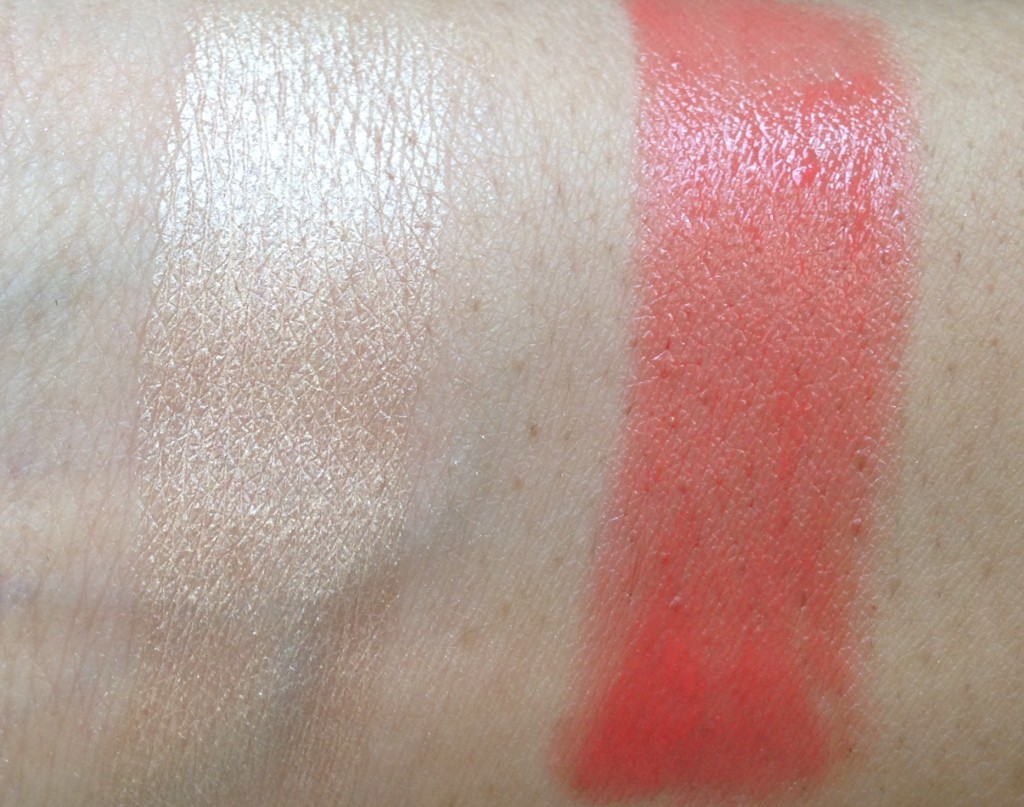 Left: Tanarama Right: Teen Dream
The Technakohl Eye Liner in Snowed In definitely has to be my favourite! It is an off white/peach shade with micro-shimmer and comes in a twistable pen form. It applies so smoothly and with the right amount of pigment.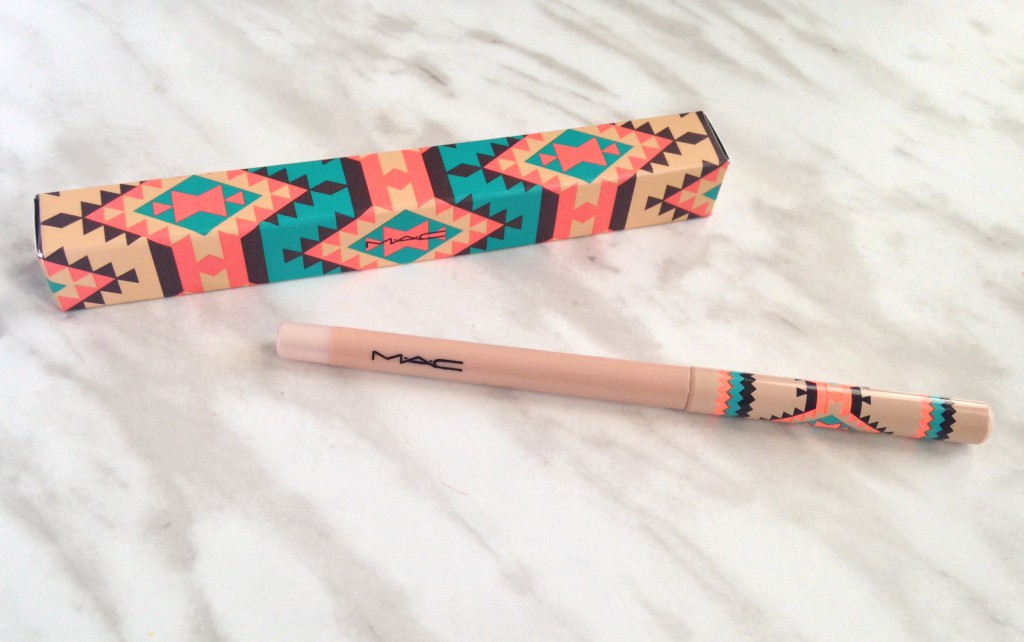 Snowed In is the perfect shade to apply to your bottom line to brighten the eyes and make them appear larger. I absolutely love pairing it with winged liner as black liner on the bottom water line makes my fairly small eyes appear smaller. A definite must have in my books! The Technakohl Eye Liner retails for $21.50 CAD.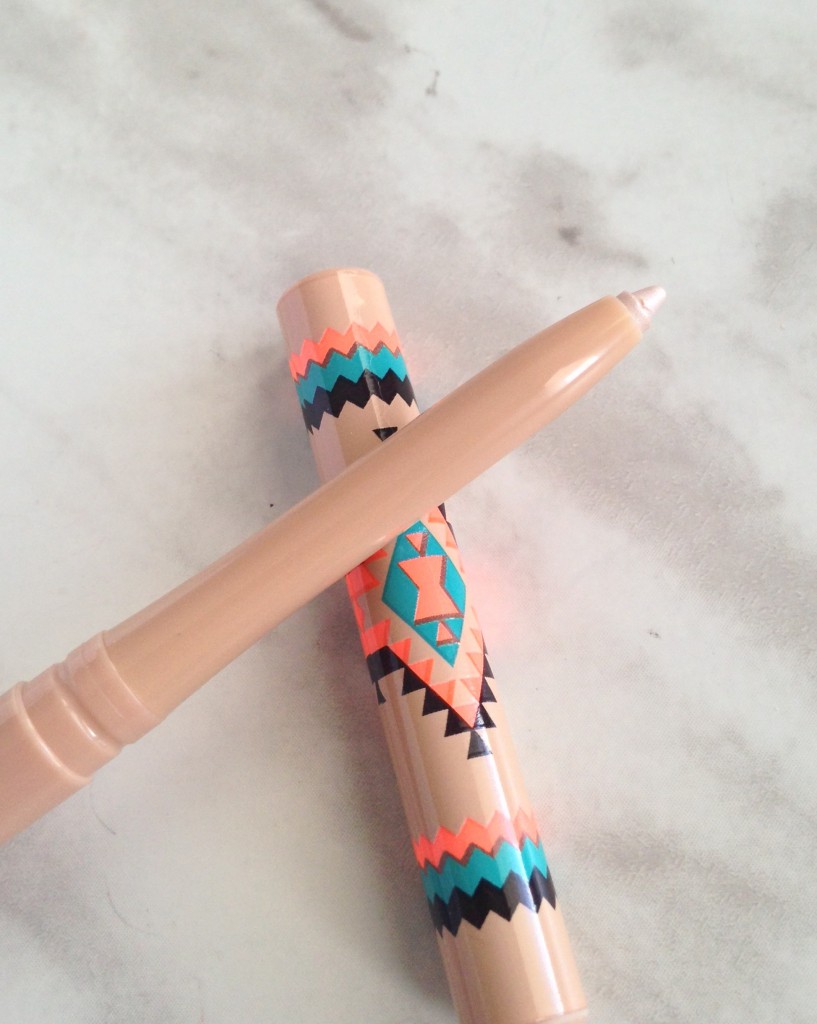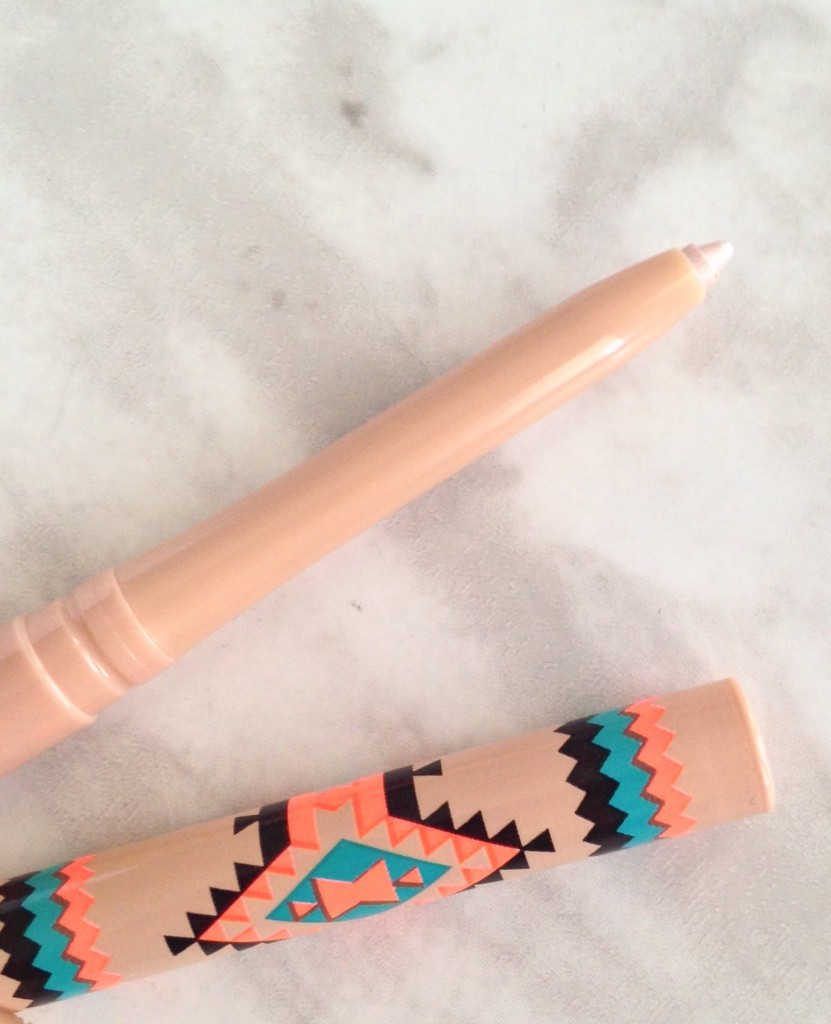 MAC's Vibe Tribe Collection is gorgeous in my opinion and captures the colours of Summer oh-so well! The Eye shadow quads, makeup bags and tribal printed makeup brushes are absolutely stunning and are definitely next on my list to pick up.
CALL OF THE CANYON EYESHADOW PALETTE, $43.50 CAD 
Call of the Canyon

Frosty off-white (Veluxe Pearl)

Fool's Gold

Dirty olive gold (Frost)

Summer Sun

Frosty peach orange (Frost)

Thunderbolt

Dark charcoal with gold pearl (Lustre)
WILD HORSES EYESHADOW PALETTE, $43.50 CAD 
Brule

Soft creamy beige (Satin) (Permanent)

Charcoal Brown

Muted taupe-brown (Matte) (Permanent)

Wild Horses

Deep espresso (Satin)

Blue Mesa

Deep turquoise (Satin)
LIPSTICK, $22.50 CAD
Tanarama

Pale beige with golden shimmer (Frost) (Permanent)

Arrowhead

Bare nude (Matte)

Painted Sunset

Bright orange-red (Amplified)

Pure Vanity

Pale peach nude (Lustre) (Repromote)

Hot Chocolate

Dirty plum (Satin) (Repromote)
PATENTPOLISH LIP PENCIL, $25.50 CAD
Tumbleweed

Soft nude

Teen Dream

Bright pinkish coral matte (Repromote)

Caravamp

Reddish-orange

Desert Evening

Clear with pearl (Online Exclusive)

Rio Grande Romance

Bright fuchsia
POWDER BLUSH, $27.50 CAD
Modern Mandarin

Red-orange (Satin) (Permanent)

Adobe Brick

Burnt-red (Satin)

Painted Canyon

Mid-tone coral (Satin) (Online Exclusive)
CREAM COLOUR BASE, $27.50 CAD
Yellow Topaz

Light golden champagne
BRONZING POWDER, $32.50 CAD
Matte Bronze

Bare shouldered bronze (Permanent)

Refined Golden

Finely spun golden with soft pearl (Permanent)

Firebrush

Reddish bronze with golden sparkle
STUDIO SCULPT DEFINING BRONZING POWDER, $38.50 CAD
Delphic

Coppery bronze with gold sparkles (Repromote)

Golden Rinse

Light brick reddish bronze with fine shimmer (Repromote)
GLEAMTONES POWDER, $38.50 CAD
Dunes at Dusk

Multi-colour
STUDIO NAIL LACQUER
Blazing Hot

Bright orange (Cream)

Skin

Light peach beige (Cream) (Permanent)
BRUSH
125 Split Fibre Dense Face Brush

($36.00 U.S. / $43.50 CAD)

127 Split Fibre Face Brush

($36.00 U.S. / $43.50 CAD)

228/226 Double Ended Brush

($35.00 U.S. / $42.00 CAD)
MAC's Vibe Tribe is available online (Since May 12th) and in stores as of May 19th. I would love to know if you plan on picking up anything from this collection! 🙂
Aishwarya