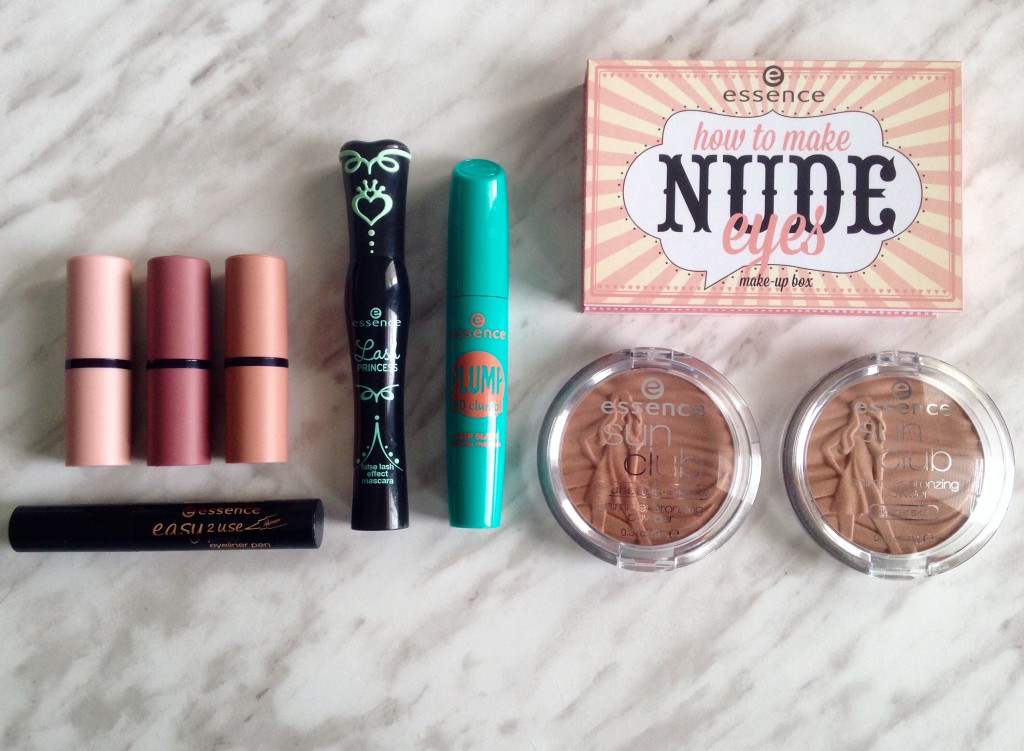 Good Evening!
Today, I wanted to share an Essence Cosmetics Makeup haul and review of products from their Fall/Winter 2015 Collection that I got to try out. Many of these products I felt like made great gifts, stocking stuffers and not to mention a good buy for yourself. So I put them all together in this one post.
The products I reviewed are their Longlasting Lipstick Nudes, Lash Princess & Plump No Clump Mascara, Big Jumbo Eyeliner, How to Make Nude Eyes Makeup Box eyeshadow and Sun Club Shimmering Bronzing Powders. If you have never used any Essence products before, then you're in for a pleasant surprise!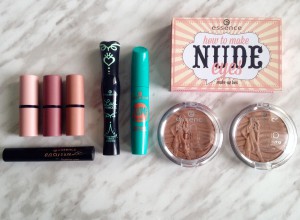 Essence Cosmetics, is a value cosmetics brand. They have high-quality products at amazingly low prices. Just so you have an idea, their products retail at an average price of $3.00!!! Their line consists of a wide variety of products.
The very first product I ever tried by Essence Cosmetics, was their lip liner, which I purchased from the oh-so-amazing Shoppers Drug Mart <3. The colour was a cross between a taupe and mauve shade. It was only $1.99 so I didn't know how great it would be. When I finally tried it on, it was the most pigmented, creamy, long lasting lip liner I had ever purchased (that too under $2). Since I had such a pleasant first experience, I was ecstatic to try out these new products.
01 Wearing Only a Smile:  Is the lightest shade out of them all. It doesn't suit my tanned skin by itself. I  can only use this shade over top my everyday Taupe lipstick, for adding moisture to my matte lip.
02 Porcelain Doll: This shade is still in the lighter nude category. Although it is alot more pigmented that 01. I always mix products for my lips. So to make this lipstick more suitable for me, I lined and lightly filled my lips with Make Up Forever's Lip Liner in 3C. This duo for me is perfect, as MUF's lip liner is matte and Porcelain Doll adds colour and is moisturizing.
05 Cool Nude: Cool Nude is one of their most popular shades of lipstick. It is a berry tinted shade with hints of brown and packed with moisture. The lip combos you can create with Cool Nude, are endless. An Essence lip liner ($1.99) would pair very well with 05, especially the shades Soft Rose & Honey Bun.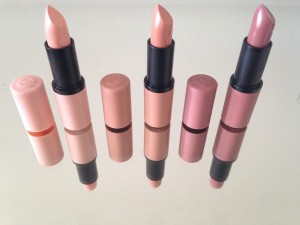 These 3 shades are generally not very pigmented but quite moisturizing with a hint of colour. Depending on your skin tone, each of them can create a nice soft nude lip by itself or made bolder if paired with another nude lip product. The lipsticks retail for $3.49 each and there are 5 shades in this collection.
Sun Club Shimmering Bronzing Powder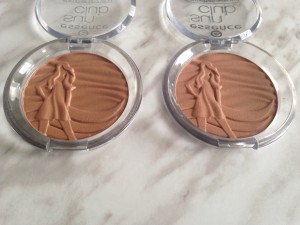 These Shimmering Bronzing Powders are similar to their previous Sun Club Matt Bronzing Powder. The differences are the addition of shimmer and a light coconut scent. The previous matt powder had more of a vanilla scent.
The Bronzing Powder's are available in two shades: Sunloved and Suntanned. It has a smooth texture with a 3D design on the powder. When this product is blended it gives a nice sunkissed glow. The shimmer is very micro so it is not at all overpowering. You don't need to pack on this product as one dab with a brush picks up quite a bit of product. The bronzing powder retails for for $3.99.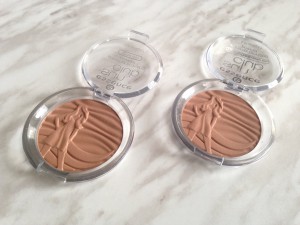 How to Make Nude Eyes Make-Up Box
The palette comes in a magnetic case with a mirror inside and a dual sided applicator. It includes an instruction card to help you create a soft nude look as well as a bold night time look. The cards show exactly where to apply the shades on your eyes.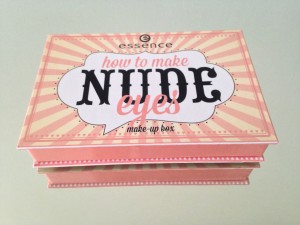 The shadows are extremely velvety. The shadows have shimmer to them but they aren't overpowering if worn during the day. I honestly found use for each and every shade (6 shades) in the palette, which is a big PLUS.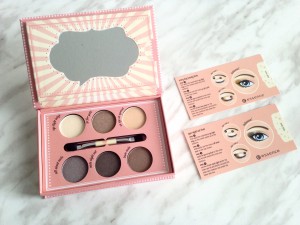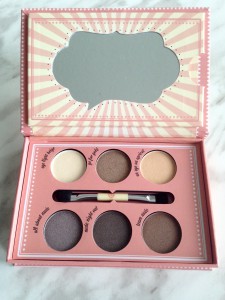 Here are the swatches of the eyeshadows: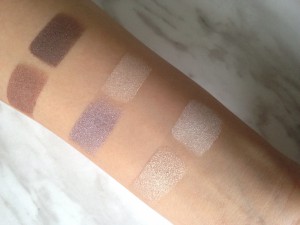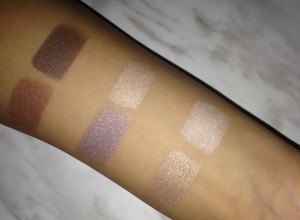 The palette makes for a really cute yet, usable gift or give it a try and purchase it for yourself! It is priced at $9.99. 
Eyebrow Fixing Pencil
It is a transparent wax pencil with a brush built into the cap. It is meant to fix untamed eyebrow hair. You apply it by penciling the product on to your brows and use the brush end to comb the hair in place.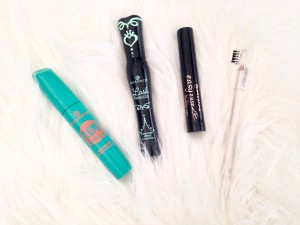 I don't really have stray eyebrow hair that falls out of place because my hair is short. Although, when I applied it right at the arch, it does help hold the hair in place, creating a sharper arch. What I do really like is that it is completely invisible and pairs well with my Marcelle Eye Brow Pencil.  It retails for $2.49.
Lash Princess False Lash Effect Mascara
Meet the best mascara you'll ever use, that is under $5.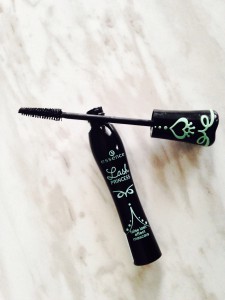 Before I mention anything about the mascara itself, I would like to stress that the wand on it is better than some $40+ mascaras. The brush combs out your lashes, applying just the right amount of product, while lifting it. It fans out your lashes, giving it lots of length and absolutely NO clumps.
You can layer on as many coats of mascara as you like but you will only be left with long, voluminous lashes (no spidery lashes). You can achieve the look of false lashes in merely 2-3 coats. The mascara has rubber accents on the wand that help with the grip as well as allow for a more precise application. I really, really like this mascara and it has been what I have been reaching for lately.
Easy to Use Jumbo Eyeliner Pen: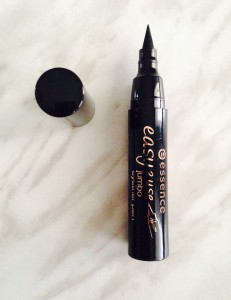 It is definitely the thickest eyeliner pen I have ever used, but it's large felt tip makes creating a cat eye or putting on eyeliner fool proof. It has a firm tip which isn't bendable like the other felt tip liquid liners I use.
Once applied, the eyeliner does not budge, nor does it fade or flake.  The only thing is, that it's not as bold of a black as the liners I usually wear are. If the gel liner you use tends to transfer on to your eyelids,  I have found that applying this first and then lightly filling it in with a gel liner prevents that. This extra step is for when you're out for a longer period of time.
It's compact size makes it travel friendly. I suggest that you store it with the felt tip pointing downwards to prevent it from drying out. The Jumbo Eyeliner Pen retails for $3.49.
Plump No Clump Mascara Deep Black: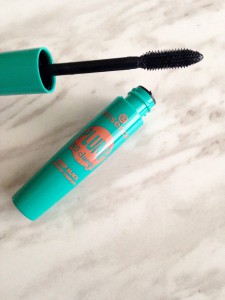 As its name implies, it is a jet black mascara. Once applied it really makes your lashes stand out. Although the formula of the mascara is amazing, I wish the wand was a little different. If it had a denser brush like the Lash Princess Mascara then it would evenly distribute the product. Right now I find, that although they make my lashes stand out, they do not individually fan them out, as I would like. The Plump No Clump Mascara retails for $4.99.
Currently Essence products can be purchased from Shoppers Drug Mart if you're in Canada. Otherwise Ulta and Fred Meyer stores Nationwide. They really do make for great gifts this time of year! As well as budget friendly purchases without sacrificing quality.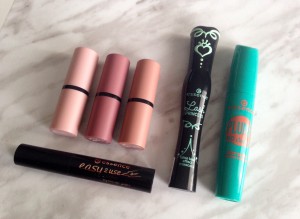 I hope you found my review helpful and I will be posting part 2 of the haul very soon! I would love any recommendations of your favourite Essence products. 🙂
Aiishwarya