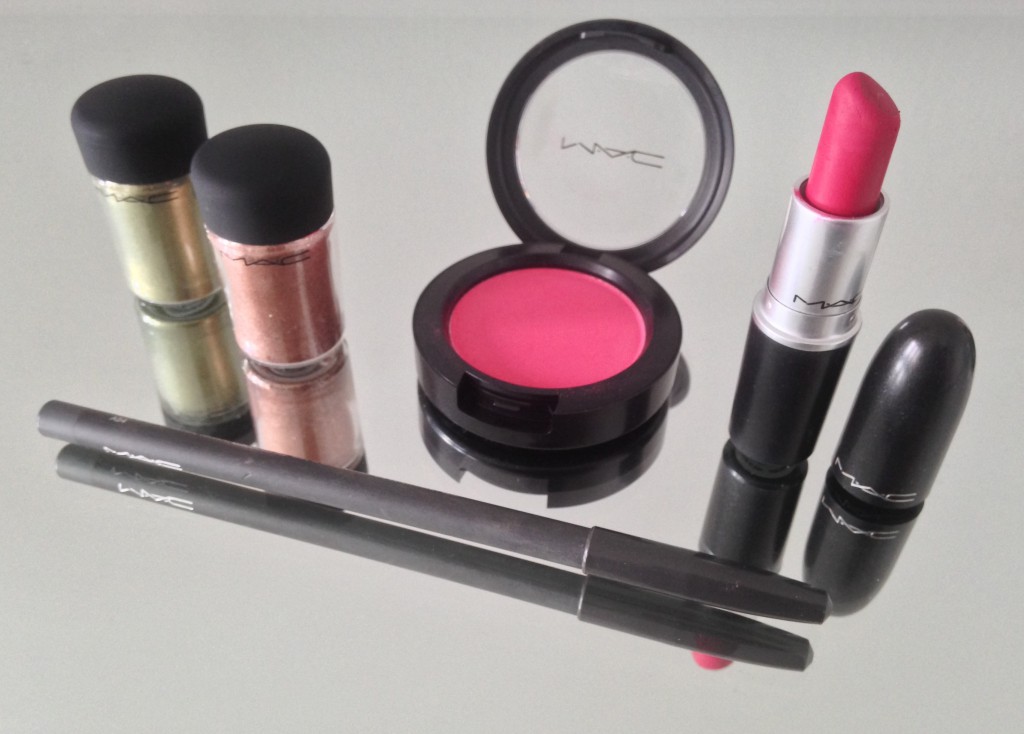 MAC Cosmetics, is literally my first love. With every post I put up on my blog, I somehow end up mentioning or referring a similar MAC product. So it's no secret how much I obsess over MAC. Especially since they were the very first brand of lipsticks I ever used, which my mom gifted me as a young makeup lover. I regularly keep up with their newest collections and whether I'm in another country or in an airport duty-free shop, I will without a doubt, find my way to MAC. LOL. I recently got to try out a few products from their new Flamingo Park Collection. Consisting of their Powder Blush Life's A Picnic and Loose Pigments Golden Olive and Tan.
The Flamingo Park Collection became available on February 4th, 2016 in all (North America) MAC locations. I have included the full details at the end of this post.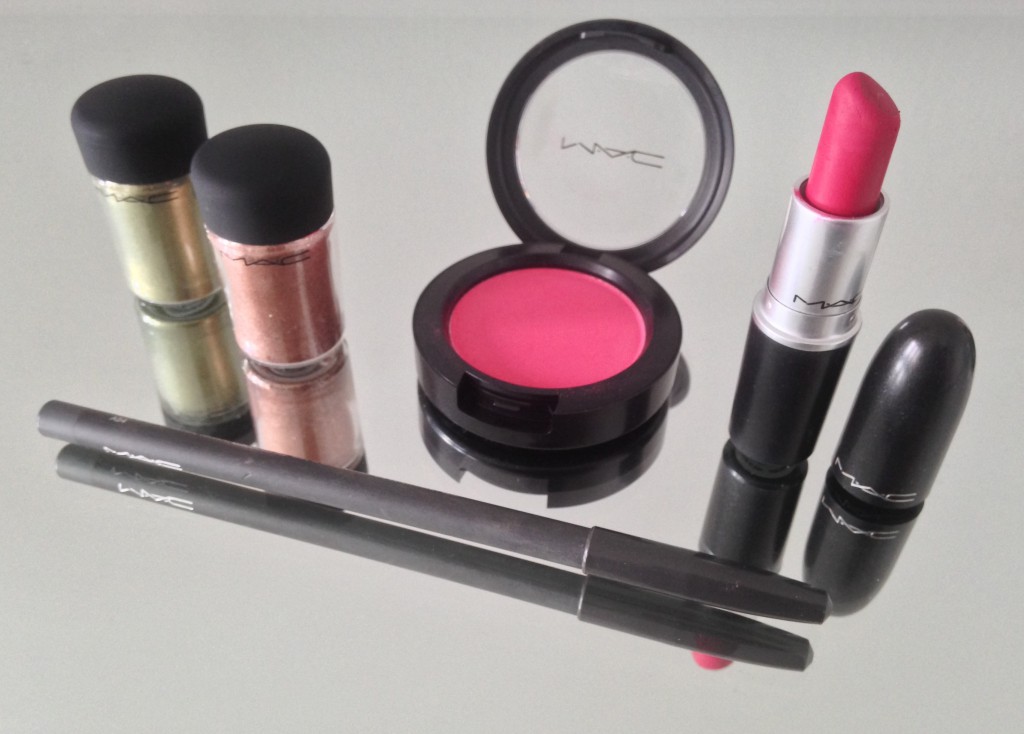 (Picture includes some other favourites that are not from the collection)
The powder blush in Life's A Picnic is described as a 'hot redish pink' shade with a satin finish. Like all of MAC's products, this too is highly pigmented.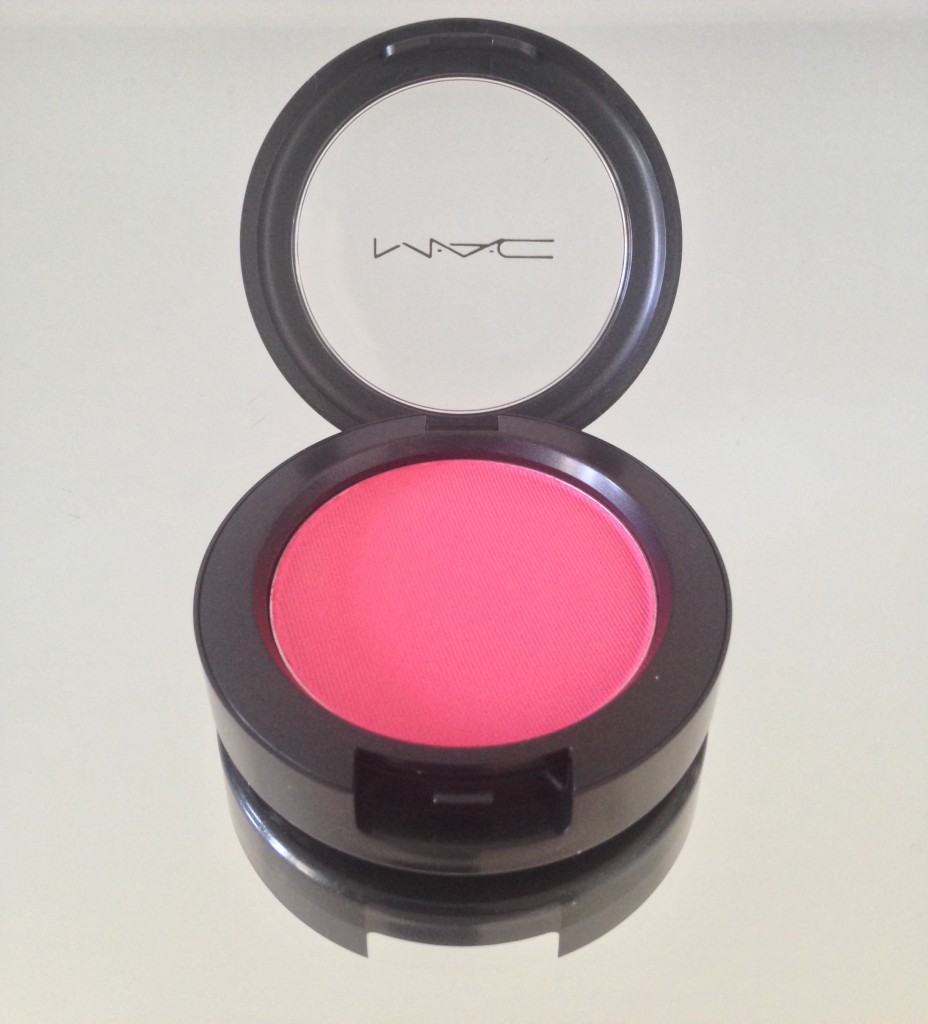 See the swatch below: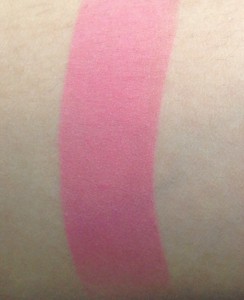 It is buttery smooth to the touch and just absolutely gorgeous! I am a NC37 in MAC foundations and think this shade looks amazing on tanned skin tones. But can just as easily be worn by people with fair complexions, by using the slightest bit of the blush.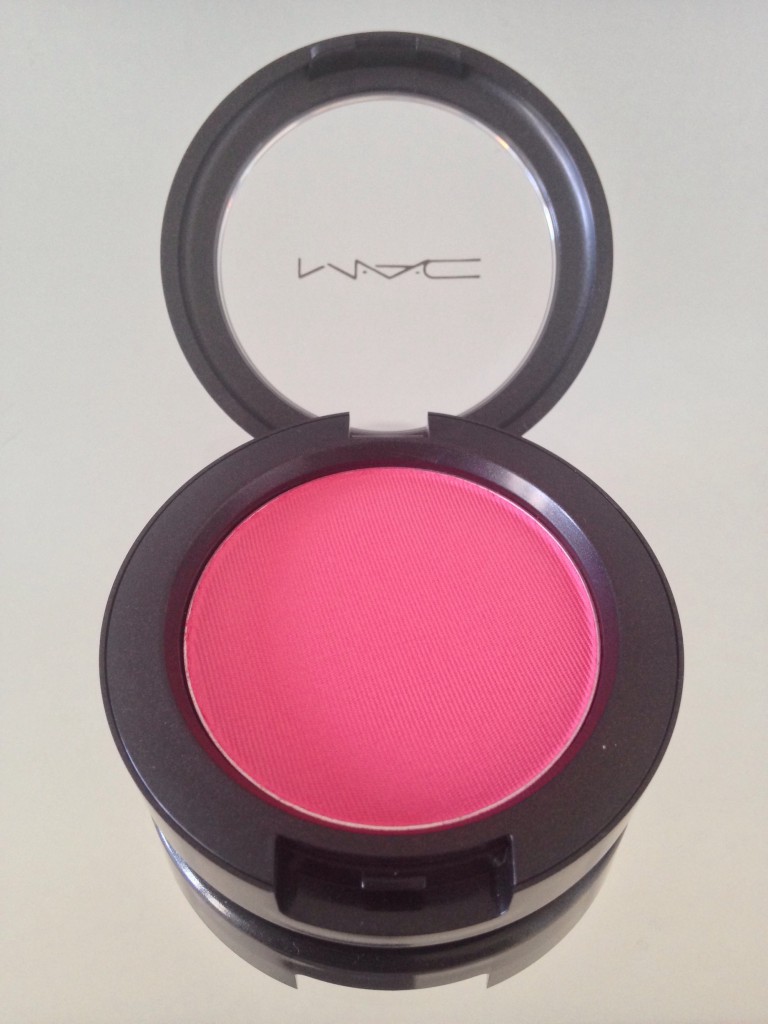 I also tried out two of their Loose Pigments in the shade Golden Olive and Tan.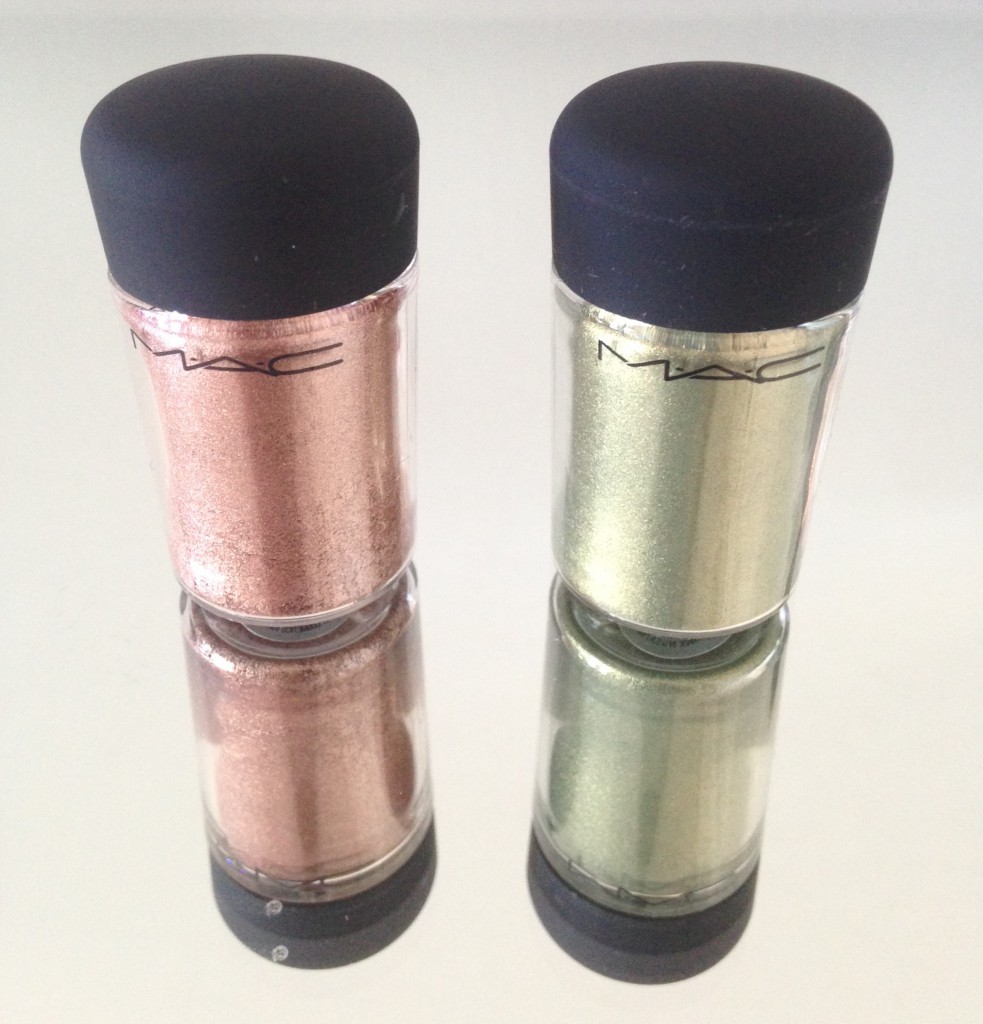 Golden Olive is such a fun, vivacious shade. It is described on MAC's site as a high frosted greenish gold. The pigment itself is an olive green but has a gold sheen to it.
See the swatch below: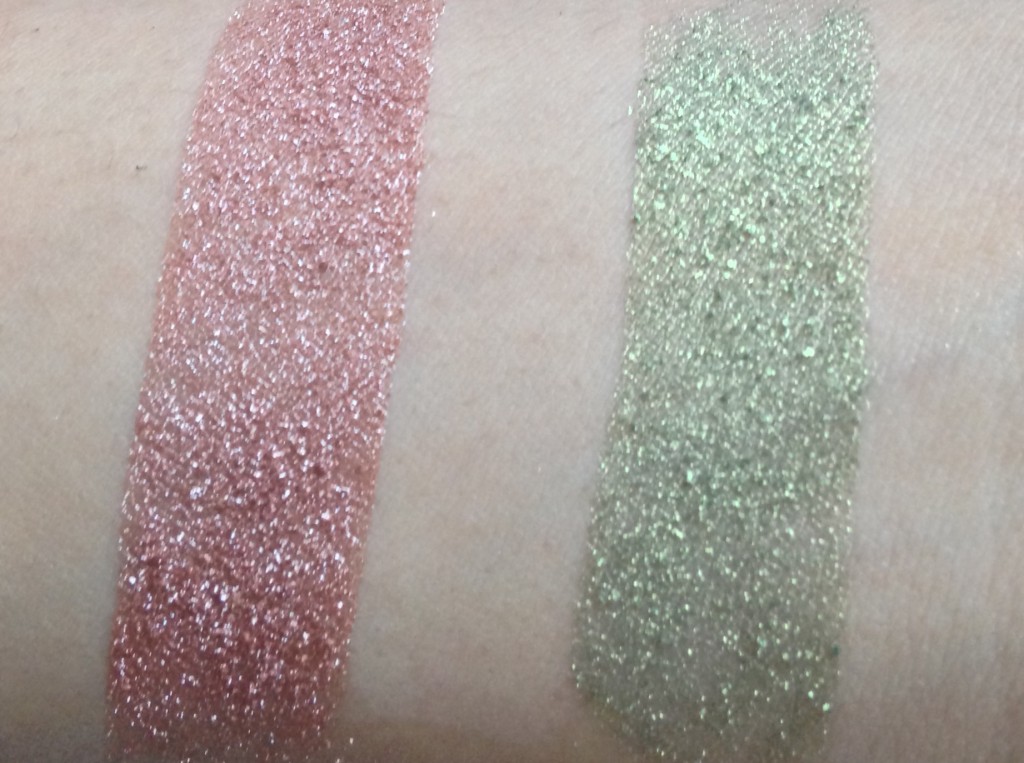 Tan and Golden Olive (loose pigments swatched by themselves)
Tan is my absolute favourite! It is described as a 'muted pinkish bronze with a frost finish. A shade that can be worn year round and is just absolutely beautiful. I have seen people customizing loose pigments into highlighters by incorporating it into a light moisturizer.
The loose pigments come packaged in MAC's signature black cap and glass jar. Like the majority of MAC products they are HIGHLY pigmented. Both shades can be worn as eye shadows if you spray on a bit of Fix Plus on to your makeup brush and pick up the pigment with it. Or by itself if your eye lids have been primed to decrease the amount of fallout.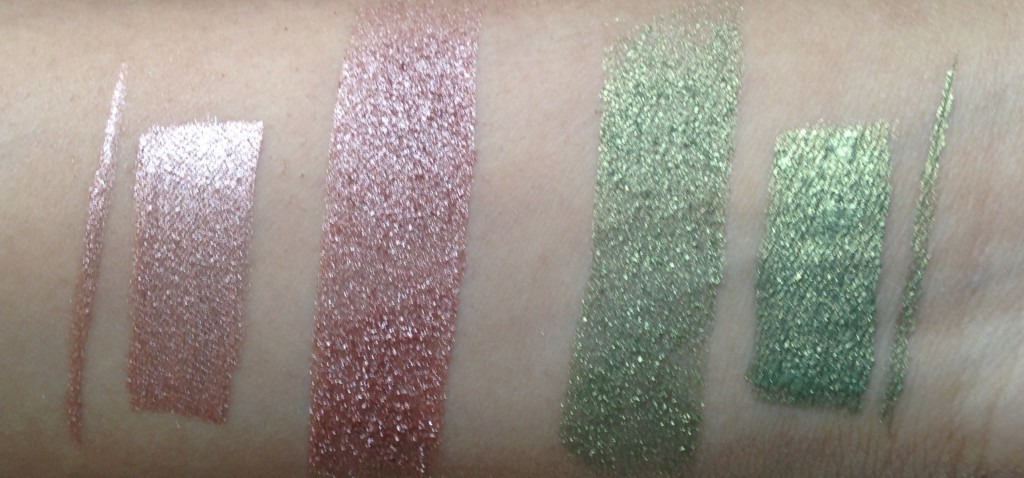 It can also be worn as eye liner if you use a liquid transformer or MAC's Water Base Mixing Medium and a fine eye liner brush. As well as a metallic eye shadow. The uses of Loose Pigments are endless!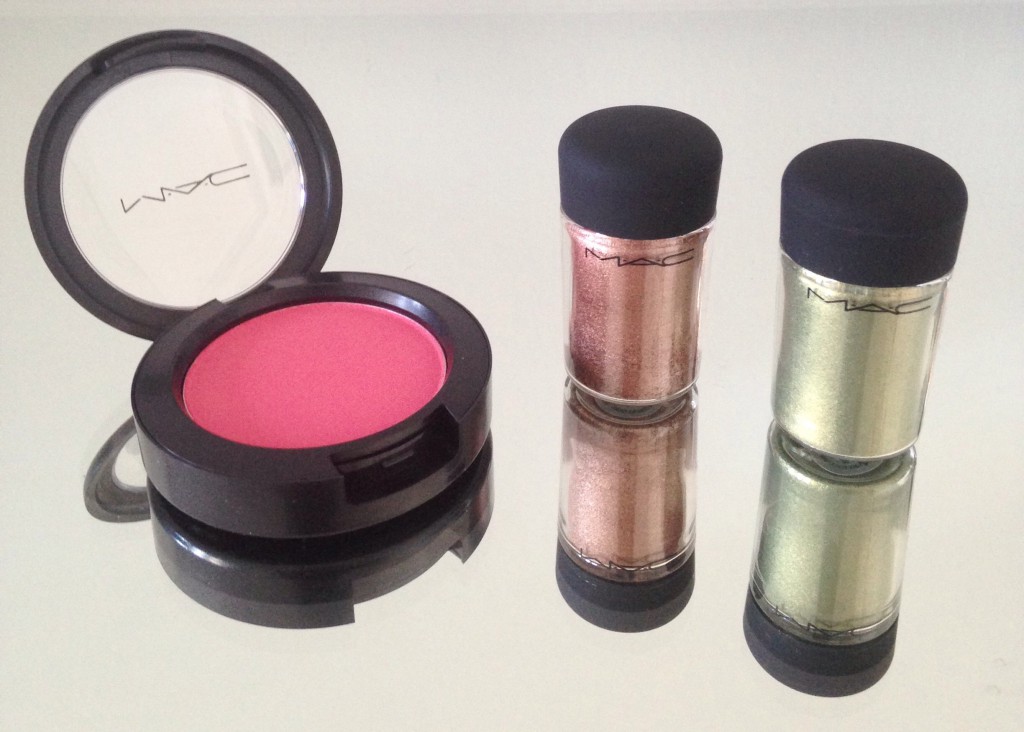 I have included the full details of the entire MAC Flamingo Park Collection below:
The entire collection consists of:
Eye Shadow x 9/Flamingo Park ($48 CAD):
Bird's Eye View, a hot magenta (Satin)
Flock & Roll, a light pastel pink (Matte)
Sushi Flower, pinky coral with pink shimmer (Satin)
Elegant Friend, a dirty lavender (Veluxe Pearl)
Weirdly Wonderful, a royal blue with light blue pearl (Veluxe)
Naturally Fabulous, a warm mid-tone brown (Matte)
Flounce, a chalky white pink (Matte)
Glamour Light, a soft lemon yellow (Satin)
Floridazzle, a soft lime green (Satin)
Pigment ($26 CAD)
Rose, a rose with copper sparkle (Frost)
Golden Olive, a high frosted greenish gold (Frost)
Tan, a muted pinkish brown-bronze (Frost)
Studio Nail Lacquer ($14 CAD)
Miami, a warm pinkish coral
Spoonful of Sugar, a soft pink glitter with pink pearl
Lipsticks ($20 CAD)
Flocking Fabulous, a bright coral-red (Cremesheen + Pearl)
Please Me, a muted rosy-tinted pink (Matte, repromote)
Nice to Meet You, a deep pinkish red (Cremesheen)
Be Silly, a hot fuchsia pink (Matte)
Long Legged & Fabulous, a soft baby pink (Cremesheen + Pearl)
Silly, a bright white-pink (Matte)
Saint Germain, a clean pastel pink (Amplified, repromote)
Have Your Cake, a bright magenta (Matte)
PLUS ONLINE EXCLUSIVE**
The Fashion Flock, a bright pink-coral (Matte)
Lip Pencils ($19.50 CAD)
Chic Trick, an amped-up fuchsia
Embrace Me, a vivid pinkish fuchsia
In Synch, a bright yellowish pink
Cremesheen Glasses ($24 CAD)
Such Sweeties, a pastel baby pink
Look Who's Here!, a soft pink with blue pearl
Sweet Tooth, a warm mid-tone pink
Petite Indulgence, a bright blueish pink
Playful Petal, an electric magenta
Powder Blushes ($26 CAD)
Life's a Picnic, a hot reddish pink (Matte)
Pink Swoon, a soft yellowish baby pink (Satin)
Let's Be Friends, a blueish hot pink (Satin)
What I Fancy, a soft bright apricot (Satin)
This Could Be Fun, a soft violet-purple (Matte)
Spring Flock, a light bright coral (Matte)
Oh, My!, a reddish mid-tone coral (Satin, online exclusive)
Brush ($42 CAD)
Technakohl Liners ($19.50 CAD)
Raisinette, brown purple (repromote)
Purple Dash, an intense aubergine (repromote)
Haute & Naughty Lash ($27 CAD)
Haute & Naughty Black, black (repromote)
Beauty Powder ($26 CAD)
Pearl Blossom, light pink with silver pearlized pigments
Sunny Surprise, a soft peach
*Pricing information provided from press release*
Hope you enjoyed this post from your fellow MAC addict. 🙂
Aishwarya