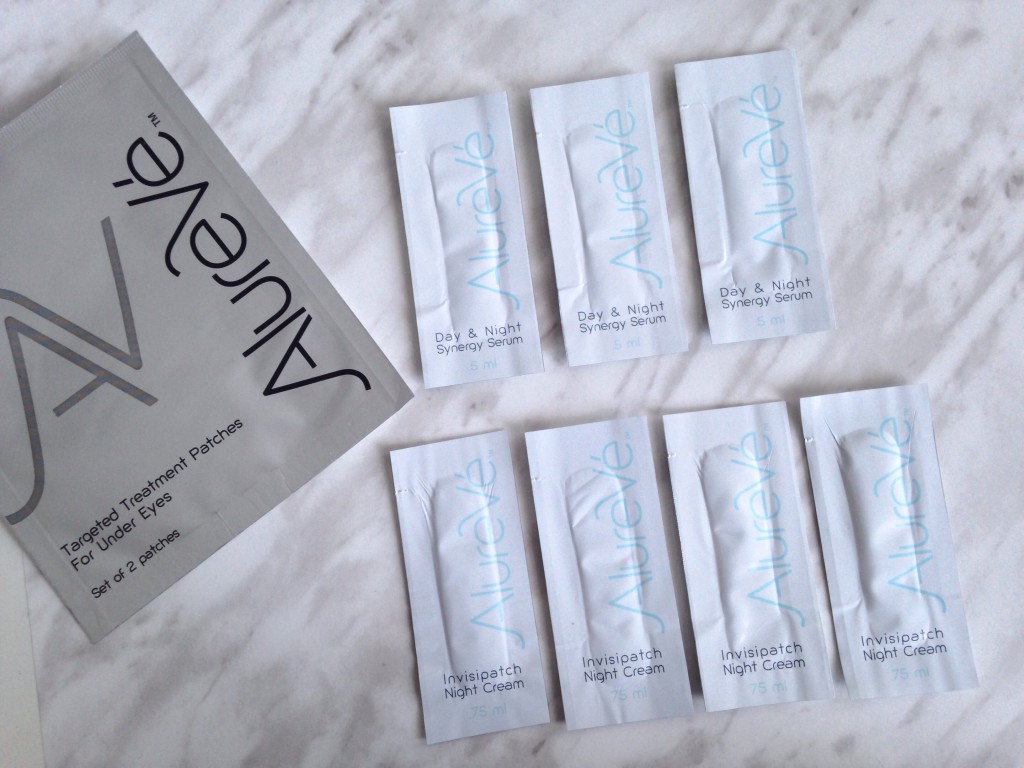 I wanted to share with you a few products I recently tried out by the brand AlureVé. I tried out the AlureVé Skincare Regime for 3 days. Although I don't currently have any aging concerns at this very moment in time, I do believe taking preventative measures help in the long run. Which is why I was eager to try out this regime.
The Alureve system consists of 3 products, which are: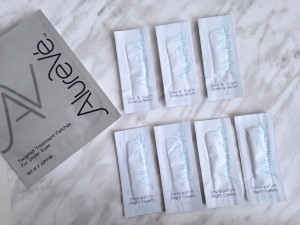 AlureVé Invisipatch Night Cream
AlureVé Day & Night Synergy Serum
AlureVé Targeted Treatment Patches for Under Eyes
AlureVé was invented by Dr. Quan, consisting of products that use a unique time-release delivery system. It is designed to move the product through the outermost layer of your skin and into the 'live epidermis' where the product is most useful.
An anti-aging serum meant to reverse visible signs of aging. This serum is meant for all skin types. After applying this in the morning, it has kept my skin nice and moisturized even through the cold. It is not too heavy which is nice if you have blemished skin. They advise that you use this day and night (under the Invisipatch Night cream).
At this very moment I am looking to heal and diminish any old blemishes on my skin so I prefer more medicated lotions under my makeup. So I would opt out of the day time cream and lean more towards the nighttime cream. Although it is an amazing formula if you're looking for something that moisturizes and overall rejuvenates your skin. A 30 mL bottle retails for $142.
---
AlureVé Invisipatch Night Cream is again, a time-released moisturizer that is meant to help reverse signs of aging and improve the overall look and firmness of the skin and preventing further loss of resilience. It has an oil blend that restores dry skin which I have around my eyes especially. I always have a hard time keeping that area moisturized and if it's not then it becomes clearly visible from underneath my makeup. The product comes in a 15 mL bottle and retails for $109. I know for maximum efficacy you should follow a full regime but if you're solely looking for a nighttime repair cream then this would be something worth looking into.
The AlureVé Invisipatch is meant to reverse signs of visible aging. The patch is to be worn for a minimum of 4 hours or for the full duration of your sleep. AlureVé patches say that they deliver up to 55 times more ingredient into the skin than standard skin care products.
This is the first overnight patch I have tried out and it definitely reduced my under eye puffiness and made them appear quite moisturized after having worn it for 7 hours. Even very fine smile lines seemed to have been filled. Although I can't comment on whether more extensive lines and wrinkles will be filled, it seems very promising.
One order consists of 8 pairs of under eye patches
Although Alureve products are slightly on the pricier end, they do have promising results. That definitely justifies the price. You may have more noticeable results that I did, if you already have concerns with fine lines and wrinkles. Although in my case, I mostly noticed, an overall appearance of more hydrated and supple skin, since I don't have wrinkles (yet).
Aishwarya