As someone who adores roses and all things inspired by them, I am thrilled to be trying out the Wet N Wild Rebel Rose Collection! This collection is a limited edition launch for Spring 2019. Since there's a generous selection of products, lets dive right in!
From the get go, I've stated over and over again, how Wet N Wild's products have never failed me. I've been using their range from my 'tween' years, now into adulthood! I absolutely love seeing how they've evolved, and how they manage to provide quality, inclusive products at such an affordable price. Now that you know my sentiments about the brand itself, let's begin with one of the most eye catching pieces from the collection.
The Rebel Rose Makeup Brushes are the most stunning brushes I've come across as of late. Available in a Blush Brush and Eyeshadow Brush, their brush heads have been created to look like roses. Including the dainty stems, leaves and all! Retailing for $7.99 CAD.
Photo Focus Rose Multi-Use Oil
A multi-purpose oil that is infused with floral extracts and whole rose petals! Ideal for use on your face, body and nails. This oil provides intense hydration without the greasy feel. However you might want to steer clear of this if you're sensitive to strong scents. The Photo Focus Rose Multi-Use Oil retails for $8 CAD.
I don't think I've ever feared a product, as much as I did this one. Normally, or ever for that matter, when I reach for a blush, it isn't black. So you can imagine the confusion I had with the Color Icon Cream Blush. This cleared once I swatched it on my arm, only to realize it's a berry hued blush. I suggest using this light-handedly as it's very pigmented. The Color Icon Blush retails for $4.99 CAD.
Available in 3 variations, each quad contains 2 shimmer & 2 matte shades. The shadows have raised roses pressed into them, to continue the theme of Rebel Roses. Pigmentation is superb and comparable to a high end shadow. The colour selection is one that will definitely have even the most colour shy makeup lovers like myself, experimenting with colour! Each quad retails for $4.99 CAD.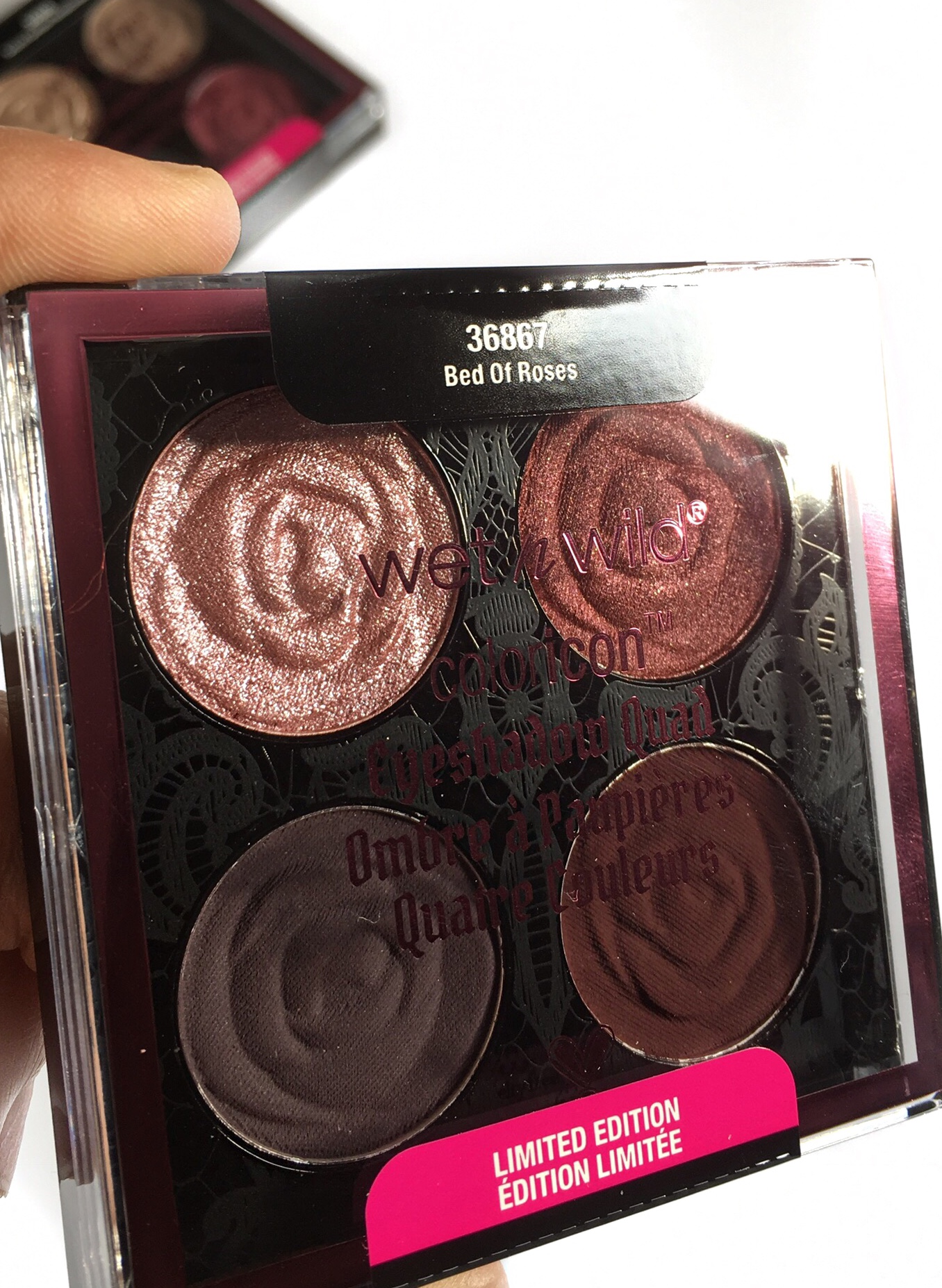 Bed of Roses
Secret of Garden Rendezvous
House of Thorns
MegaLast Liquid Catsuit Matte Lipstick
Available in 2 shades, Deviant Damsel and Kiss of Death. Although a liquid lipstick, it provides an incredibly comfortable wear, probably due to the fact that it is formulated with Vitamin E and Macadamia.
MegaLast Liquid Catsuit Matte Lipstick retails for $4.99 CAD.
Overall, the Wet N Wild Rebel Rose Collection has some serious gems for your makeup collection! If I had to recommend one product from the range, it would have to be the Color Icon Eyeshadow Quads!
Available online at wetnwildbeauty.com and in store at retailers where Wet N Wild products are sold.
Samples kindly provided. All opinions are my own.