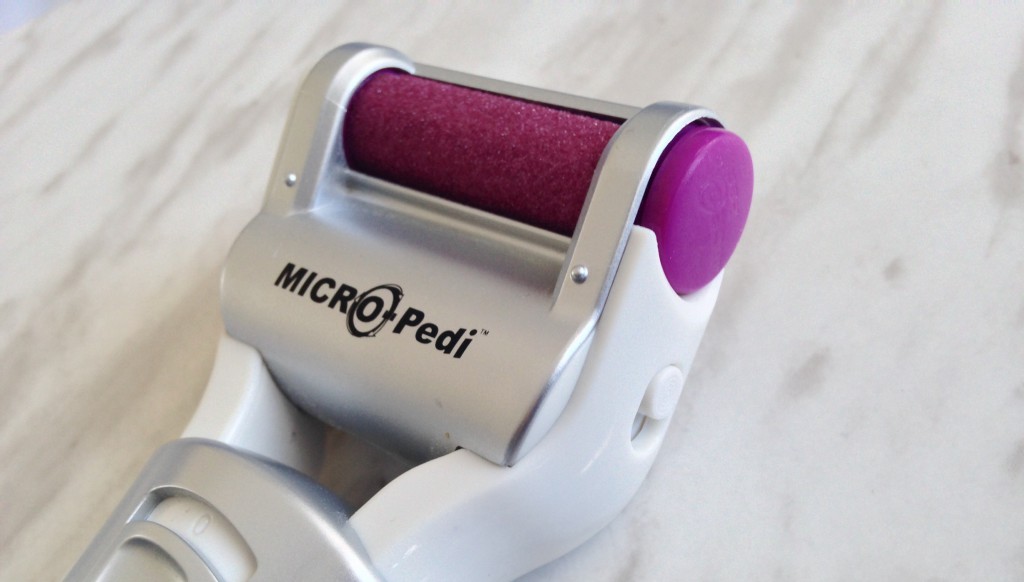 Taking care of your feet is so important. Dry, cracked, callused feet are such a nuisance. If you're always on the go and can't take out time for a pedicure then you might just love this post. My favourite nail salons in my area always have a long wait time and on top of that I am that impatient individual that can't sit under a nail dryer for 20 minutes. On top of that I previously fractured my heelbone and have been terrified of getting a pedicure. The thought of someone accidentally running a callus file over the base of my ankle (previously fractured) makes me shiver. (Still shivering). I got the opportunity to try out the Micro Pedi Portable and had a very pleasant pedicure (at-home) after a very longggg time.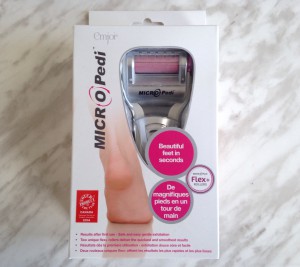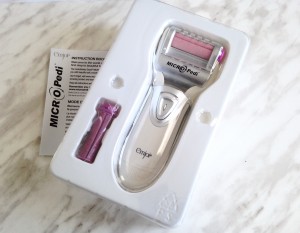 I previously featured the Micro Pedi Portable in my Ultimate Pampering Gift Guide which you can check out here but wanted to share a thorough review with you. I have been using the Micro-Pedi for a month now.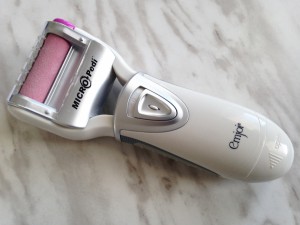 I really think everyone would benefit from having one of these at home. It's one of those universal products. I love the control you have with this tool and how easily it buffs away tough skin. It literally feels like you're being tickled. I don't feel any pressure being applied from the tool or any discomfort.
The Micro-Pedi is a hand held, battery-operated (uses two AA batteries) foot buffer, that uses a spinning roller to buff away tough, dry skin. Each box includes the device itself, two rollers, instruction sheet and a cleaning brush.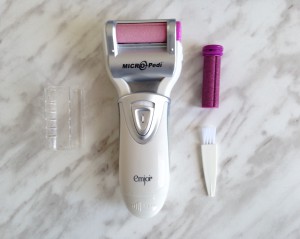 The rollers are also available in different levels of coarseness. The blue roller being for tougher skin and the pink roller for semi- tough.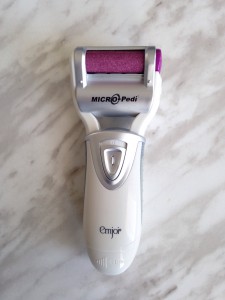 Simply slide the button upwards to turn the machine on and the rollers will begin spinning. Since it is so gentle, there's little to no chances of you hurting yourself. The machine is to be used on completely dry feet. It takes about a minute or so to buff away the tough skin on my feet. You don't need to apply any pressure, just glide the machine over the tough area until you're content with the texture of your feet. Then I wash my feet and apply a moisturizer and put on a pair of socks.
It really has kept my feet soft and callus free. I think I only need to use the Micro-Pedi twice a month to keep my feet nice and smooth.
Based on how frequently you use your Micro Pedi Portable, you will need to change the rollers accordingly. Which can be purchased in pairs. To change the roller, simply press the button on the side and it will eject the roller and you can replace it.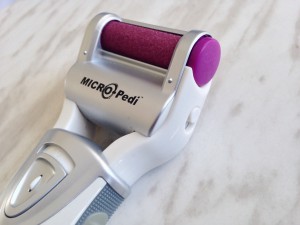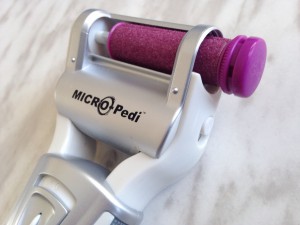 Here is an image from the side of the box of results you can expect to get: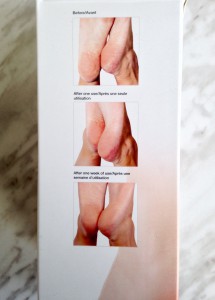 So if you really can't find the time for a pedicure, this is an AMAZING tool to have at home. The Micro-Pedi retails for $49.99 and pays for itself if you think about the price of only one pedicure. It can be purchased from Shoppers Drug Mart. 
Does this sound like a tool you need at home? 🙂
Aishwarya