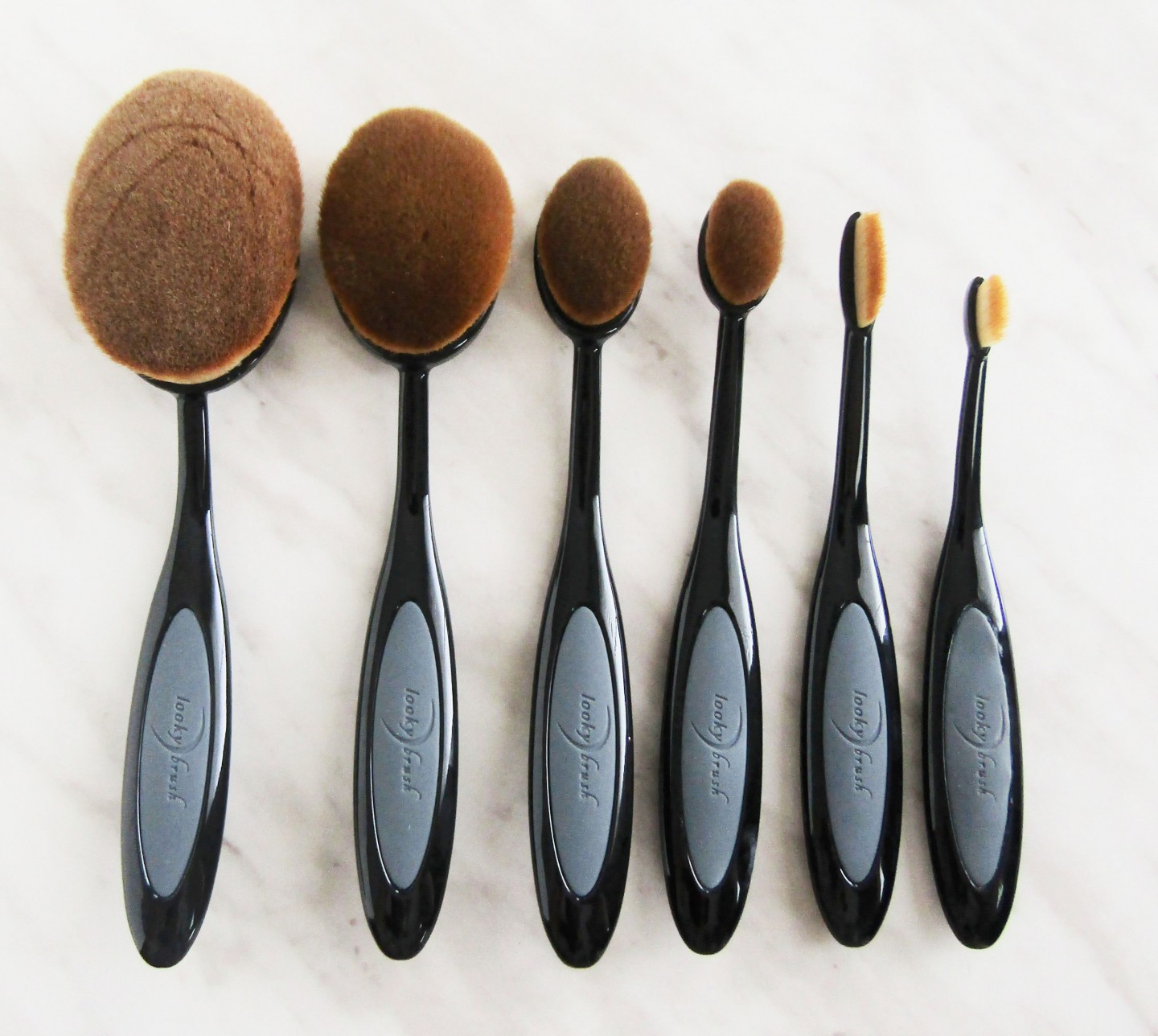 I finally got to try out a set of oval brushes! I have always wondered, for a few years now, if the placement of the bristles (being on the side of the handle as opposed to the top), would make makeup application simpler or more difficult. Whether it'd be awkward to hold, to apply to your own face or while doing someone else's makeup. The set of Oval Brushes I tried out are by a brand called Elle R Cosmetiques (a brand whose AMAZING 3D Fiber Lash Mascara I obsess over). Keep reading to see how different these Looky Brush are in comparison to your traditional brushes.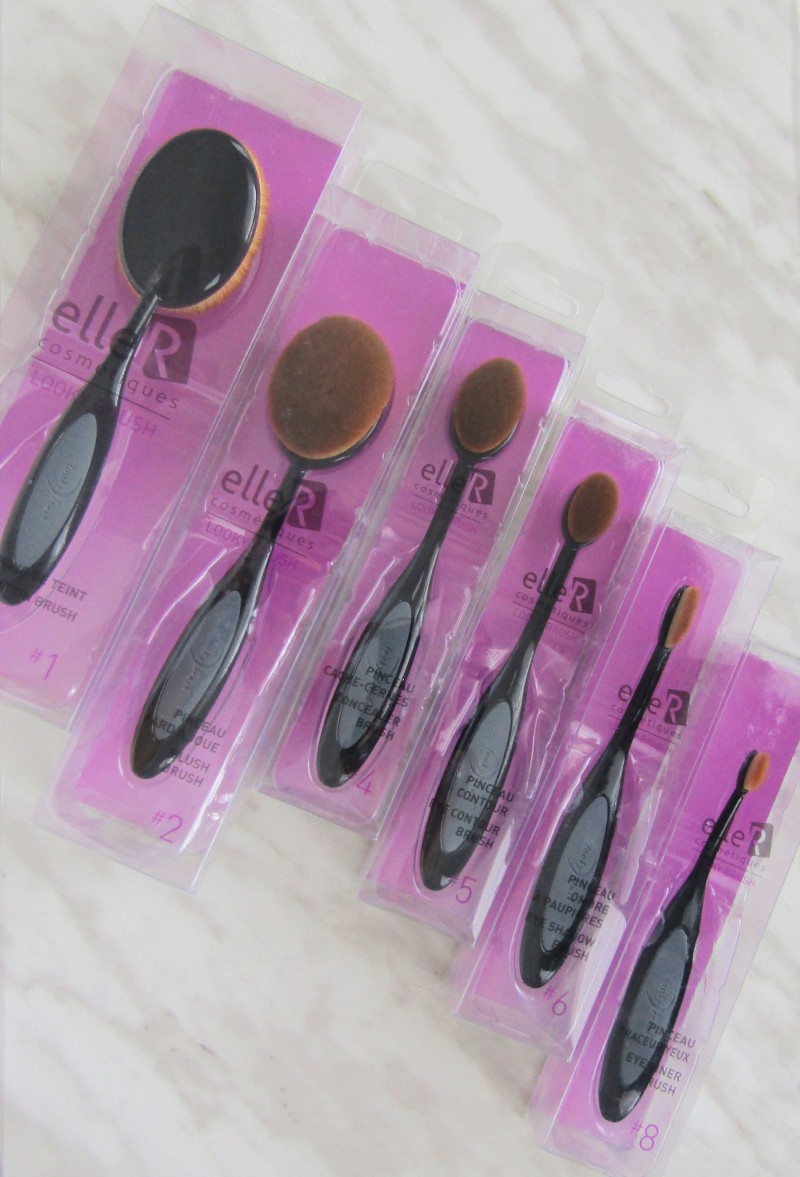 The Looky Brushes consist of 6 brushes: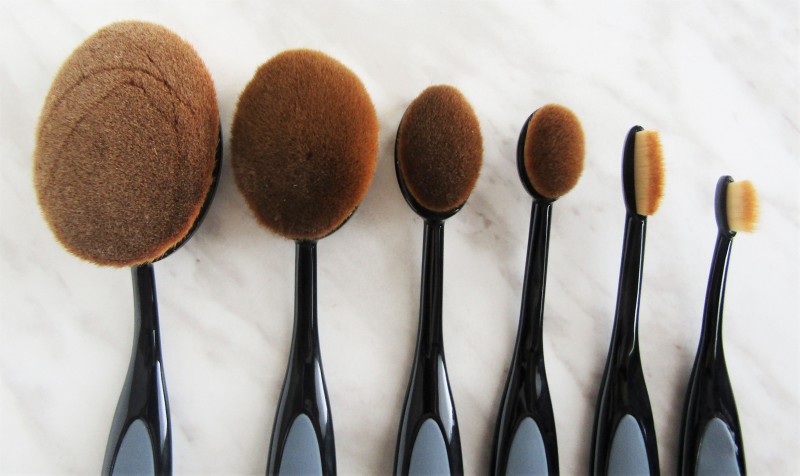 Eye Tracer
Contour
Face Powder
Blush
Cowl Cover
Eyeliner
At first glance, all I could focus on was the direction of the brush head. But after grasping the handle, it felt like second nature! It easily glided over my face, evenly sweeping the product and fitting into all the different curvatures of the face.
A similarity between all 6 brushes is the density of the brushes. Bristles are packed so tightly together that you couldn't imagine it ever shedding.
The dense brush heads prevent product from being absorbed into the base of the bristles like traditional brushes. After pumping out the usual amount of foundation I use on to one of the larger brushes. After one sweep, I instantly knew it was too much product. Normally my dense kabuki brushes absorb a good chunk of my foundation. However, the foundation stayed put on the oval brush, meaning I needed a lot less.
The first 3 brushes are intended for the base of your makeup.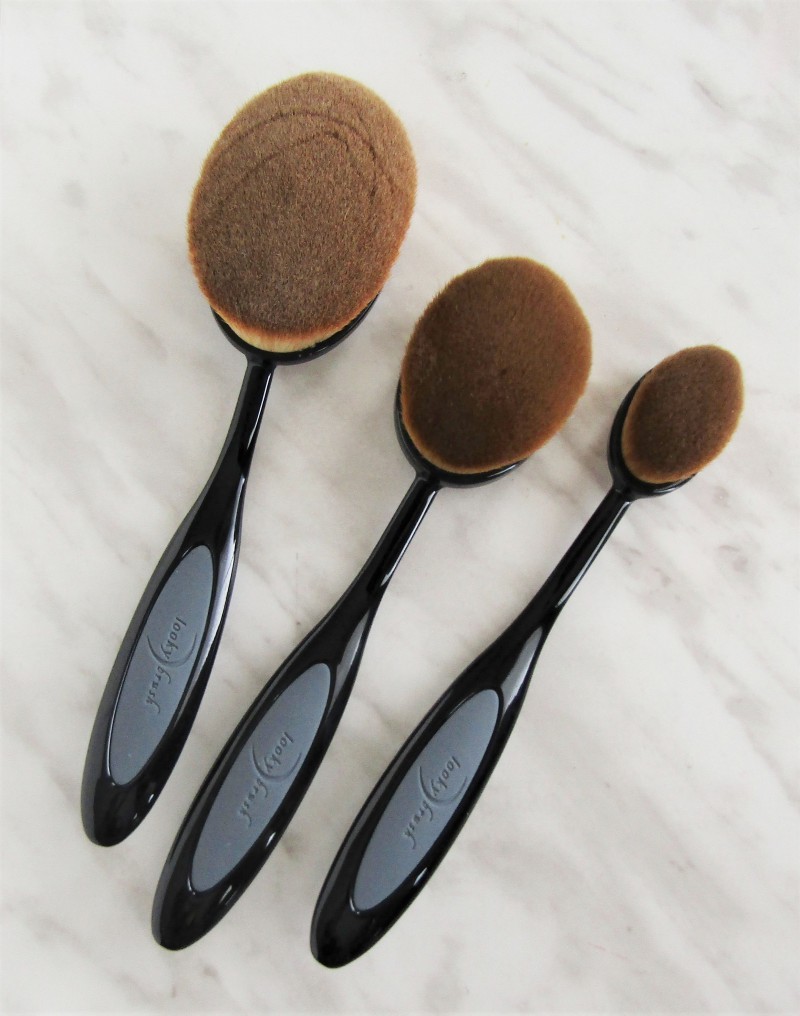 Brush 1 ($24.99):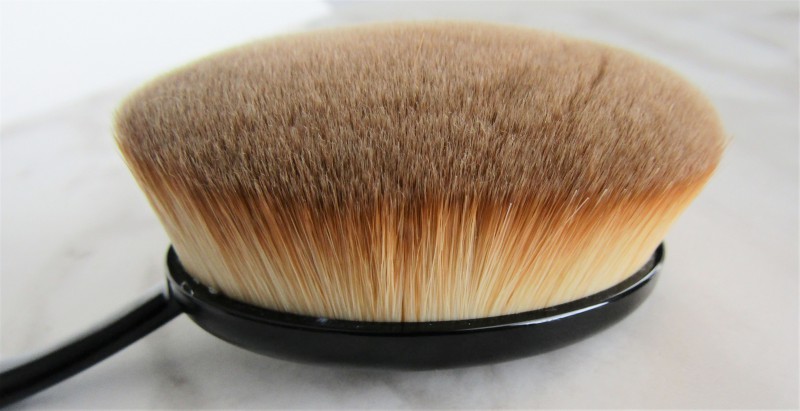 This brush is LARGE and has a flatter surface compared to the other 2 face brushes. Use it for applying foundation to the face or take it even further by using it to blend and ensure that your neck and shoulders match. It blends foundation seamlessly and glides effortlessly over the face! It can be with powder as well.  

Brush 2 ($19.99):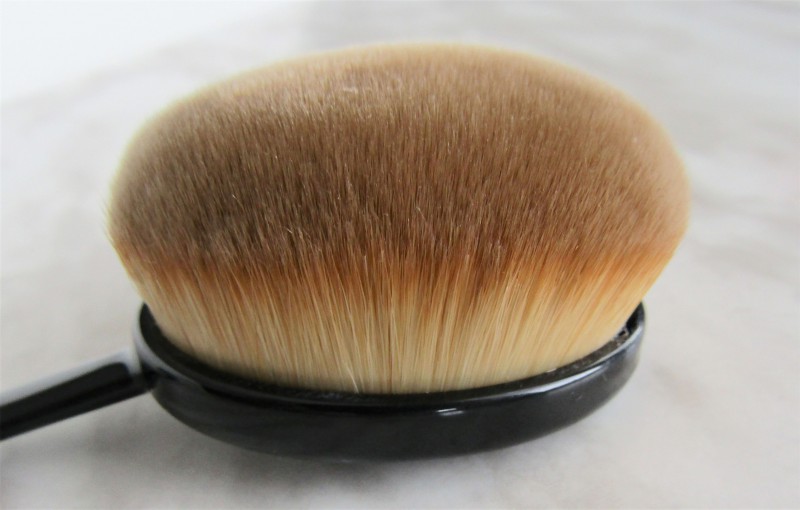 This brush is intended to be used for your blush. It works well with powder and cream blushes but you have to remember to be use a VERY light hand when sweeping the product on. Simply swipe and blend to get the perfect intensity. I don't recommend multiple swipes because it gets intense, very quickly. Its large enough to be used as a foundation brush as well or even for bronzing your skin or blending your contour. 

Brush 3 ($17.99):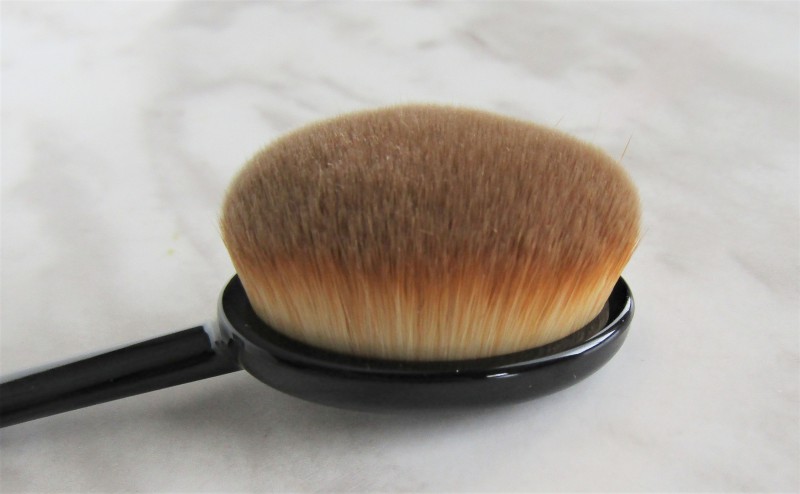 This brush is designed to be used with your concealer. It is the perfect size and has made me realize some of the concealer brushes I have been using up until now have been too small. Therefore taking more time to get the same job done. With this concealer brush I would say it takes about 4+ swipes to get an even application. I absolutely love how gentle it is under the eyes! It is also the perfect width to be used for your contour. The oval shape gives you a defined application without the sharp lines.

Applying the base of my makeup; foundation, concealer and even setting powder was an absolute breeze with these brushes!
The next 3 brushes are intended for the eyes.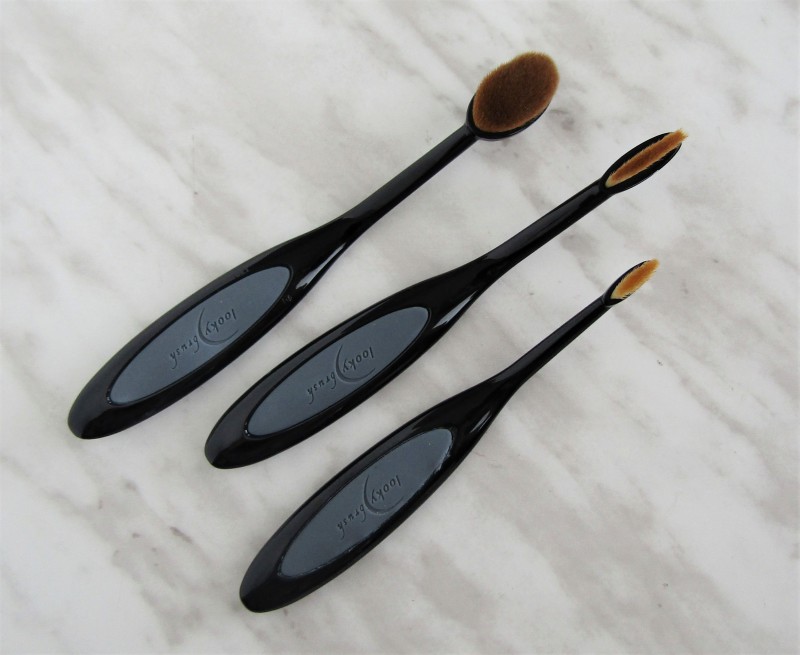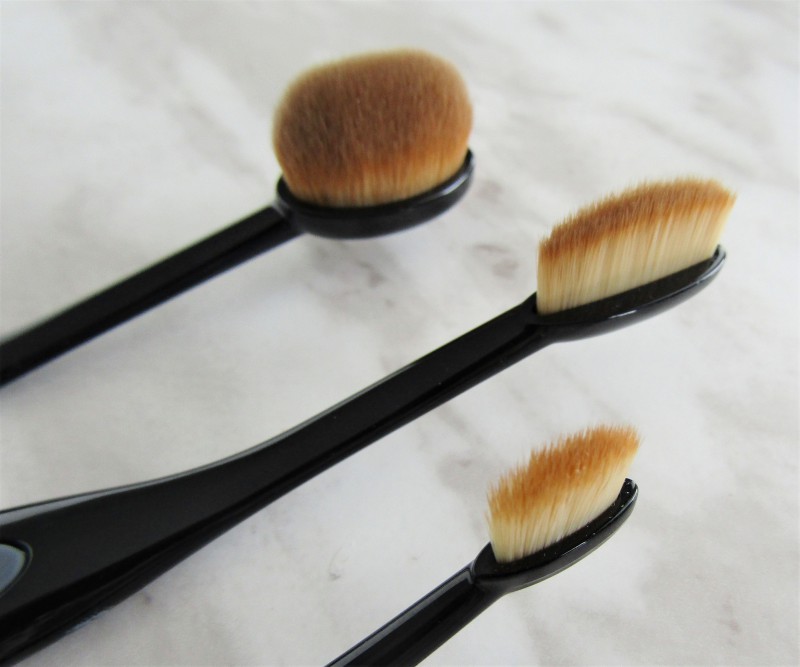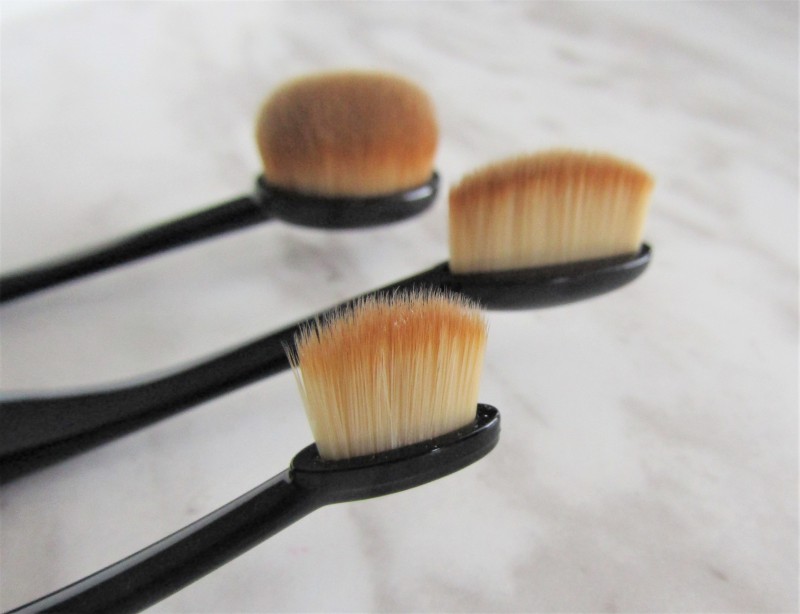 Brush 4 ($15.99):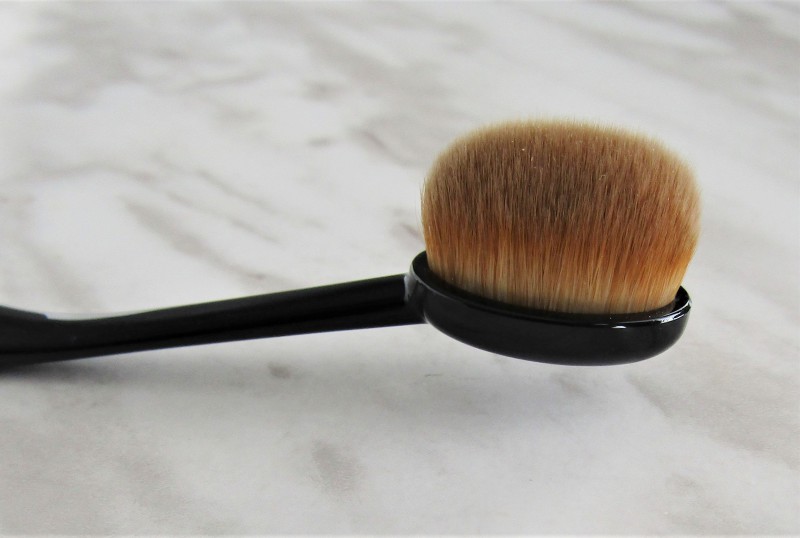 This brush is ideal for applying a shadow base, base shade to your lids. I have to apply a nude shade to my lids if I'm going to be wearing eyeliner to prevent transferring to my brow bone and this brush literally does it in one go. If you find it's too large for your lids then it does double duty as a highlight brush. Sweeping your cheekbones, temples and nose with either powder or cream highlight.

Brush 5 ($13.99):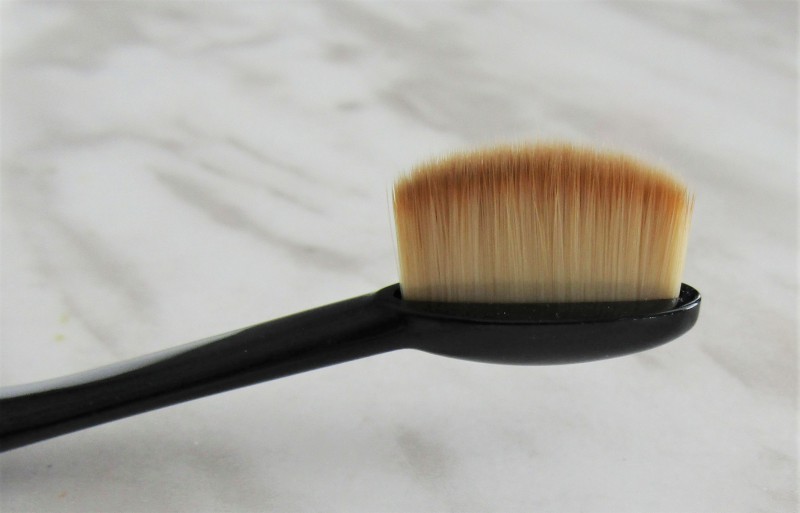 This is an eyeliner brush but not the kind that will give you a sharp winged liner. It creates more smoked out/softer lines. I have been using this with a grey shadow to line my lids and blend them out on the days I don't want to risk rushing my liquid liner.
Brush 6 ($11.99):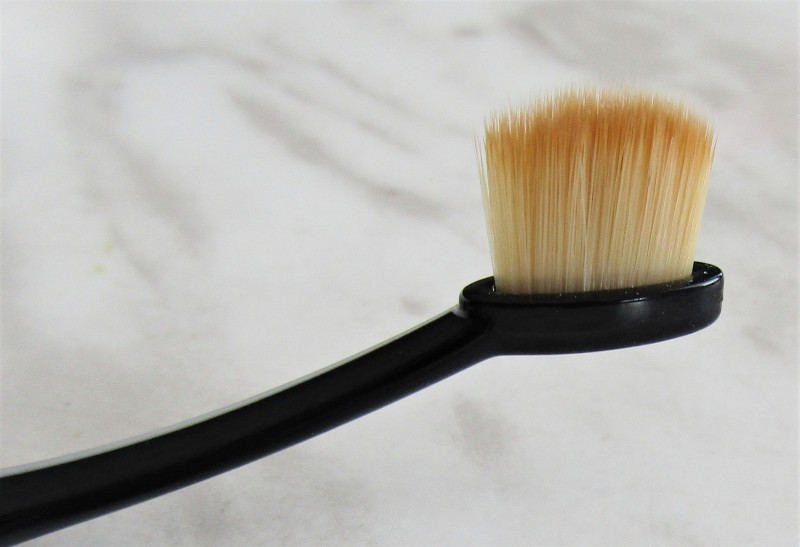 This brush is a shorter version of the last brush. This will give you a more precise eyeliner application (smoked out if you prefer). It can be used as a crease brush or to blend a transition shade. It can also be used to contour your nose.
One draw back of the larger base brushes are that they take double the time to clean them, compared to other foundation brushes. To thoroughly clean the Looky Brushes I had to use a cleaning brush mat to get in between the dense bristles. They did take slightly longer to dry as well. However, aside from that I LOVE Elle r Cosmetiques Looky Brushes for myself. If I were to do someone else's makeup then I would probably reach for standard makeup brushes. There's something about the placement of the bristles that makes it easier to use on yourself. These brushes are definitely knocking off minutes from my makeup routine!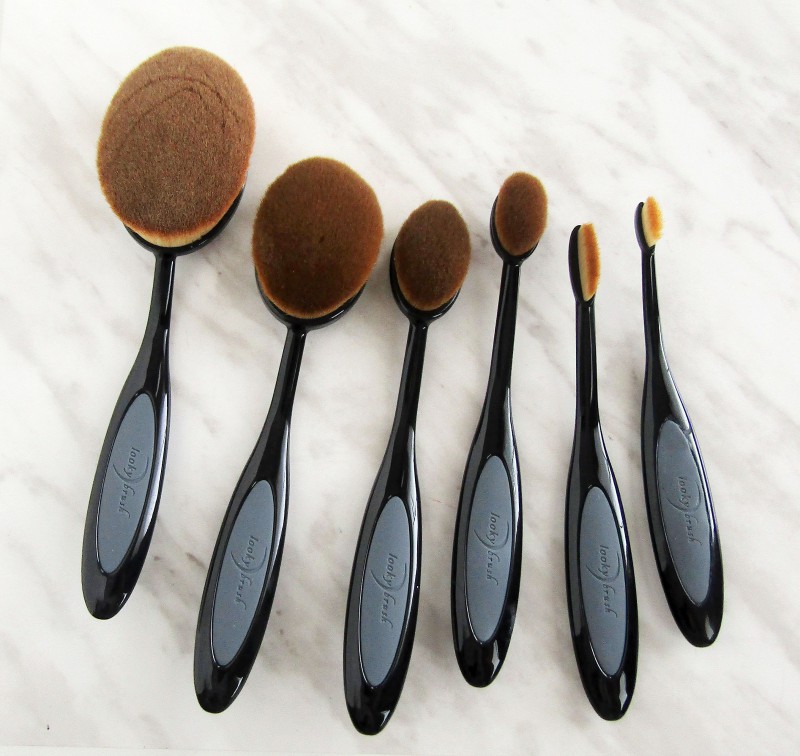 The Looky Brushes can be purchased from www.lookyboutique.com. All prices are in Canadian Dollars.