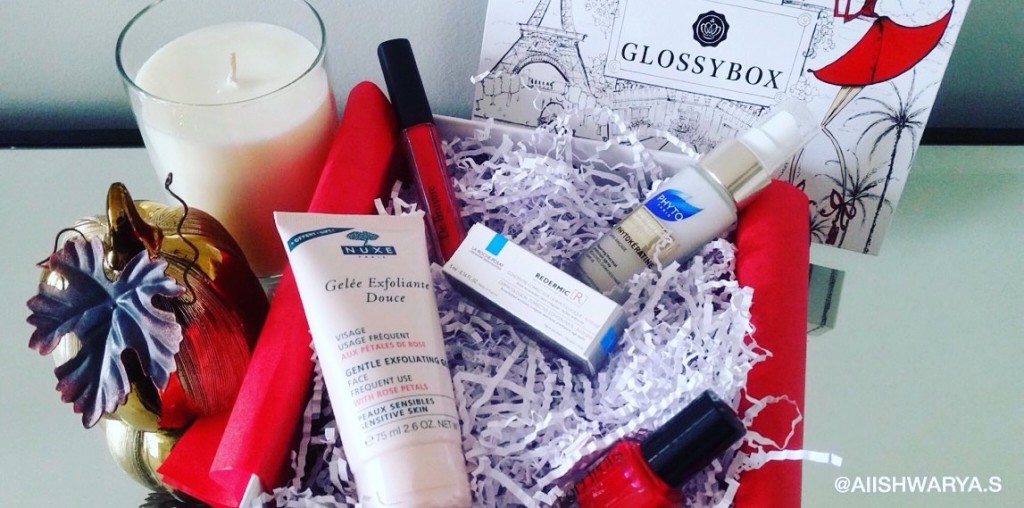 ---
Hello!
Beauty Box subscription lovers rejoice! Here is my very first impression/review on the beauty subscription box, Glossy Box! This is their Vive la France, October box. When it first arrived I admired the box itself for a few minutes. I am a sucker for eye-catching packaging and this definitely was one of them.
After I had gotten over the adorable box, I was surprised to find FIVE full size products! All carefully selected it seemed to match the monthly theme perfectly. The products are by French pharmacy brands.
The products from LEFT to RIGHT are:
Nuxe Gentle Exfoliating Gel with Rose Petals -A very luscious scented face wash. Excited to see the benefits that this product has to offer!
2. Phytokeratine Repairing Thermal Protectant Spray: Prior to straightening my hair I used this heat-protection spray and it definitely tamed the frizz in my hair that I have right after a wash.
3. la Roche-Posay Redermic [R] -An anti-aging cream packed with pure retinol. I am eager to see how it works on the fine lines I get around my eyes when I smile and how it will effect the finishing of my makeup.
4. Lollipops make Up Paris Nail Lacquer in Voyage a Paris -It is a BRIGHT red. The colour applied very nicely with two coats.
5. De Bruyere Paris Red Lipgloss- This lipgloss paired with your favourite lipstick is really nice. I tend to not like any lipgloss products since I prefer matte looks. I gave it a try and a little applied over top of my MAC Russian Red lipstick was gorgeous!
The box came with a little pamphlet of product details as well as tips on the best way to use them. For the price of $21 for a beauty box and receiving 5 full products, I would definitely recommend it! It is a nice little treat to receive every month, filled with surprise products. That are hand selected to fit the theme of the month.
If you wish to have a look at their products, their website is: http://www.glossybox.com If you do try out their products, let me know which ones are your favourite! 🙂