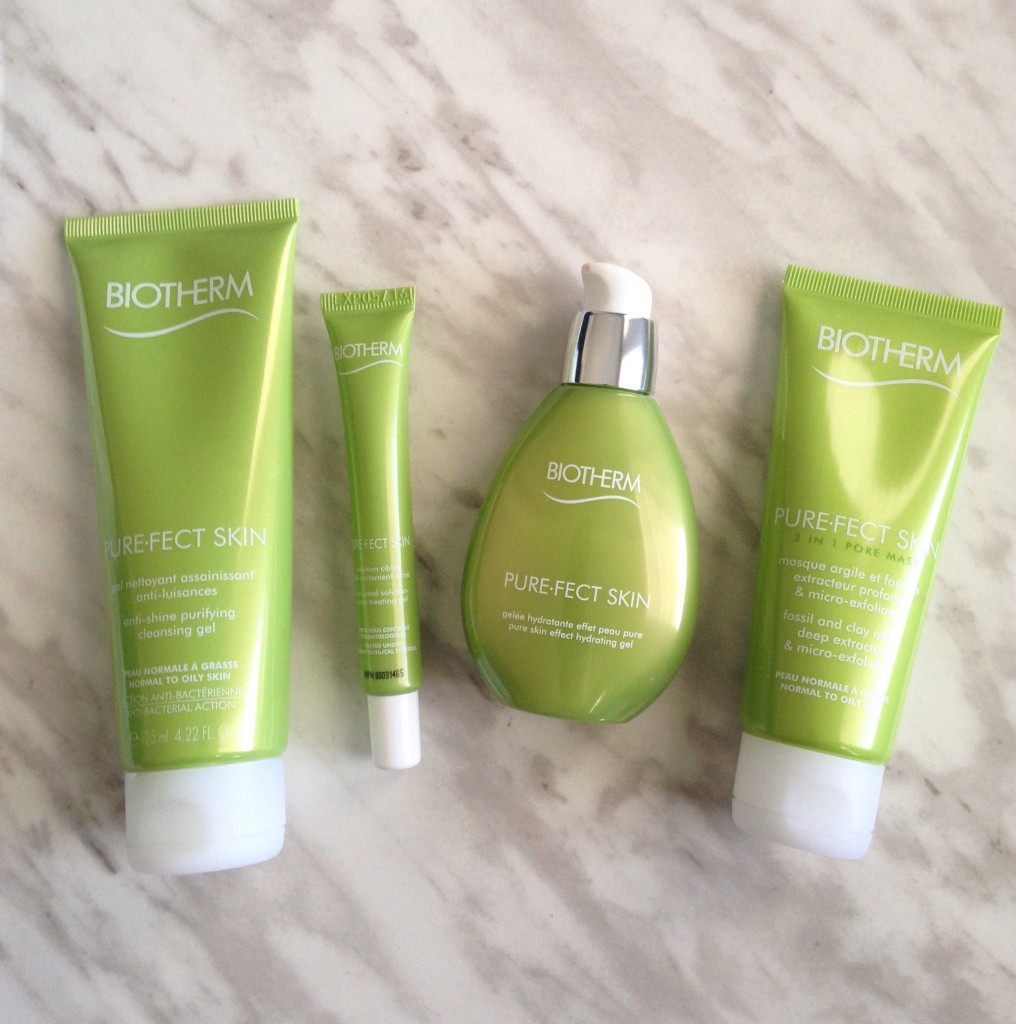 I have always had fairly clear skin but when my early 20's brought along blemishes on my outer cheeks, I didn't know how to treat it. So I tried everything and anything to get rid of it. Currently, I don't have any active acne but previous blemishes have left behind hyperpigmented spots on my outer cheeks. This is what I am now trying to get rid of. After Biotherm's Aquasource line turned out to be a great match for my skin. I put Biotherm Pure-Fect Skin line to the test.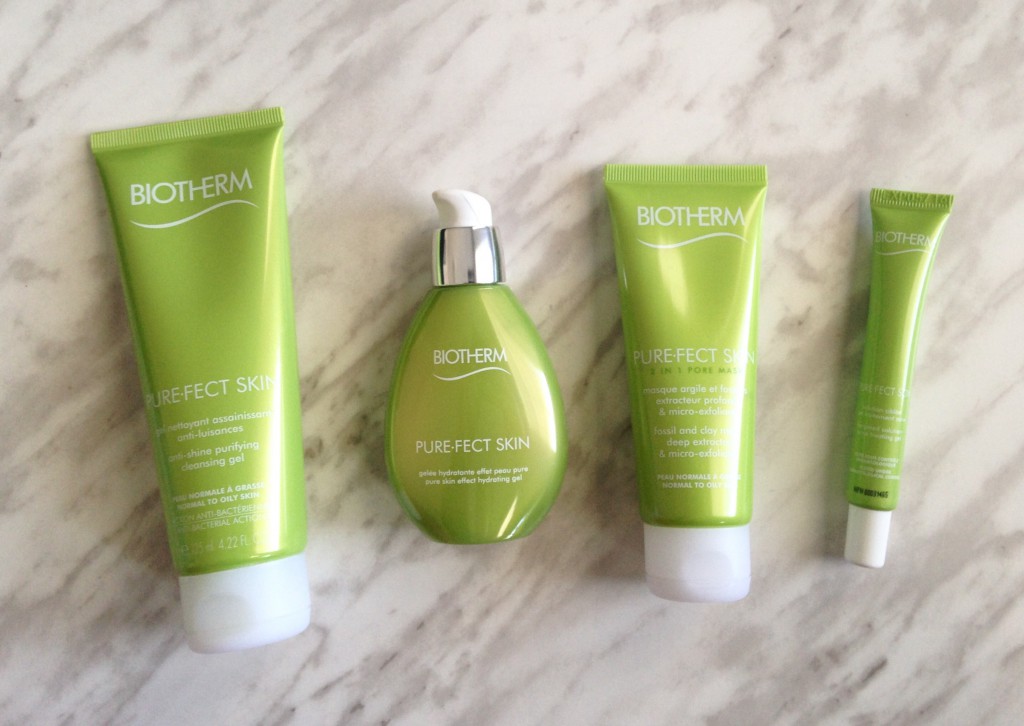 The full range was created to help mattify your skin while keeping it hydrated and free of imperfections. Containing 3 core ingredients; L. Digitata targets bacteria present in imperfections. Perlite for it's fast absorbency and Pure thermal plankton for its regenerating and soothing properties. Pure-Fect Skin products are intended for those with combination to oily skin.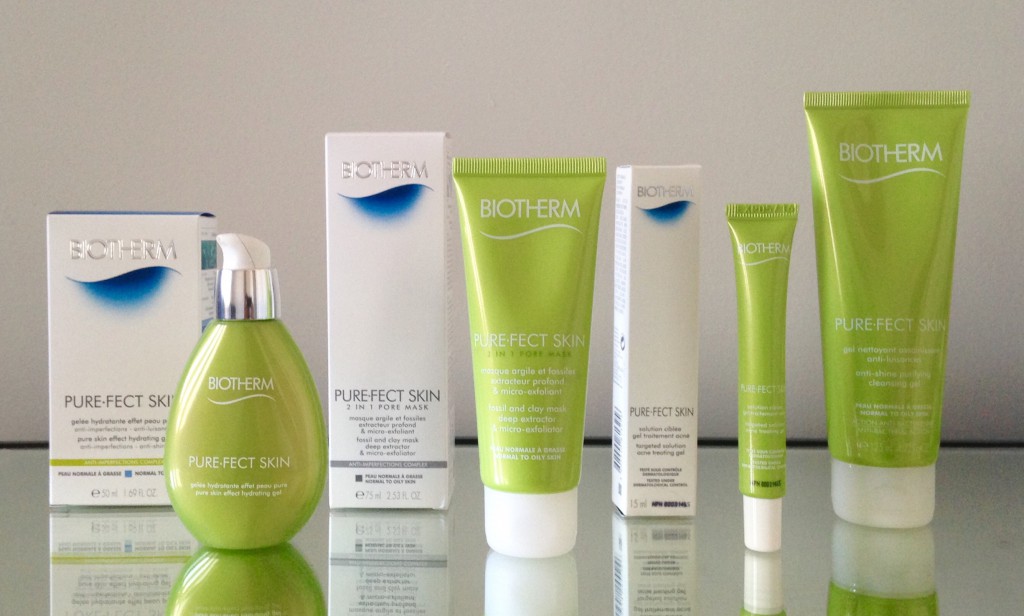 I have used the line for over a month now and wanted to share which products worked and which didn't for my skin.
The very first product from their line I tried out is their:
Anti-Shine Purifying Cleansing Gel
This gel is supposed to matify your skin, without drying it. It claims to keep your shine under control for up to 8 hours.
It's a lightweight gel that turns into foam when mixed with water and has a light citrus and floral fragrance (LOVE the awakening scent). It has helped to calm any inflammation without drying out my skin. I can't comment on the shine claim, since my dry to combination skin doesn't give me any shine problems. I really liked the cleansing gel for it's gentle yet effective formula. The cleansing gel is able to fully remove a full face of makeup (when used with a brush) even if you don't go in with a makeup remover first.  It retails for
$22
.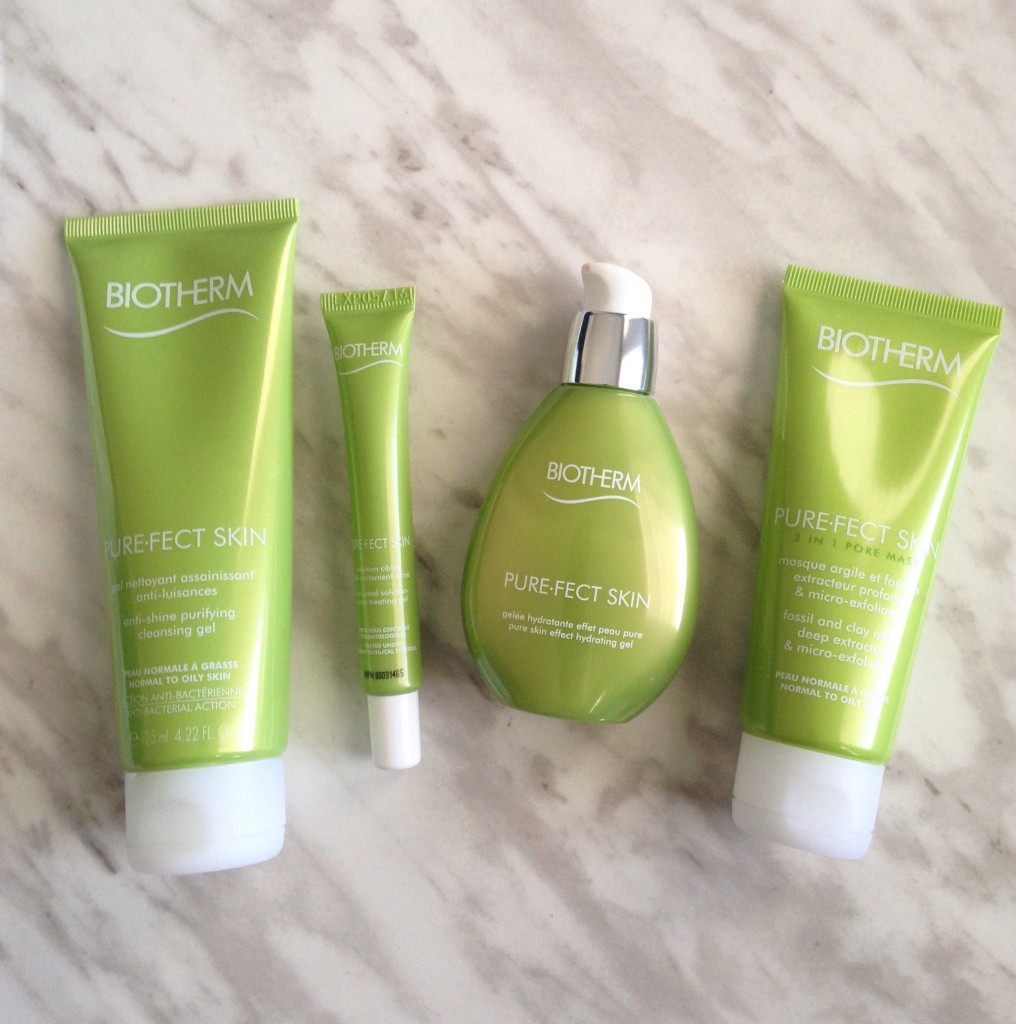 ---
Pure Skin Effect Hydrating Gel
This hydrating gel combines the hydration of a moisturizer and the mattifying finish of a matte powder. It is a white gel-like texture that absorbs into the skin quite quickly and you can instantly see mattified skin.
It is recommended that you use this every morning and /or evening on skin that has been cleansed and toned. Apply the gel in an outward pattern, where you finish off at the neck, avoiding the eye area. Overall, I like the velvety texture it gives to my skin. I only have one problem with this gel, since I have combination skin, the center of my forehead looks fairly dry with this. I have to apply an oil primer to that area, so it doesn't give a patchy appearance under my makeup. I do appreciate the cooling effects of the gel. The Pure Skin Effect Hydrating Gel retails for $50.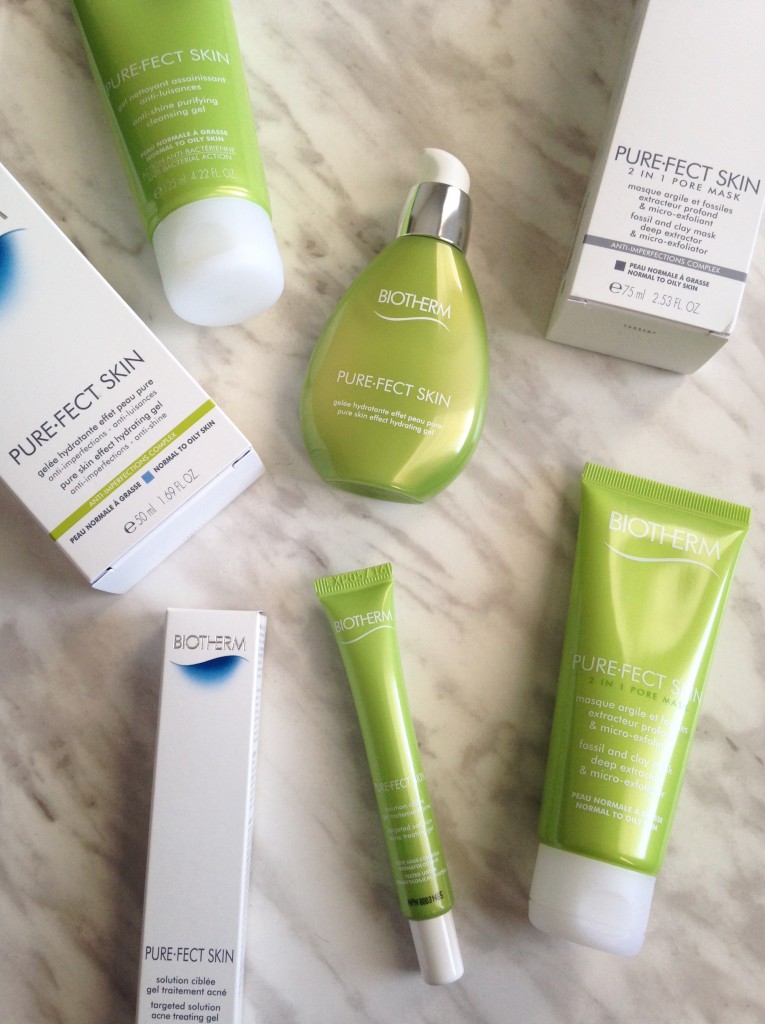 ---
Targeted Solution Acne Treating Gel
The Targeted Acne Treating Gel is a fairly runny gel consistency. It really has no fragrance to it unlike the other Pure-Fect Skin products. Upon applying the treatment gel, I didn't feel even the slightest bit of burning sensation like most spot treatments cause. It just felt cold and soothing on any aggravated areas.
Although it took a while for me to notice any changes to blemish scars, it did help to dry out any random pimple I got. The Acne Treating Gel also keeps oil under control. Even 9 hours later, the T-zone appears matte. It retails for $27.
---
This is a fossil and clay mask, which work as a deep extractor & micro-exfolatior. This one mask has two ways of minimizing your pores. Which was one of my major skin concerns I was looking to combat with using this line, in regards to my nose.
It extracts impurities from each pore while exfoliating your skin. They claim that within a minute of cleansing, pores are invisible and the skin appears smooth and bright.
This mask contains two core ingredients different from the rest of the Pure-Fect Skin line. There are White Clay and Diatomeas. The white clay works to smooth the skin, eliminating impurities at the surface, while the Diatomeas Extracts micro-exfoliate the skin.
The 2-in-1 mask has two steps to it:
Step 1: Apply a layer of the mask to the skin and let it dry for a minute. This draws impurities to the surface.
Step 2:  This is where micro-exfoliation is done. Adding water to the dry mask and massaging it into the skin will smooth the texture of the skin.
This was definitely one of my favourite products from the line. It really shows instant results and left my skin feeling bright and so soft to the touch. I could feel my skin feel firmer and the clay mask really helped with my problematic pores along my nose. The 2-in-1 mask is to be used one to two times per week. It retails for $30.
Overall, I really liked Biotherm's Pure-Fect Skin line. Although, some products worked better and more immediately than others. I really liked how my skin never felt irritated while using products from this line. Usually products meant to treat acne are much stronger. My favourites have to be the 2-in-1 mask and the Purifying Cleansing Gel. I was really surprised with how well such mild products have worked on my skin. After using these products for well over a month, my face seems brighter and blemish scars have also lightened up!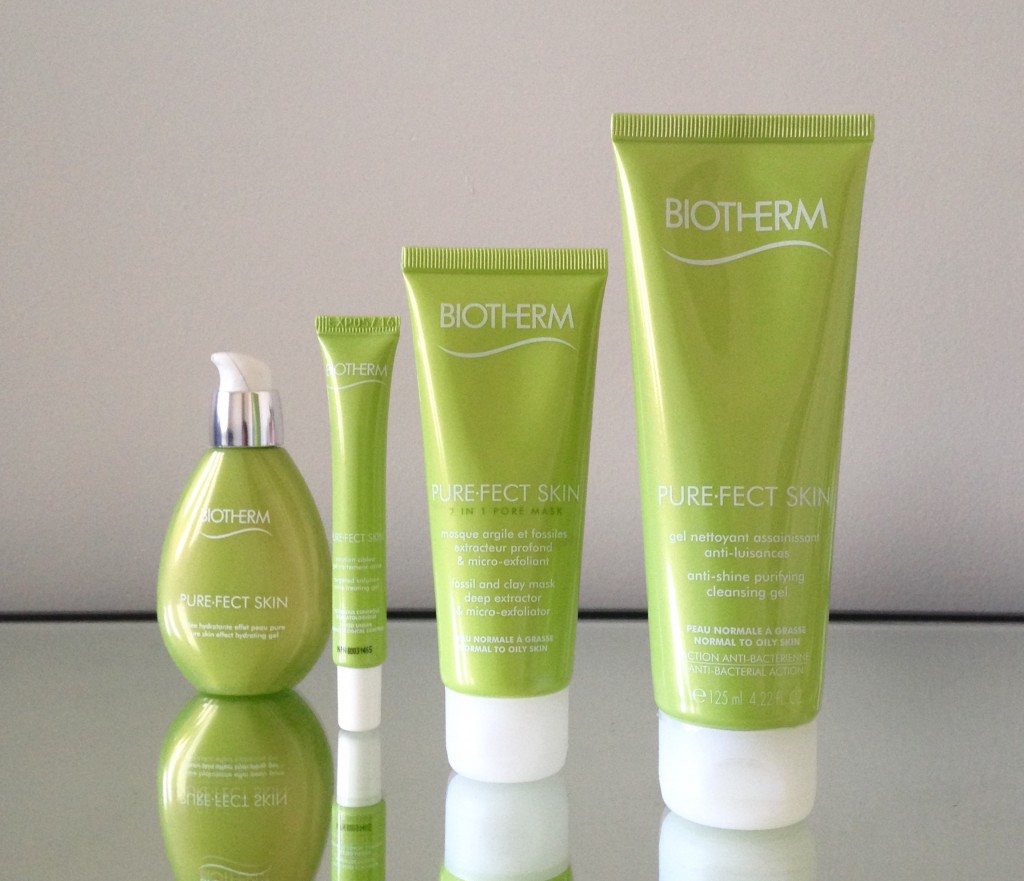 I would definitely recommend checking these products out if you have similar skin concerns like I do. 🙂
Biotherm's Pure-Fect Skin line is available for purchase from Biotherm.ca, Shoppers Drug Mart, The Bay and other retailers. 🙂
Aishwarya