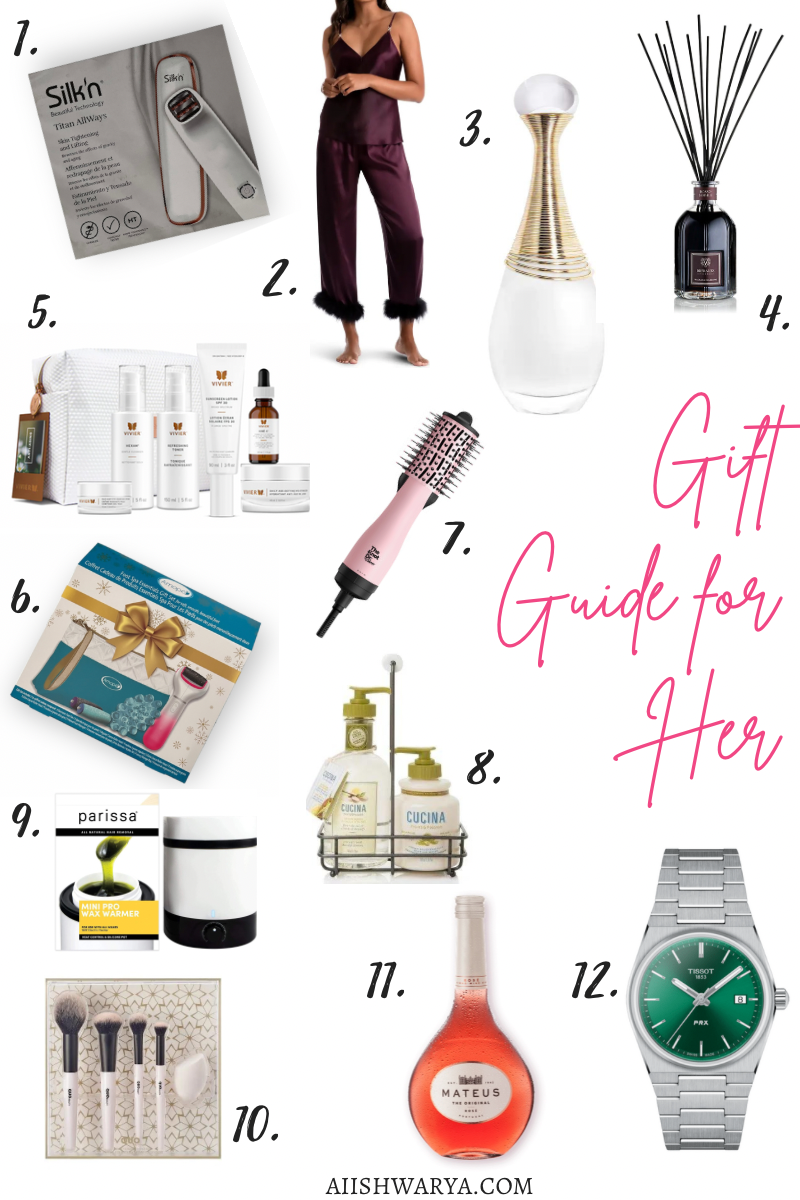 Happy December! If you're looking for gift ideas then keep reading for my Holiday Gift Guide for Her 2022!
Cordless wrinkle reduction and skin tightening device.
Available online or in store at Silk'N and Shoppers Drug Mart.
$399 CAD.
2. In Bloom by Jonquil Noelle Feather Trim Satin Pajamas
Available online and in store at Nordstrom.
$98 CAD.
4. Dr. Vranjes Firenze Rosso Nobile
"Sweet and fruity notes of grapes and berries, the soft notes of violet and magnolia, and tannin invoking birch wood. The scent of a tuscan red is perfect to provide a relaxing atmosphere to living spaces."
Available online at Dr. Vranjes.
500 mL-2500 mL $185-$795 CAD.
5. Vivier Skin
Targeted skin programs available to make managing skin care concerns simple.
Available online at Vivier.
6. Amope Foot Spa Essentials Set
Renew and transform your feet with the Amopé Pedi.
Available online and in store at Walmart.
$49.97 CAD.
7. Knot Dr All-in-One Mini Dryer
Same amazing performance features as the original Knot Dr, just in a mini version.
$49.99 CAD
Available at Conair.
8. Fruits and Passion Hand Care Duo Set Sea Salt and Amalfi Lemon
9. Parissa Mini Pro Wax Warmer
10. Quo Beauty Back to Basics Brush Set
11. Mateus Rose
Available online and in store at LCBO.
$11.05 CAD.
12. Tissot PRX
35 mm
$475 CAD
Available online or in store at Tissot.
Happy Holidays!
Some links are affiliate links. For complete information on this and my disclosure click here.