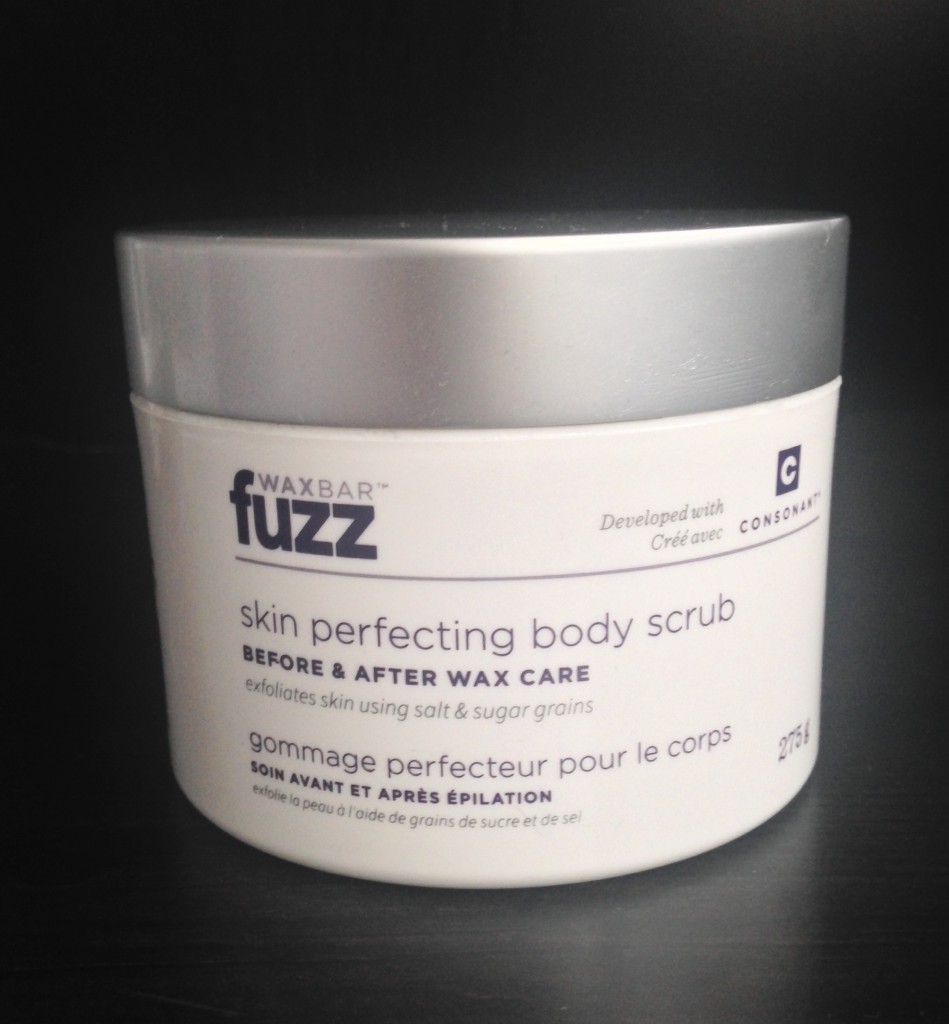 If you're consistent with waxing year long, then you must know the great benefits that come with it. But in the midst of all this hair-free, smooth skin, I often come across in-grown hair, which I absolutely cannot stand. I heard about Fuzz Skin Perfecting Body Scrub by FUZZ Waxbar and was given the opportunity to try it out. Fuzz Waxbar, as it's name implies, is a chain of wax bar's in Toronto offering fast, waxing sessions at a great price.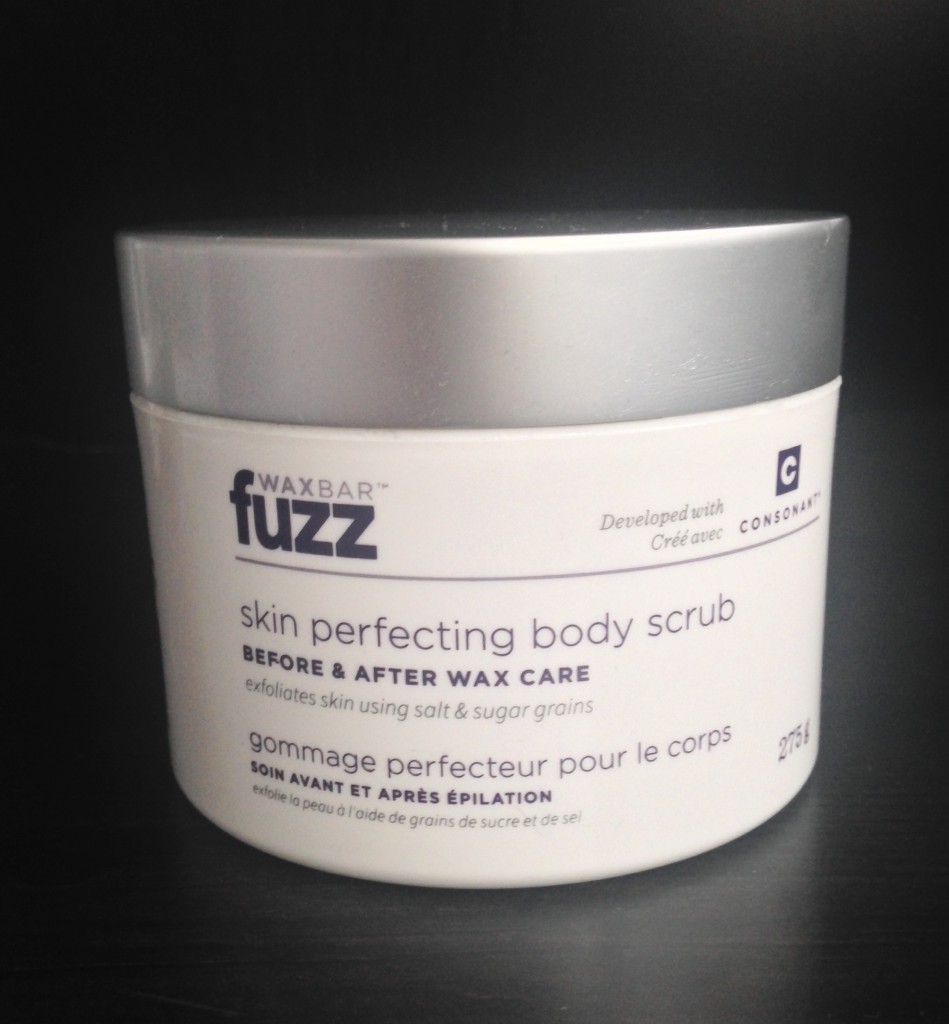 Body Scrubs/Exfoliators have always been a part of my shower routine. Some times I just don't have the time to dry brush my skin to keep a uniform texture, so I was quite excited to try this sweet and salty scrub.
The Skin Perfecting Body Scrub is 100% natural glycerin based and intends to prepare the skin for waxing, as well as help prevent ingrown hairs. It combines two different exfoliation grains, salt and sugar together. The rest of the ingredients are all 100% natural as well. (Sugar, salt, coconut oil, olive oil, glycerin, castor seed oil, cetearyl alcohol, jojoba seed oil, rice bran wax, vitamin E and orange oil.)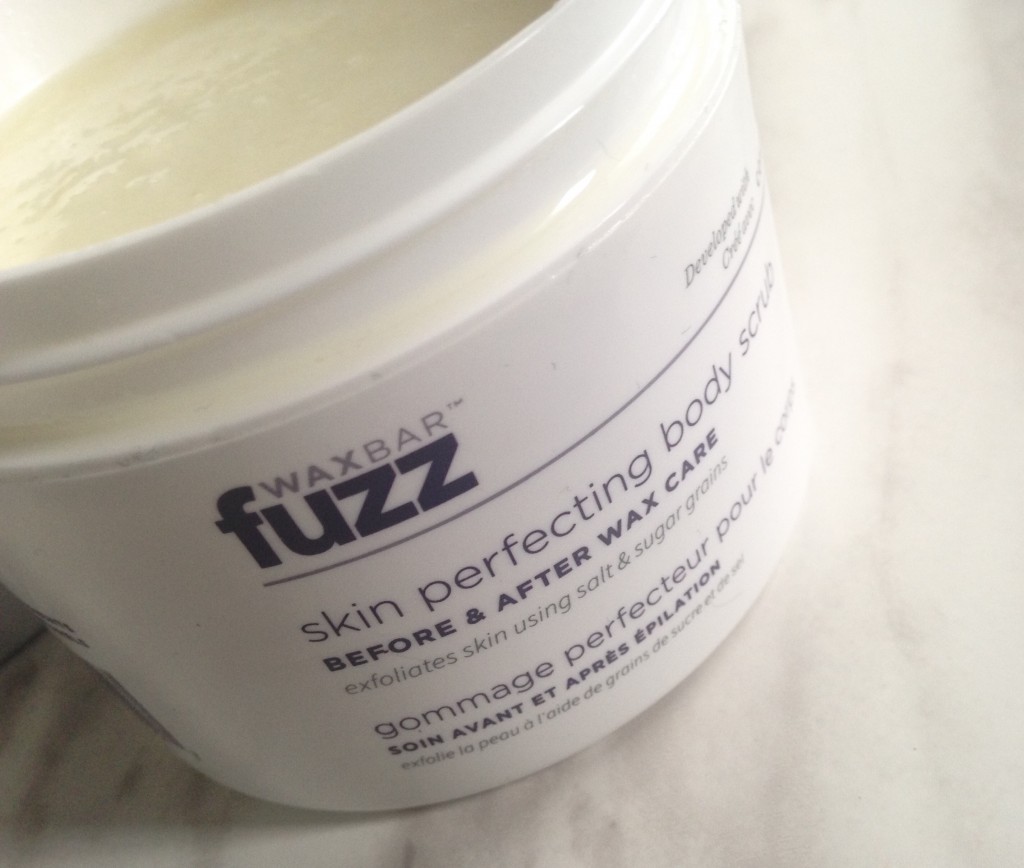 The two different sizes and shapes of the grains help maximize the effects of exfoliation. The glycerin base and oils acts as a moisturizer. The scrub is an off-white/pale yellow colour and a thick, grainy consistency. The scrub has a faint citrus scent, which isn't overpowering.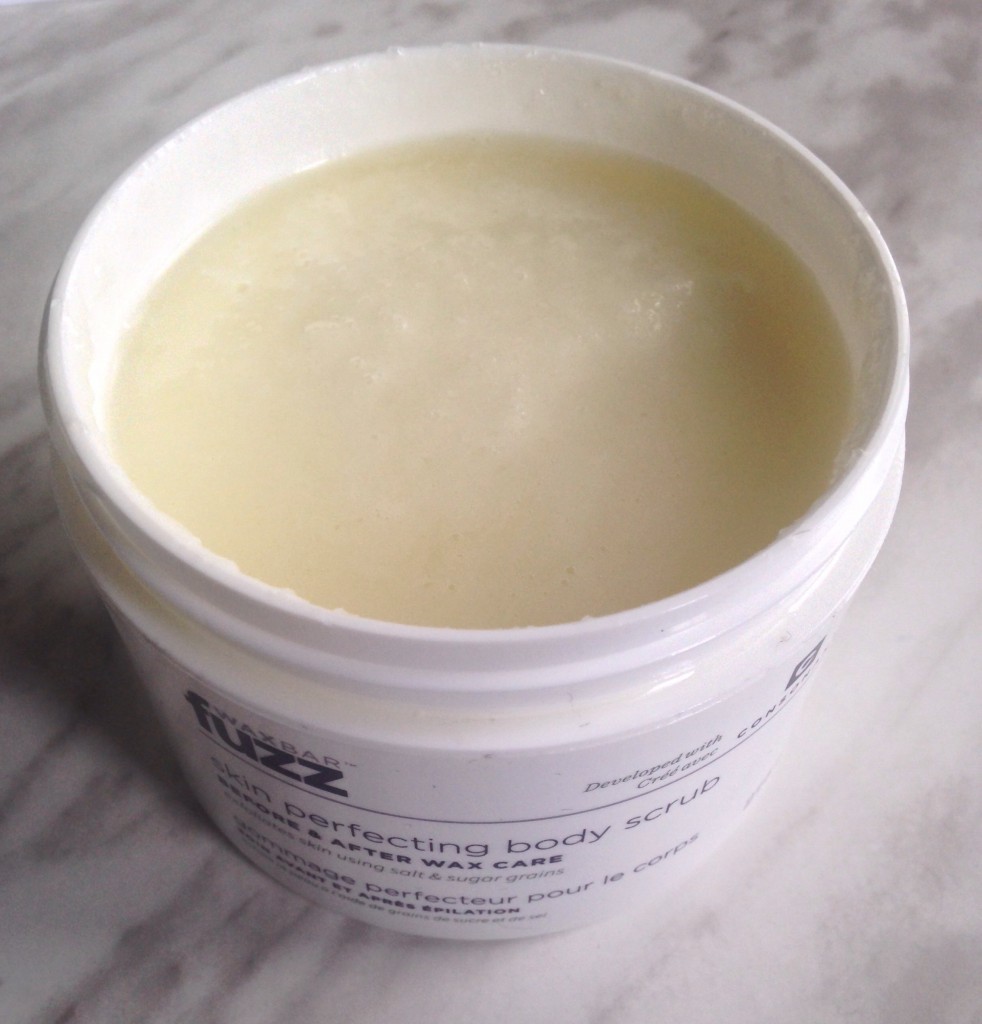 The scrub is meant to 'scrub' away dead skin pre and post wax. Getting rid of dead skin, allows hair to grow to the surface, ultimately preventing dark spots from in-grown hair. I have been using it every other day and not so much immediately before or after getting waxed. It is gentle enough for my sensitive skin, yet still effective. After gently working the product on to my skin, it leaves it feeling so smooth and moisturized for hours (literally all day, all night.) Since it is packed with so much moisture, I use it sparingly, as  you really need a small amount.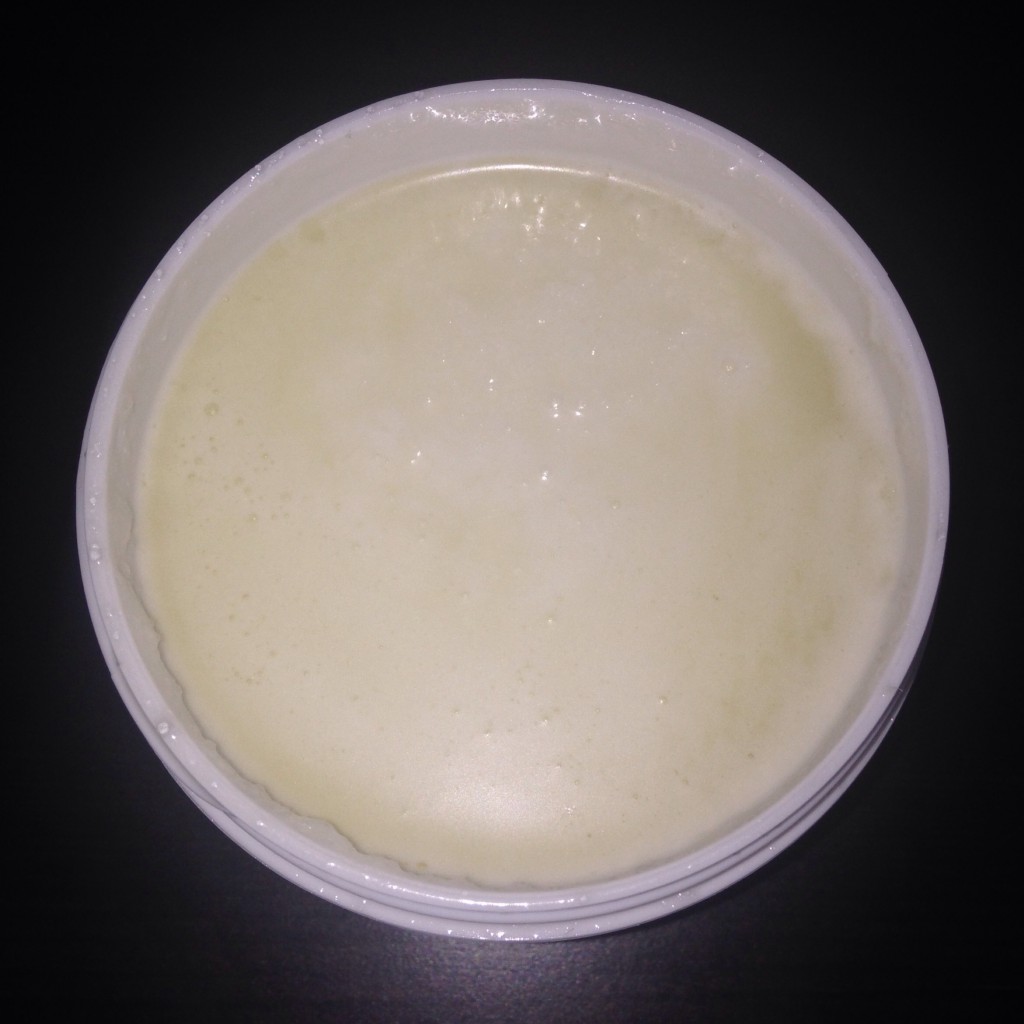 After using the sugar and salt scrub for roughly 3 weeks, I have noticed a much more even texture in my skin and dry skin is no longer a problem. I mainly have a few in-grown hair bumps on my outer thigh and this has definitely helped reduce their dark spot appearance.
The Fuzz Skin Perfecting Body Scrub retails for $30 for a 265 g tub. I recommend checking it out, if you're looking for a great body scrub.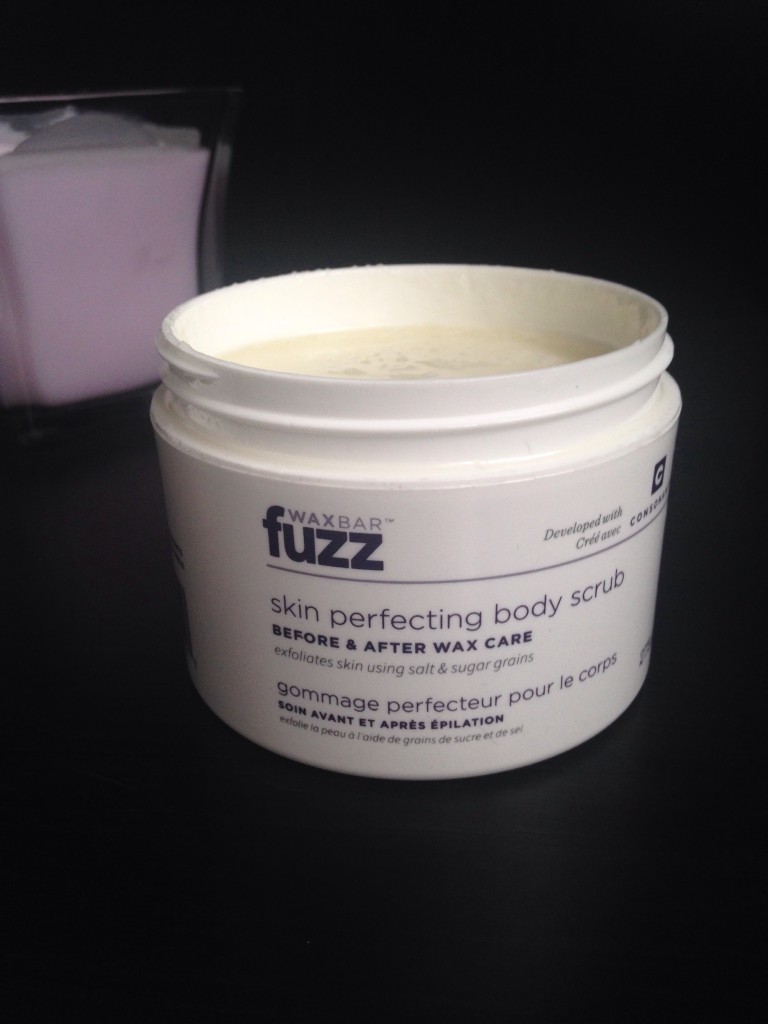 You can check out the full skin care line by Fuzz Waxbar on www.fuzzwaxbar.com. Their products can be purchased in store or online.
 I'm definitely eager to check out one of their Waxbar locations myself, as they offer memberships, something I've never seen before, but sounds like a great way to keep you consistent with your waxing schedule. 🙂
Aishwarya