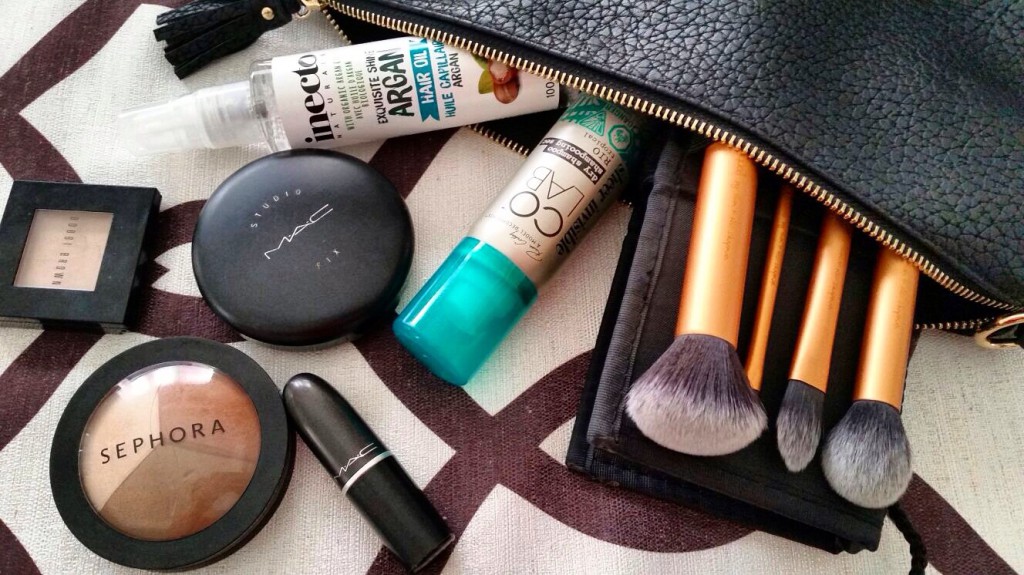 Good Morning!
I wanted to share an in depth review on a few products I received from a Health & Beauty Distributor Company, named FarleyCo Marketing. They are located in Richmond Hill, Ontario as well as conveniently on www.farleyco.ca. Where you can shop for all your well known and newer health & beauty products for a low shipping cost.
You may have seen some of the products if you follow me on my Instagram. (See the picture below). The products are The Real Techniques Core Collection, COLAB Dry Shampoo & Inecto Naturals Exquisite Shine Argan Hair Oil.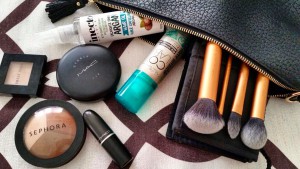 Being from Canada, there are a lot of brands I would love to purchase but due to limited stock in stores in my area or hefty shipping costs and long waiting times. I tend to forget about it. I found that FarleyCo has an impressive stock of so many brands and products that I love.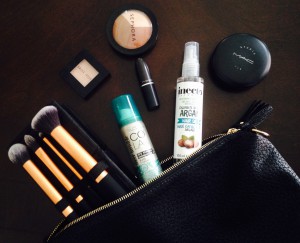 I am always on the lookout for Real Technique makeup brushes. Since they make amazing quality brushes and are so popular, it is hard to get your hands on a specific set. The Real Techniques Core Collection set consists of the Detailer, Foundation, Buffing & Contour brushes. It retails for $26.99, which for four staple brushes is a great price. This set helps you create the perfect canvas for you to apply the rest of your makeup on. Each of the brushes in this set have bronze ferrules and black handles.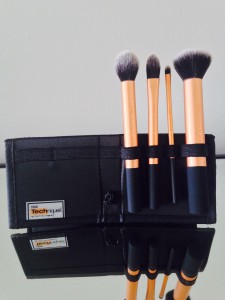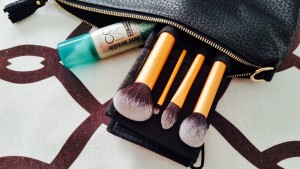 The Real Techniques Detailer Brush: Is a small, softly rounded, flat brush. It is definitely a multi-purpose brush that can be used for concealer, perfecting your lipstick or applying eyeshadow. I've also found it useful for smoking out your eyeliner.
Real Techniques Buffing Brush: A soft, densely packed brush perfect for buffing out your liquid, cream or pressed powder foundation. I use it to buff out my liquid foundation with a sheer powder such as MAC Cosmetics CC Powder and I find that gives me airbrush quality results.
Real Techniques Contour Brush: A brush that is perfectly sculpted to fit the natural contours of your face. It seamlessly blends out cream or powder products. It is also great for highlighting with! It picks up the perfect amount of powder.
Real Techniques Pointed Foundation Brush: A flat, rounded brush. Although a foundation brush, I find it more effective as a concealer brush because of its paddle like shape. It allows for a precise application, pressing the concealer in place without absorbing all the product in the brush.
All these brushes come in a versatile cloth case. Which is great for carrying alongside your makeup. It is a case and with a pull of the drawstring it turns into a makeup brush holder that stands upright. You have to commend a brand for thinking through a case like this.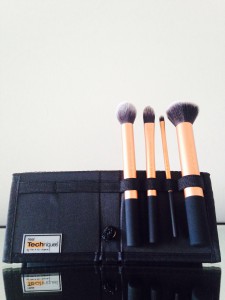 The newest additions to Real Techniques are the sculpting ($13.99) and concealer brushes ($10.69). Not to mention their Bold Metals line of makeup brushes, which FarleyCo has in stock! I will definitely be ordering these gorgeous brushes!
You can also find Real Techniques products at London Drugs, selected Guardian, IDA, Pharma Choice, Pharmasave, Proxim and Value Drug Mart stores across Canada.
---
Also, in my picture were the COLAB Dry Shampoos. The two are Classic London and Tropical Rio. They really are your handbag essential for hair as quoted by Ruth Crilly, a fashion and beauty model and the creator of COLAB Dry Shampoo.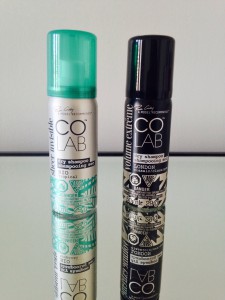 Simply spray the dry shampoo from about 20 cm away on to your hair and work the product in. I found that it doesn't weigh down your hair and there are no traces left behind of the dry shampoo. It has a sheer, invisible finish all while adding lots of volume to the hair. I use dry shampoo on days where my hair starts to look flat and needs a wash, which is by the third day. If I didn't have time to wash my hair, then I'm in need of a product that will work fast and won't leave behind a white residue. This dry shampoo absorbs the oil, refreshes my roots and leaves behind a really nice fragrance. I love the fresh smell of Classic London. They retail for $5.49 for a 50 mL and $9.99 for 200 mL.
COLAB Dry Shampoo is available at Jean Coute, London Drugs, selected Rexall, Guardian, IDA, Lawtons Drugs, Overwaitea, Pharma Plus and Pharmasave stores.
---
Also seen, is the Inecto Exquisite Shine Hair Oil. It retails for $6.99 for a 100 mL spray. It is my first time using Inecto Naturals products but they seem to have promising results. Their brand is known to provide natural and affordable hair and body care products. Up to 90 % of their listed ingredients are natural.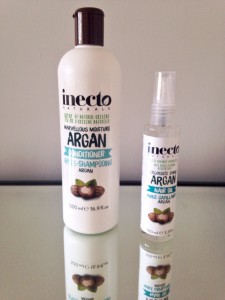 I always hear about the benefits of Argan Oil for your hair and with all the beatings my hair takes from hot tools, the weather and hair colour. I was excited to see how it could replenish and add shine to my hair. I simply added some product into my damp hair as well as used a very small amount after I had finished styling my hair. This was to tame the little fly aways at the top of my head. It has a subtle scent for an oil, which I like. As I continue to use it, I want to see if it masks some of my split ends.
I will also being reviewing their Marvellous Moisture Conditioner at a later date, when I have used it a handful of times.
Inecto Naturals products can be found at London Drugs, selected Guardian stores, IDA, Pharma Choice, Pharmasave, Proxim and Value Drug Mart stores across Canada.
I hope you enjoyed my review & I would love to know if you have tried any of these products. As well as what your go to sites are for purchasing your favourite health & beauty products! 🙂
Aiishwarya