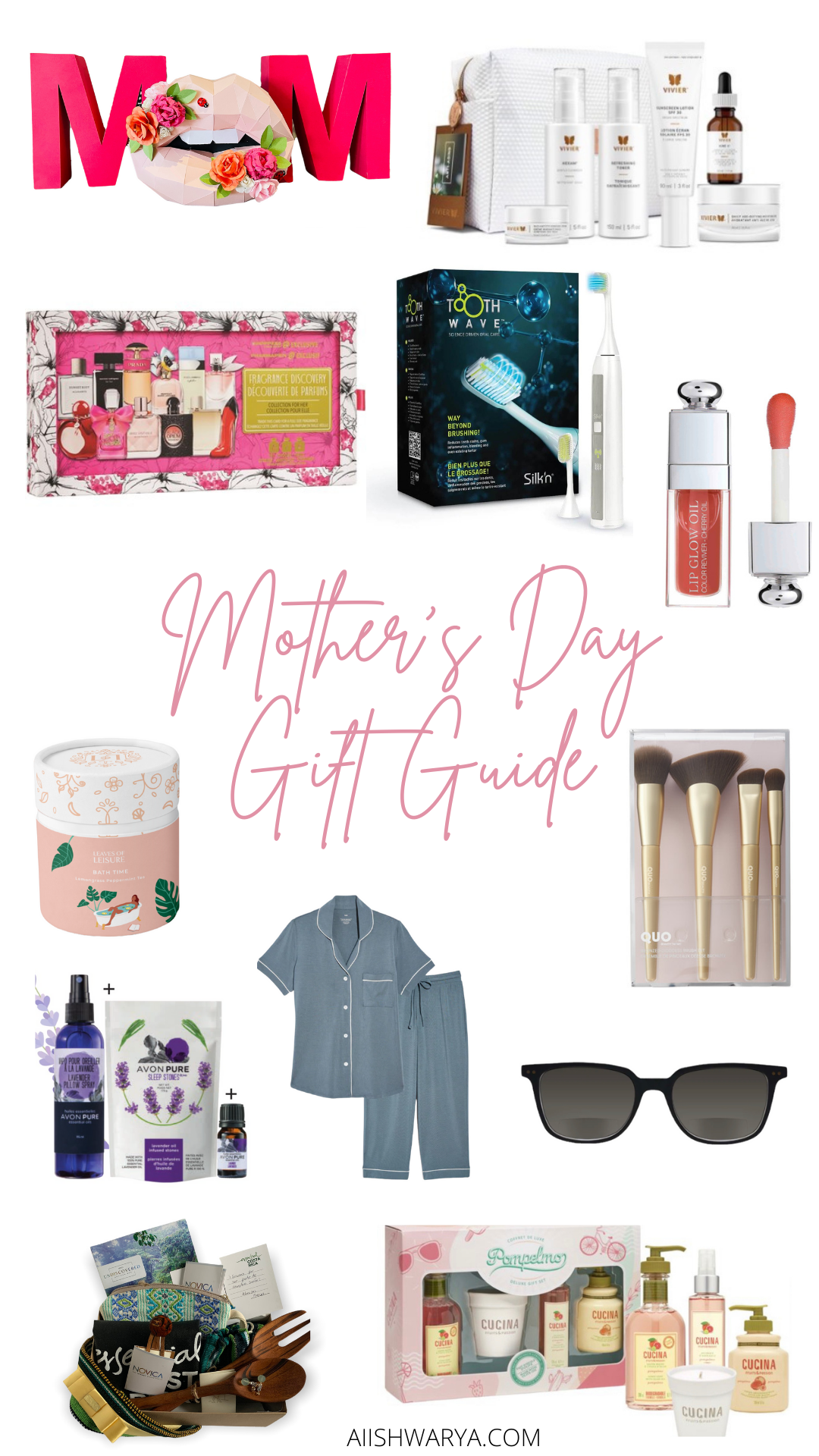 Here is my roundup of gifts for Mom, role model or that special person in your life. I hope my Mother's Day Gift guide 2022 complication helps with gift suggestions or to spark ideas of your own!
*Below you will find links to products pictured in the guide. A handful of links are affiliate links, which means I earn a percentage of sales made via those links. For more information, see my disclosure here.*
If your Mom is like mine, where anytime I gift her a bouquet of fresh flowers. She will never fail to mention that I shouldn't have or that they'd last longer if I just gifted her a potted plant. Her love for plants and arts & crafts makes Pucker Up Paper Lips the perfect gift. MOM spelled with a pair of floral lips. The intricate designs are admirable by all and a forever keepsake. Perfect to display on the shelf or brunch table this upcoming Mother's Day. For pricing and to check out the wide selection of Pucker Up Paper Lips, check out puckeruppaperlips.com/
Mom and I have similar skin types, so we can both appreciate the high quality, sensitive skin friendly products offered by Vivier Skin. Their Anti-Aging program bundles together some of their best-selling products at a great price.
Our Anti-Aging Program is the all-in-one anti-aging solution that really does it all. Reduces fine lines and wrinkles, aging and expression lines while at the same time improving your skin's moisture, texture and tone. Six full sized pharmaceutical grade products in an elegant cosmetic bag: HEXAM, Refreshing Toner, Radiant Eye Contour Cream, Kinē-C, Daily Age-Defying Moisturizer and Sunscreen Lotion SPF 30. Available online at vivierskin.com for $380 CAD.
3. Shoppers Beauty Luxury Fragrance Discovery Collection for Her/Fragrance Discovery Collection for Her
Scents are such a personal purchase that a fragrance that wears beautifully on you, may not have the same effect on someone else. The Discovery collection is a wonderful way to gift a full size fragrance while giving the recipient a selection of samples to choose from. It allows them to redeem it for a full sized fragrance, while discovering new and old fragrances along the way. Available online and in store at Shoppers Drug Mart for $95 and $115 CAD.
SilkN's Toothwave integrates radiofrequency to reduce existing tartar (calculus), teeth stains, gum Inflammation and bleeding. While being safe enough to use on implants. Available online and in store at SilkN, The Bay, Shoppers Drug Mart and more. Retailing for $349 CAD.
A true staple in my Mom and I's purses. Sold out for so long but finally back in stock. Available online and in store at Sephora. $44 CAD.
Motherhood, the most demanding yet underpaid jobs of them all. My Mom is jokingly known as the energizer bunny and that's because she out runs, out-does everyone, all while having energy to spare. I am always looking for the next best thing to help her relax. Tea being one of her go to drinks, Leaves of Leisure offers an array of flavours "to bring you that same sense of calm, relaxation and creativity you find on the weekend or on vacation by tapping 2 of our bodies most vivid senses, taste and smell." Available online at leavesofleisure.com
7. Quo Beauty Bronzed Beauty Makeup Brush Set
Some of my Mom and I's favourite collection launches happen to be from Quo Beauty. The wide array of gift selections and festive packaging is hard not to adore! The Bronzed Beauty Makeup Brush Set being one of them. Available online at Shoppers Drug Mart. $50 CAD
8. Avon Pure Essential Oil Lavender Sleep Stones, Pillow Spray and Essential Oil
Busy Moms need a full nights rest. Even with the best of sleep practices in place, sometimes a little aid is needed, Pillow sprays are one of my go to's. Available online at avon.ca for $55 CAD for a limited time.
9. Knix Modal Sleep Top and Bottom Pajamas
While on the topic of sleep, a soft, breathable, good pair of pajamas are always a great gift idea. Modal is an eco-friendly fabric made from regenerative plants, produced using less water and fewer chemicals. Available online at knix.ca.
10. Eyebobs
With the weather warming up, a good pair of sunglasses needs to be a part of your suncare routine. Eyebobs offers stylish, budget friendly yet high quality eyeglasses. With the flexibility to virtually try on your glasses and submit your eye prescription as well. I must add the turn around time is incredibly quick! Visit eyebobs.com.
11. Undiscovered Box
I recently got to experience the Undiscovered box, Costa Rica edition. Arrived were 5 handcrafted artisanal products luxuriously packaged. Items varying from jewelry, to home goods, kitchen ware, stationary and more! Available online at https://undiscovered-artisan-box.com/.
12. Fruits Passions Cucina Pompelmo Deluxe Gift Set
My friends and family have me to thank for their Fruits and Passion coriander and olive oil scent obsession. Now, the Cucina Pompelmo is just as deliciously scented with its zesty notes of cucumber and pink grapefruit. This year's Cucina Pompelmo Deluxe Gift Set contains hand soap, fragrant kitchen mist, rejuvenating hand cream and a Cucina candle that you can reuse as a mini flower pot!
Available for $49 CAD on fruits-passion.com
I hope you found my Mother's Day Gift Guide 2022 helpful! Happy early Mother's Day to the Mom's to-be, Moms and Mother figures!