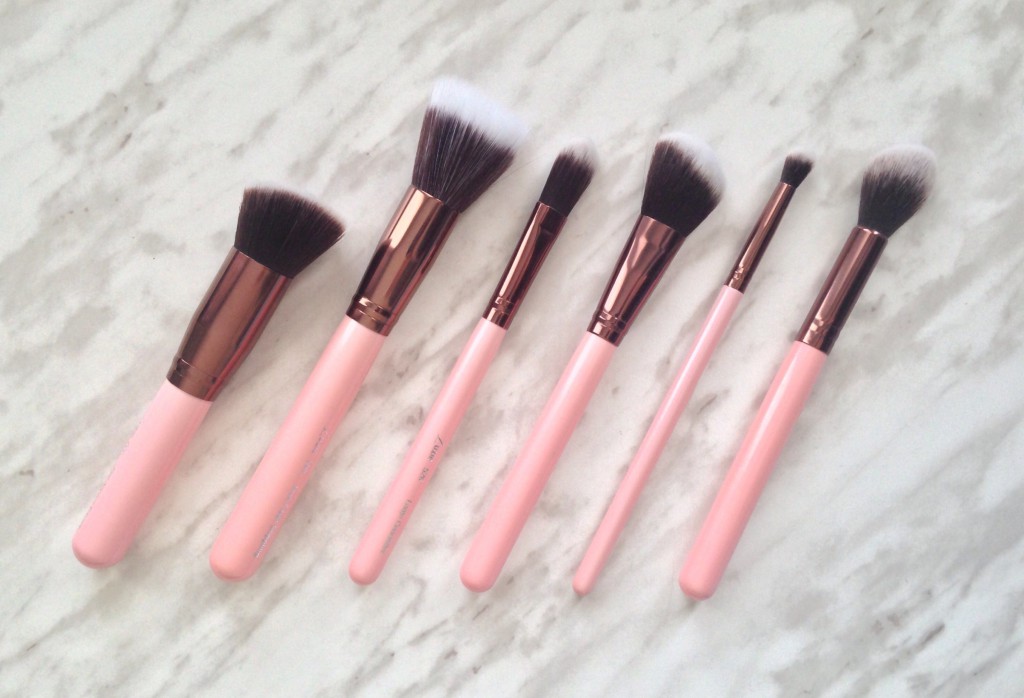 Absolutely love reviewing makeup brushes and especially those from Luxie Beauty. I have reviewed a few before and wanted to share some more from their beautiful Rose Gold collection. The brand Luxie Beauty, honors itself for being cruelty & paraben free. It's always nice to know that the products that we consume have been manufactured in this way. The brushes I tried out are the Luxie Rose Gold Large Angled Face Brush 504, Rose Gold Tapered Highlighting Brush 522, 538 Flat Angled Blender Brush, 508 Duo Fiber Stippling, 526 Large Concealer and 229 Tapered Blending.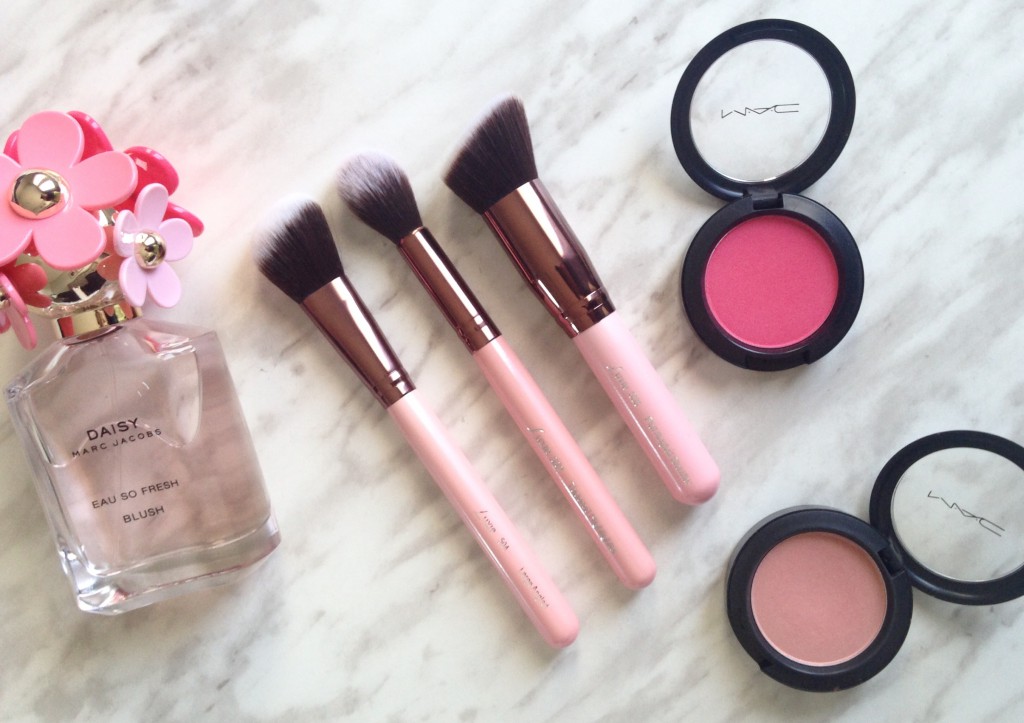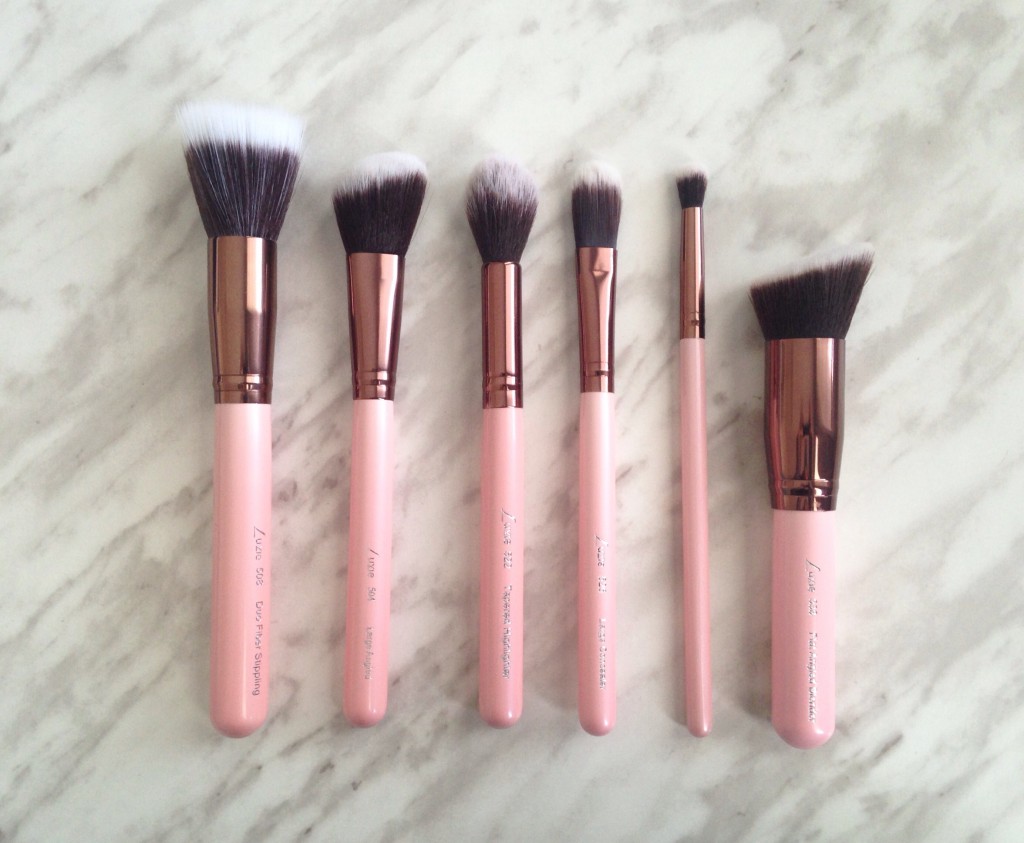 (LEFT to RIGHT: 504,  538,  522, 526, 229, 508)
By simply looking at the makeup brushes, you can immediately tell how dense they are. The bristles on the brush are synthetic and extremely soft. The handles are wooden yet lightweight, coated in a light pink pearl colour. The 'ferrule' which clamps the bristles and handle together, is a beautiful rose gold tone. The rose gold itself is enough of a reason to buy their entire set!
Luxie's 504 Large Angled Face Brush has a dense, fluffy, slightly angled brush top.  It is the most versatile face brush, which can be used to find the natural contours of your face or used to apply blush. I have mainly used this brush with powder products but would assume that you would be able to use it just as well with cream products but no so much with liquid based makeup. Contouring with this brush is so simple, it sculpts cheekbones with such ease. The Large Angled Face Brush retails for $16.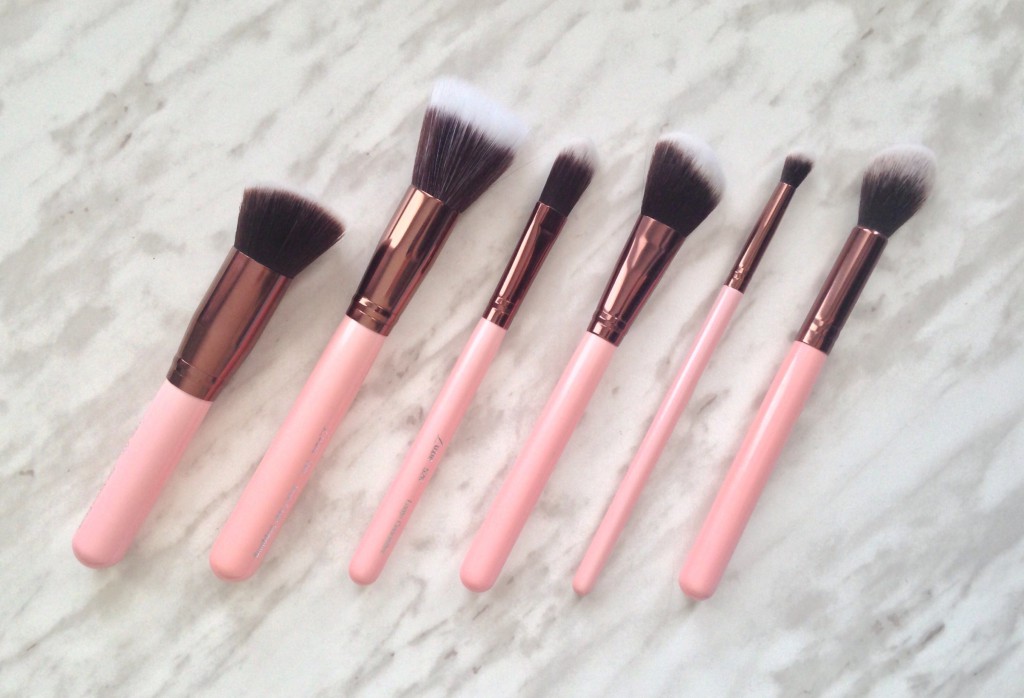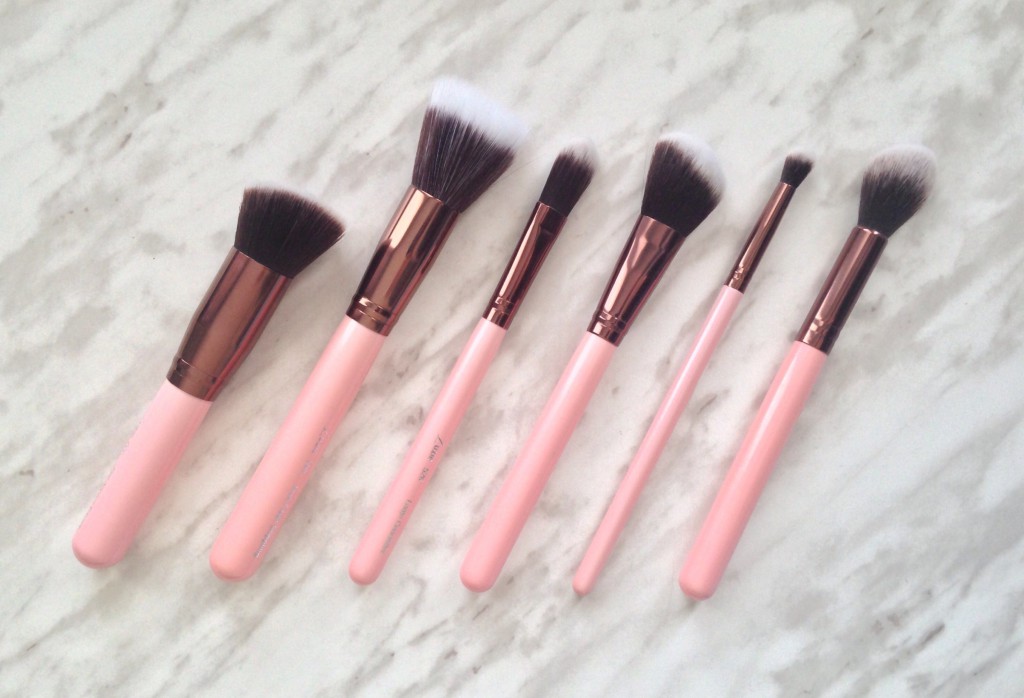 Luxie's 522 Tapered Highlighting Brush is another multi-functional brush. It has a rounded top, extremely soft bristles and the perfect density to apply highlighter, contour or setting powder.
I absolutely love highlighters and this is the perfect size to brush on highlighter in two swipes without overdoing it. The 522 also creates beautiful subtle to full contours, great for all face shapes because it isn't large. Lastly, my FAVOURITE way to use the Tapered Highlighting Brush is to apply setting powders/highlighting powders under my eyes and beneath my contour. This is the first brush I have ever come across that is absolutely perfect for setting my under eyes as well as the rest of the areas I have highlighted. The Tapered Highlighting Brush retails for $24.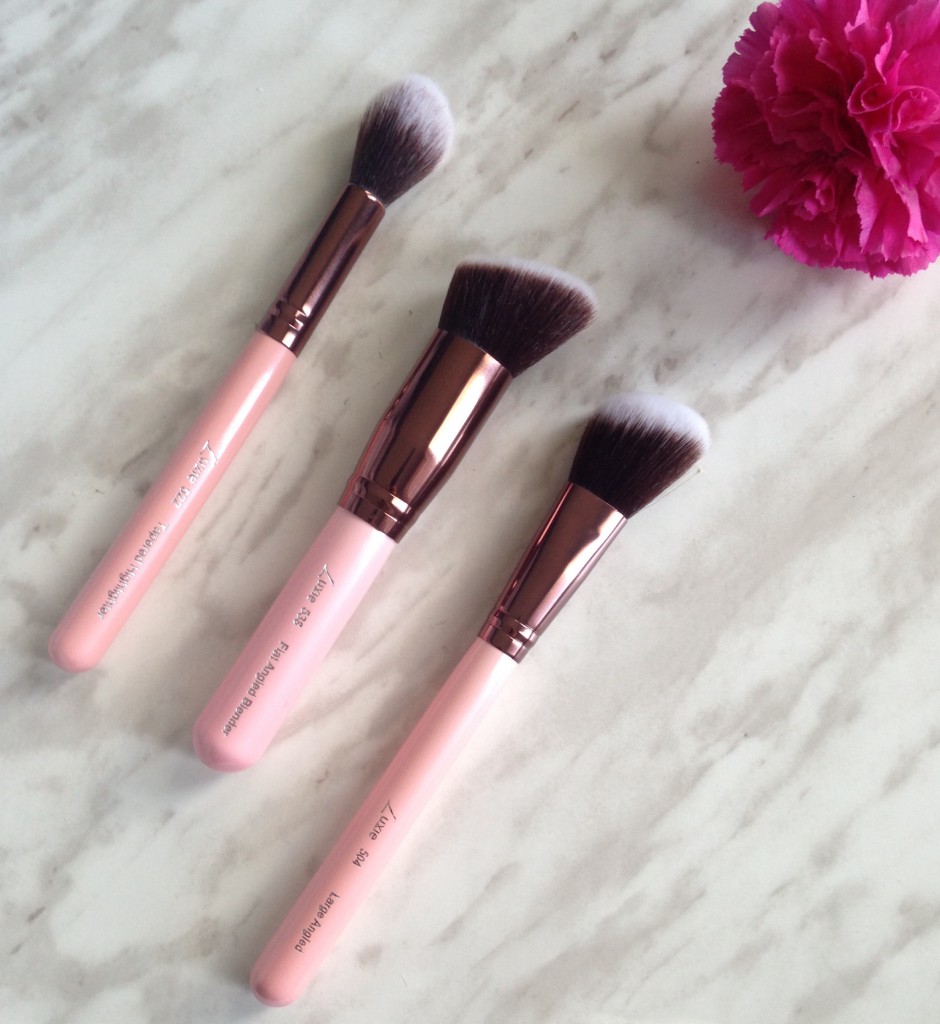 508 Duo Fiber Stippling
There are so many different techniques to applying foundation. You can use a flat foundation brush, kabuki, sponge, stippling brush or so many other tools, it's really based on your preference. I personally find stippling brushes are great when using liquid foundations. I am able to evenly distribute the product on to my face and some how use less product. The stippling brush is easy to blend with and delivers a flawless finish. With the stippling technique, I noticed that any areas I have corrected and concealed under my foundation, the product isn't being dragged when I am blending it. Although, not exactly this size but stippling brushes are great for blush application as well. The 08 retails for $18.
526 Large Concealer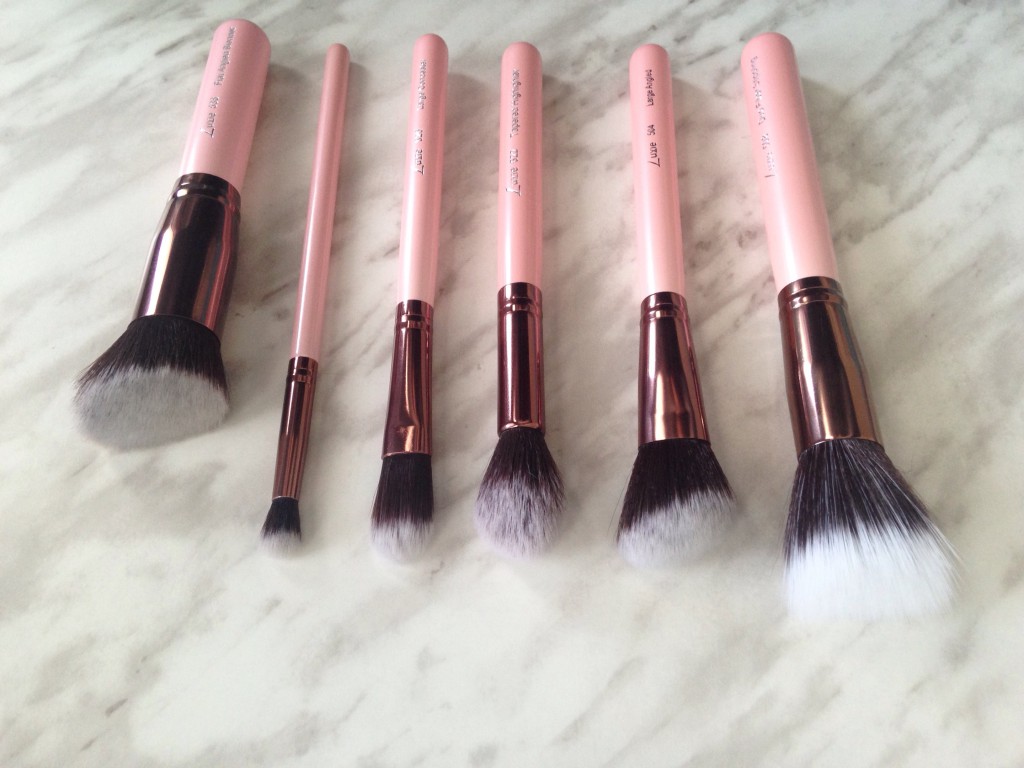 The Luxie large concealer brush is the miniature, slender version of the 510 Foundation Face Makeup Brush. The domed shape and size made me realize that the concealer brushes I have been using all along are too small. The Large Concealer brush works well with liquid or cream concealers. If your concealers don't have applicators, this brush is great for applying concealer to all the areas of your face you highlight/brighten. I really like this brush for its size and it's streak-free application. The 526 retails for $14.
The Tapered Blending brush is that ONE staple brush you need for creating any eye look. The bristles on this brush are dense yet extremely soft, which is perfect for delicate areas like your eyes. It has a rounded brush head which fits the crevices of your eyes like a glove. It blends any product applied to the eye beautifully. I really believe if you're going to spend money on eye brush, it should be on a blending brush. The 229 retails for $12.
Lastly, but definitely one of my favourites is Luxie's 538 Flat Angled Blender Brush. A flat angled, densely packed brush that can be used all over the face, to apply so many different products. Whether you're applying primer, foundation or simply blending everything together for a flawless finish, it does it all!! The 538 retails for $18.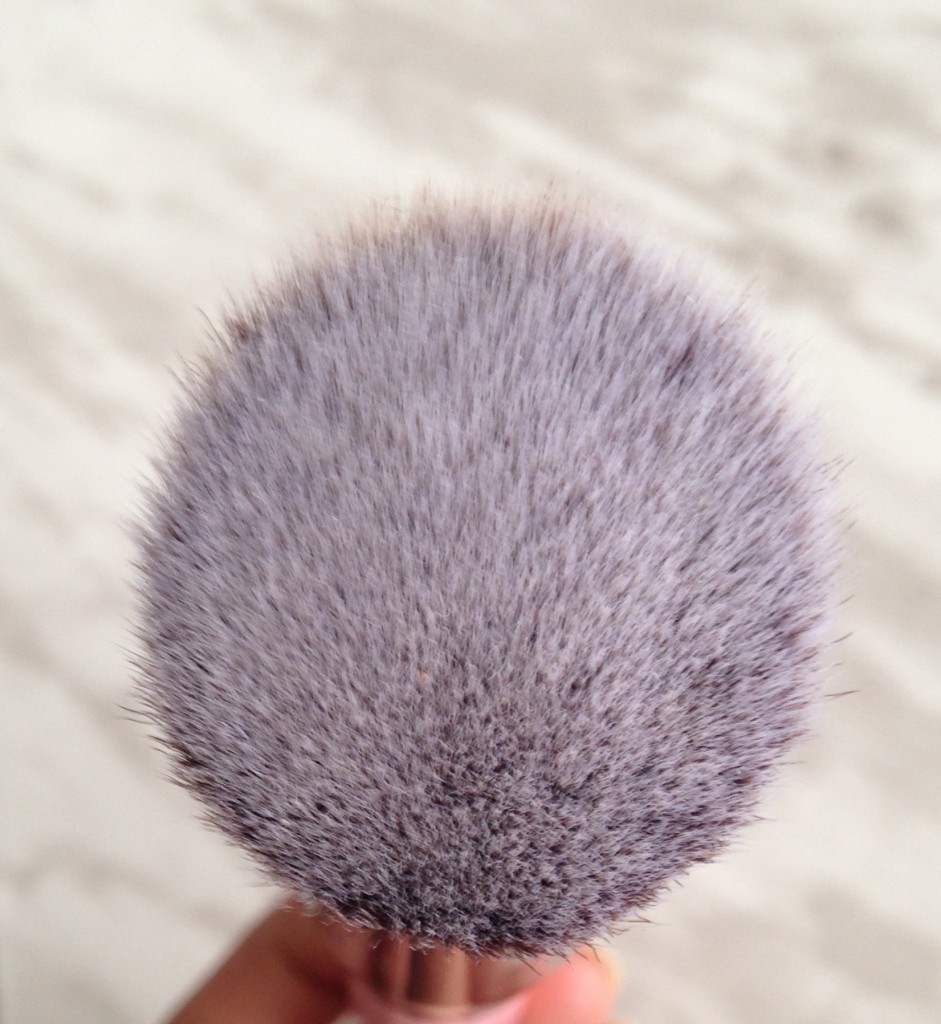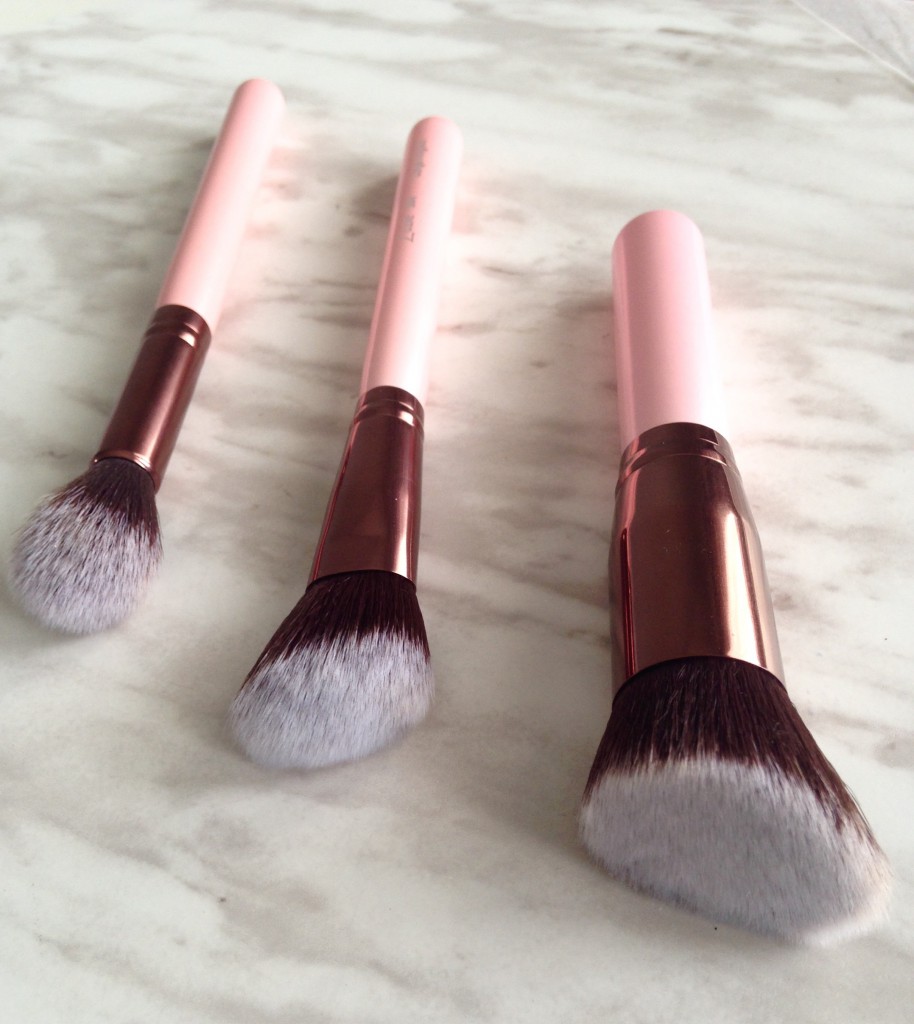 All of the brushes I have tried from Luxie Beauty feel like one solid piece from the bristles to the handle, giving you a great grip while applying your makeup. Upon washing the brushes, liquid foundations, cream products all wash right out and the white bristle tips remain unstained. The key things I look for in makeup brushes!
Luxie Beauty's makeuo brushes are available on www.luxiebeauty.com and you can enjoy a 20% Discount Code by using Discount code: AIISHWARYA to receive 20% OFF your purchase! 🙂
I would love to hear your thoughts on the Luxie Beauty Makeup Brushes and if you would like to check out another review on their Foundation and Large Powder brushes click here.  🙂
Aishwarya