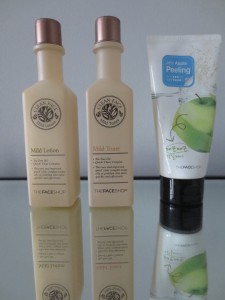 ---
Today I decided to share some products that I purchased from The Face Shop a few months ago. After having used them myself for a little over 2 months.  I can finally say that aside from these three products and my duo from my previous post (clarisonic + charcoal cleanser). My everyday skincare routine is complete. Aside from eye creams and serums which I will get to in another post. All 3 products are from The Face Shop, which is a Korean cosmetic retailer. Products from LEFT to Right are:
Clean Face Mild Lotion Which is a light lotion, perfect for combination, problematic acne prone skin. It absorbs into your skin very quickly and keeps your face moisturized all day, without the excess oil.
Clean Face Mild Toner This toner does what a toner is meant to do, without aggravating your skin. It does not burn upon contact and leaves the skin feeling very fresh.
Jelly Apple Peeling It's a very satisfying feeling to be able to see the dirt and makeup come off of your face. How this product works is that you apply the jelly peel to your washed and dried face. Then you work the product into your skin (massaging it). The liquid peel starts to thicken and turns into large flakes that you can now wash off. It literally feels like all the dirt left with the peel!
I have sensitive skin and very few products suit my skin type. So when I found that these almost natural products worked for me, I definitely had to make it into a post! Hope it helped!