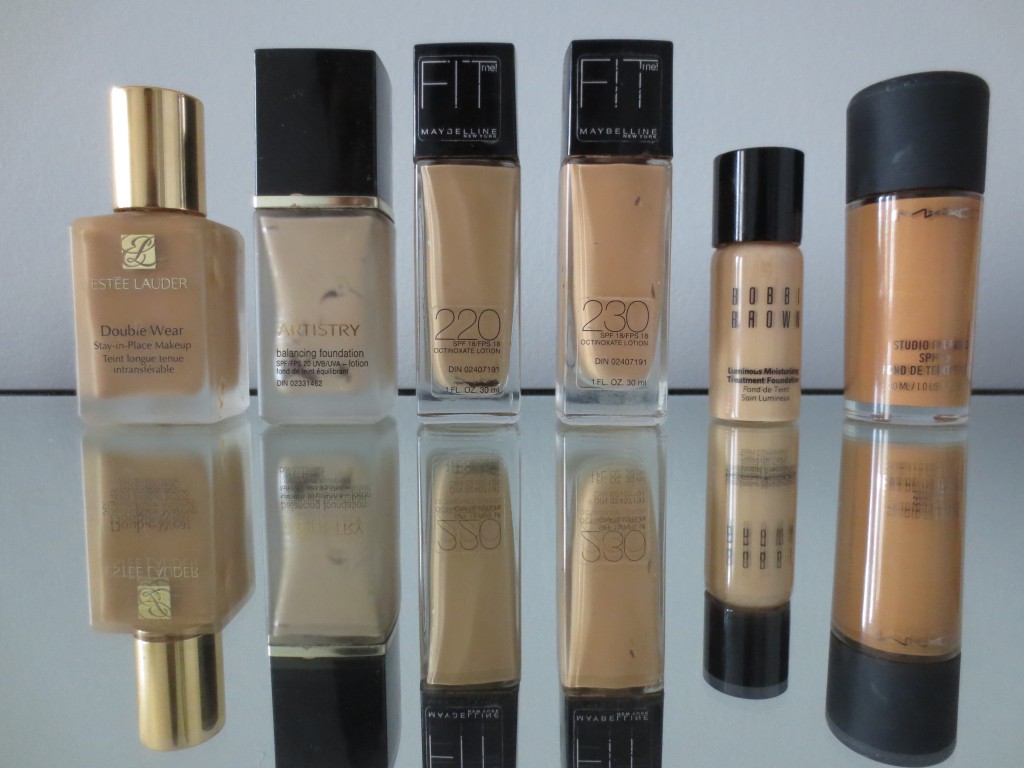 Here comes a review from a girl with imperfect skin. I have blemish scars and dark circles but with a combination of these foundations, I am able to cover everything! Looking at the shades of foundations I have above, you might think I matched myself in the dark lol, but I actually mix my foundations together. This is because my skin colour is difficult to match with just one shade.
Some of the darker shades I apply only to the outline of my face, ie. forehead, cheek bones and jawline. It works like a very natural contour because it is a liquid. The foundations from LEFT to RIGHT are:
Estée Lauder Double Wear Stay-In Place Foundation This foundation once applied, does not move. It only seems to look more like skin as the day goes by. The products says it lasts for 15 hours and I wouldn't doubt it. It's that foundation that makes you not want to remove your makeup before bed because it looks way too good.
Artistry Balancing Foundation This is a thicker, creamier foundation that I like to mix with another one of my foundations to get the right shade. It has excellent coverage and has a matte finish. It was recommended to me by someone who tried their skincare line.
Maybelline Fit Me Foundation in 220 Is a lightweight foundation that provides a good amount of coverage. Combined with a concealer, it's all I need. What I like the most about it, is that it feels like skin!
Maybelline Fit Me Foundation in 230 This is another shade I bought from the Fit Me foundations, to mix with and accurately match my skin during the summertime.
Bobbi Brown foundation in the shade Sand This foundation I mix with practically everything, although I don't use it for coverage, it is excellent for giving off that dewy finish!
MAC Studio Fix Plus Foundation This foundation is not one of my mix-ins but my go to for contouring my face. It does what a cream contour would do but better. Since it's liquid I never had to worry about a sharp chiseled line across my face, it blends in effortlessly. Since I have acne prone skin, I stay away from using this foundation all over my face.
Hope you give these foundations a try, if you're not already loving them, that is! 🙂