Attention all Real Techniques lovers, makeup brush hoarders and everyone else that loses their train of thought when someone says LIMITED EDITION!! I've previously shared reviews on Real Techniques amazing original makeup brushes and the latest launch of their gorgeous Bold Metals line, so you know how obsessed I am with them!! Now, I wanted to share with you this LIMITED EDITION Real Techniques Bold Metals Collection Essentials makeup brush set. This limited edition set will be featured during The Beauty Hour on The Shopping Channel on Tuesday, February 2nd at 8 P.M. To find out more about this Limited Edition Bold Metal Collection tune in!!! 
This set, includes the: EXCLUSIVE 103 angled powder brush, 200 oval shadow brush and the 300 tapered blush brush.
These luxe brushes are not only beautiful but extremely soft! Their bristles are shed resistant and use an advanced pick-up and release of makeup.
103 Angled Powder
an EXCLUSIVE brush, available only through this collection
the largest brush head in the collection yet
irresistibly soft bristles, sweep the natural contours of your face
gold accented handle + ferrule
200 Oval Shadow
full, rounded shape allows for all-over lid application and seamless blending
softer than ever bristles, for our most luxe feel to date
gun metal grey accented handle + ferrule
weighted for optimal control and comfort — brushes have perfect weight distribution when tipped toward the face for use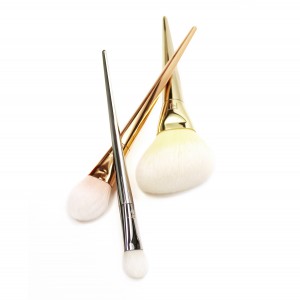 300 Tapered Blush
Specially-designed tip highlights and sculpts across cheeks for seamless finish
small paddle brush design allows for precise application
beautiful rose gold accented handle + ferrule
engineered with perfect weight distribution
You can follow the following social media accounts for further details. The Shopping Channel Instagram, Facebook, Twitter & Real Techniques Twitter, Facebook, Instagram.
Definitely something you don't want to miss out on!!  So remember to tune in to The Beauty Hour on The Shopping Channel on Tuesday, February 2nd at 8 P.M. There are only a limited quantity of these sets!!!
Aishwarya