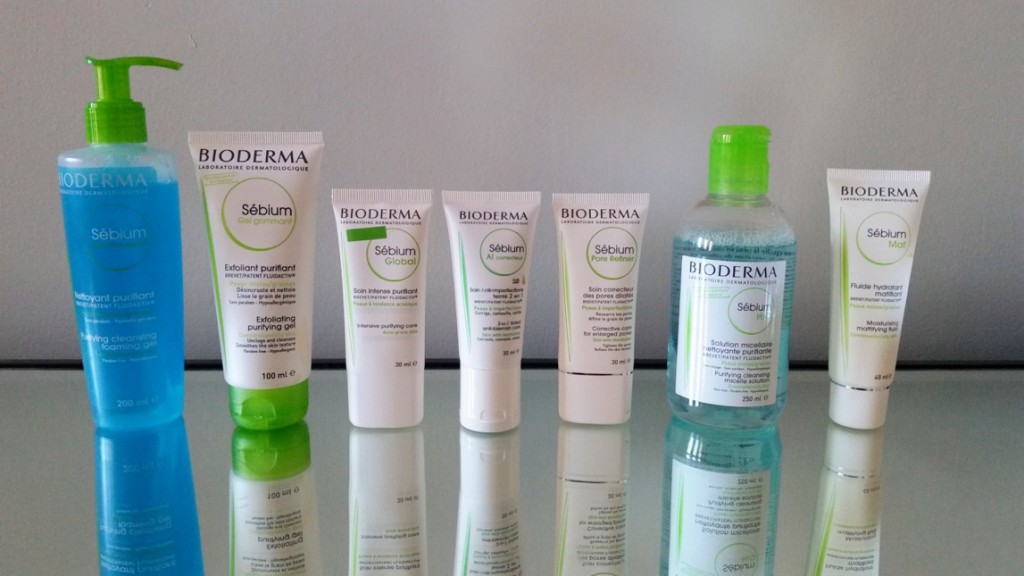 Hello!
Today I wanted to share BIODERMA's Sebium Oily Blemished Skin Review with you. I am reviewing it after having used it for 12 days. Which I know is still fairly early, considering they are skincare products made for blemished skin. But, I would like to put out an initial review because if you have acne, you can start to tell what works and what is simply making your skin worse. The list of products pictured above with  individual reviews are:
Sebium H2O : I was excited to try this because I always heard great things about their Sensibio H2O, which is a cleansing and makeup removing water, meant for sensitive skin. The Sebium H2O is for oily and combination skin, which is what I have. It is very light, as its name implies, with a subtle fresh scent. I use it all around my face and neck. Since it is not oil based, if you're wearing waterproof eye liner or mascara, you're going to have to use another eye makeup remover. It removes everything else quite well. It does not burn or aggravate any open acne, which is a big PLUS when it comes to products meant to treat acne.
2. Sebium Foaming Gel: Since I have tried countless gels, cleansers and you name it in the past, I didn't think this foaming gel could do much. Upon lathering on the foaming gel, it seemed quite light and that it wouldn't clean much. I was pleasantly surprised though. It gets your face squeaky clean! Again, I'm really surprised how such subtle scented products can do so much without leaving you with a skin burning feeling
3. Sebium Global: It is to be applied after you have cleansed with the foaming gel or Sebium H2O. It is targeted to clear pimples and blackheads before they form. I cannot give an in depth review on this because it has only been 12 days and I feel like I will notice it's effects a little later down the road.4. Sebium Al Corrector: It is a two in one product meant to conceal and eliminate your blemishes. When you first open the cap, you will find a green corrector for your blemish/scars. I was quite eager to try this because I have never tried a green colour corrector. I found that a little goes a very long way. It is a creamy consistency and you only want to apply a thin layer on the spots you want to conceal. I learned that I needed to leave it for a minute for it to sort of dry out before I could proceed to the next step. Once you twist the cap off, you will find a fluid tinted cream to apply all over your face. Giving the green corrector some time to set is important otherwise when you go to blend in the tinted cream, you'll be left with a mess. If done right, even my most pigmented acne scar was concealed.5. Sebium Pore Refiner: This product is meant to be used on your T-zone, which consists of your forehead, nose and chin. These areas are where you often find your most enlarged pores. It is recommended to use this product 1-2 times a day. I noticed the most effect on my nose. Previously throughout the day I use to have buildup of oil and after using this, it had mattified.6. Sebium MAT -A matifying moisture cream. Upon initial application I absolutely loved it! I was content with knowing I was not putting excess oils and lotions on to my face. The only thing I found was that because it is matifying and it is now a lot cooler in the Fall. My skin felt a little dry in the day. Otherwise, when I applied it at night and upon waking up in the morning, my face felt extremely smooth and tight.7. Sebium Exfoliating Gel: An exfoliating gel recommended to use 1-2 times a week. I used it with my Clarisonic Mia, and found that it removed ALL of the makeup remnants that the Sebium H2O might have missed. It leaves your face feeling firmer, not in the drying way, which I really like.
My two favourite products from their Sebium line is the Exfoliating Gel and Al Corrector. These products really stood out the most for me. The Al Corrector because I have never tried a 2-in-1 product like it before. As well as the exfoliating gel because it feels like my skin has been renewed after using it. The texture of my skin definitely changes after using this product. Two additional products in this line that might be of use to you are: the Sebium AKN: an anti-aging treatment and Sebium Hydra, which is to treat weakened skin.
Thank you to BIODERMA for giving me the opportunity to try out their line of products for my blemishes. I cannot wait to see the results as I use this product for a longer period of time!
Aiishwarya 🙂