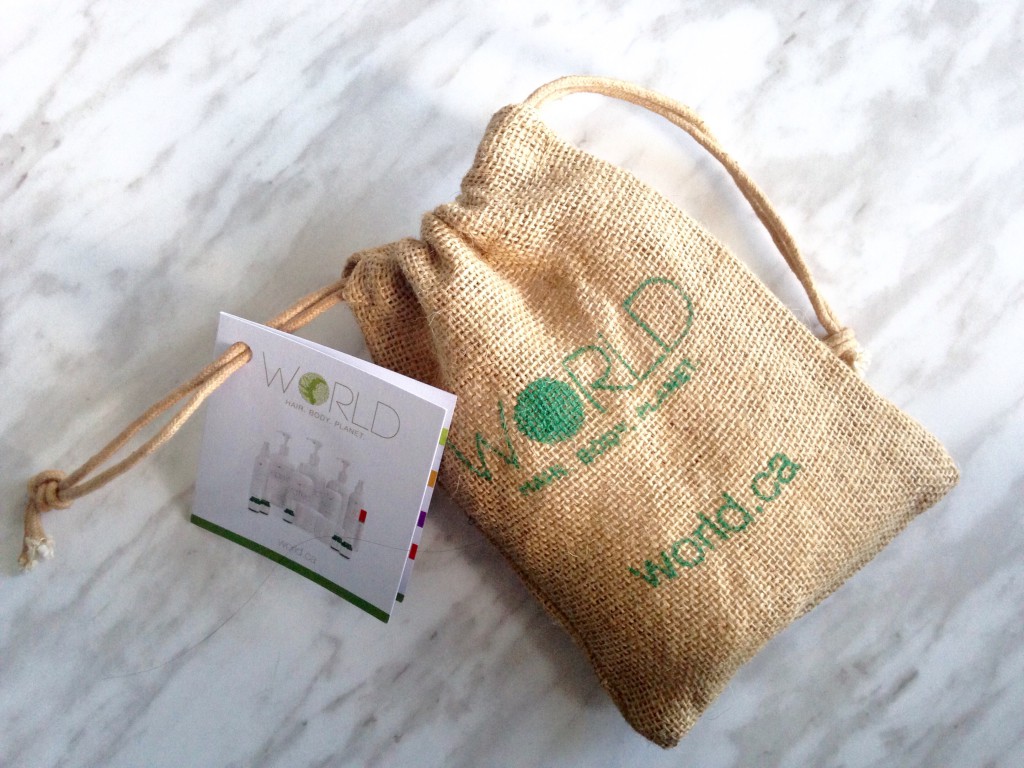 I adore gift sets, I think they just have a ton of benefits to them. One being that you get to try out more products and find one out of the bunch that you really like. One such gift set is this adorable gift set by World HairandSkin. World HairandSkin is a Canadian brand developed around 'Clean beauty'. Free of harmful chemicals and fragrance, making it gentle enough for everyone to use. They promote a simpler way of living and you'll see exactly how.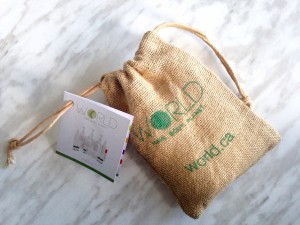 This is definitely a first for me as when I pick out a shampoo and conditioner, I'll sniff out which one smells the best but World products have absolutely no scent to them.
The World Travel Trio gift set includes 3 of World's best selling products, which are CLEAN 60 ml, PROTECT 60 ml and BELIEVE 6 g, all in an adorable World burlap bag.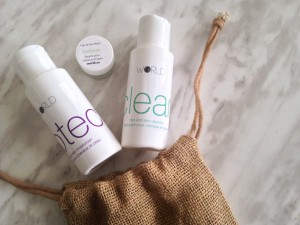 CLEAN 60 ml:
This product can be used to wash your hair and cleanse your body. Men, women and children can use this. The ingredients consist of many Vitamins to moisturize and ultimately strengthen hair. As well as extracts to maintain the soft texture of hair. I was also surprised to read in the list of uses, that it can also be used for shaving and as a make up remover!!!!
Seeing that the shampoo had so many uses, it's safe to say Protect does too. This is a light, plant based moisturizer that can be used as a (brace yourself for the long list of uses) conditioner, a styling product for hair, moisturizer for your skin, gentle make-up remover and shaving cream.
The texture is not at all greasy and I can see why it is useful for so many things.
The Believe Hair and Skin Balm was the smallest product out of the set, packaged in a tin container. This balm claims to reduce inflammation, soothe irritated/damaged/stretch marked skin. As well as work as a hair styling product. The most interesting use for this balm that I read was that it helps to soothe mosquito bites.
The World Travel Trio gift set retails for $20. As mentioned above, each of their products have countless uses and if you want something that is beneficial and cost effective then this is for you.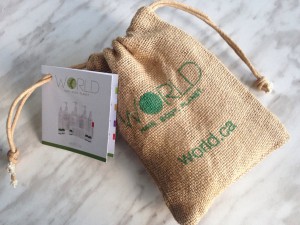 They don't test on animals, gluten free, chemical and fragrance free, almost completely vegan (aside from the use of beeswax in a few products), packaging is completely recyclable and the list goes on of great benefits.
Everything about this line is so simple. When things are free of everything, it is hard to compare or comment, when you take away scent but I hope you found this post helpful. I am really big on fragrant products and it's nice to know that the option of adding scent to these products is available.
You can check out their full line of products on www.world.ca
Aishwarya