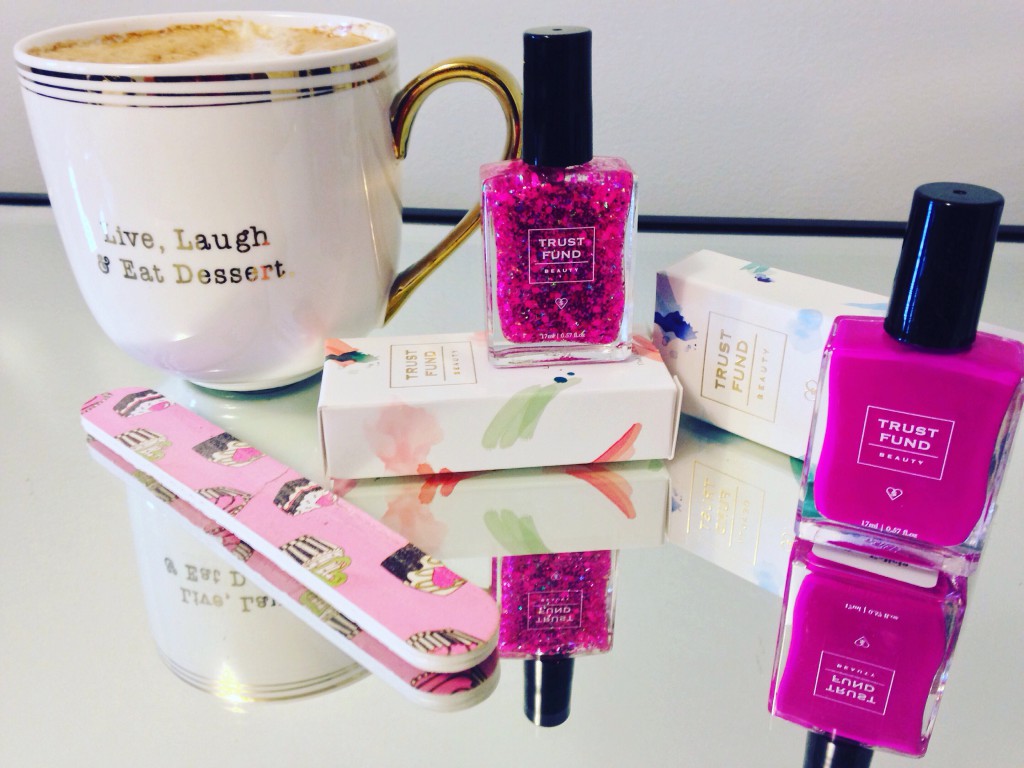 Good Evening!
I wanted to share with you all, details of the Trust Fund Beauty Nail polishes, that I posted about on my Instagram last week. If you're not already following me, please do check out my account at @aiishwarya.s 🙂
I spent a gloomy November morning with my favourite latte and these gorgeous Trust Fund beauty nail polishes.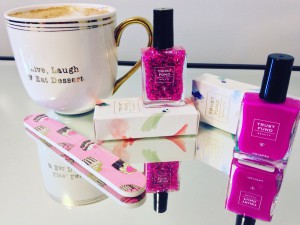 Trust Fund Beauty is a Canadian company (woo) with a line of gorgeous nail polishes. They are definitely a brand with sass and attitude. You'll see that the moment you read their product names and descriptions. Their polishes are vegan and they do not test on animals or use animal products or bi-products. They are 5-free, which means free of toxic ingredients. If you're interested in their list of ingredients then you can check out the list here. Not to forget extremely witty! The two nail polishes I tried out were the shades I Woke Up Like This & BYE Felicia.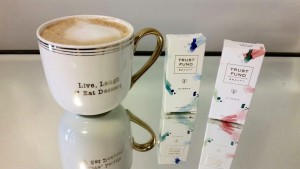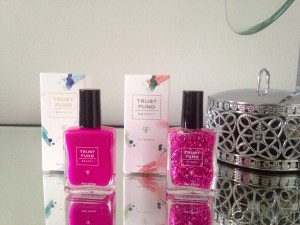 I woke up like this is a pink glitter, perfect for an accent nail or all around. Bye Felicia is a gorgeous bright purple.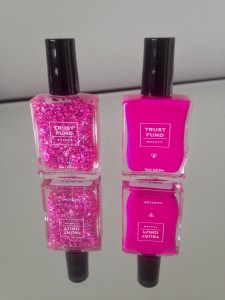 If you're a total sass ball like me, then you're sold at the names. They have the most eye catching packaging, with a colour selection to fit everyone's taste. Their polishes come packaged in a white box, with water colour designs all around, stamped with their logo in gold lettering.
The bottles are a rectangular glass, filled with 17 ml of nail polish. They retail for $15.00. A little more than your average drug store nail polishes but when you know exactly what goes into the products you use, spending a little extra is always justified. They also have a "Get Spoiled Monthly" monthly subscription box. They are 3, 6 or 9 month long subscriptions, where you receive 2 nail polishes a month, one which is your choice of colour and shipped to you for FREE.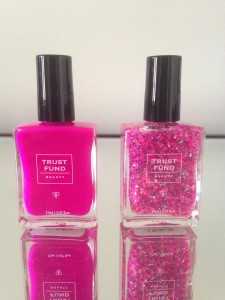 I absolutely love how their products are displayed online. Their colour swatch is true to the actual colours. What you see online, is exactly what you get. Which is very satisfying when it comes to shopping online. The nail polishes have excellent coverage and are very pigmented for even one coat. I didn't apply a clear top coat and I didn't find any chipping until 4 days after. Trust me, I'm not a delicate daisy. I found that the polishes also dry a lot faster than my other nail polishes. Nothing bores me more than waiting for my nails to dry. I'm that person that always has to promise the ladies at the nail salon, that I'll be careful with my nails because I can't sit through 20 minutes under the dryer lol.
I hope you enjoyed my review! You can browse the gorgeous Trust Fund Beauty Nail Polishes at www.trustfundbeauty.com. I would love to know if you have tried their Nail Polishes and what shade you absolutely adore! 🙂
Aiishwarya