Early last year, I was introduced to the brand This Works, for their sleep improving products. Which I am so, so grateful for! As its become a range of products myself, my friends and family cannot go without. Fast forward to now, I recently got to test out the NEW This Works Morning Expert Range!
The Morning Expert range was created to address morning skin concerns. Some of mine include puffiness and dullness. I took a moment to reflect on the types of products I prefer to use in the morning versus at night. I realized I had a preference for invigorating, freshly scented products that would help facilitate the 'waking up' process even after I'm out of bed.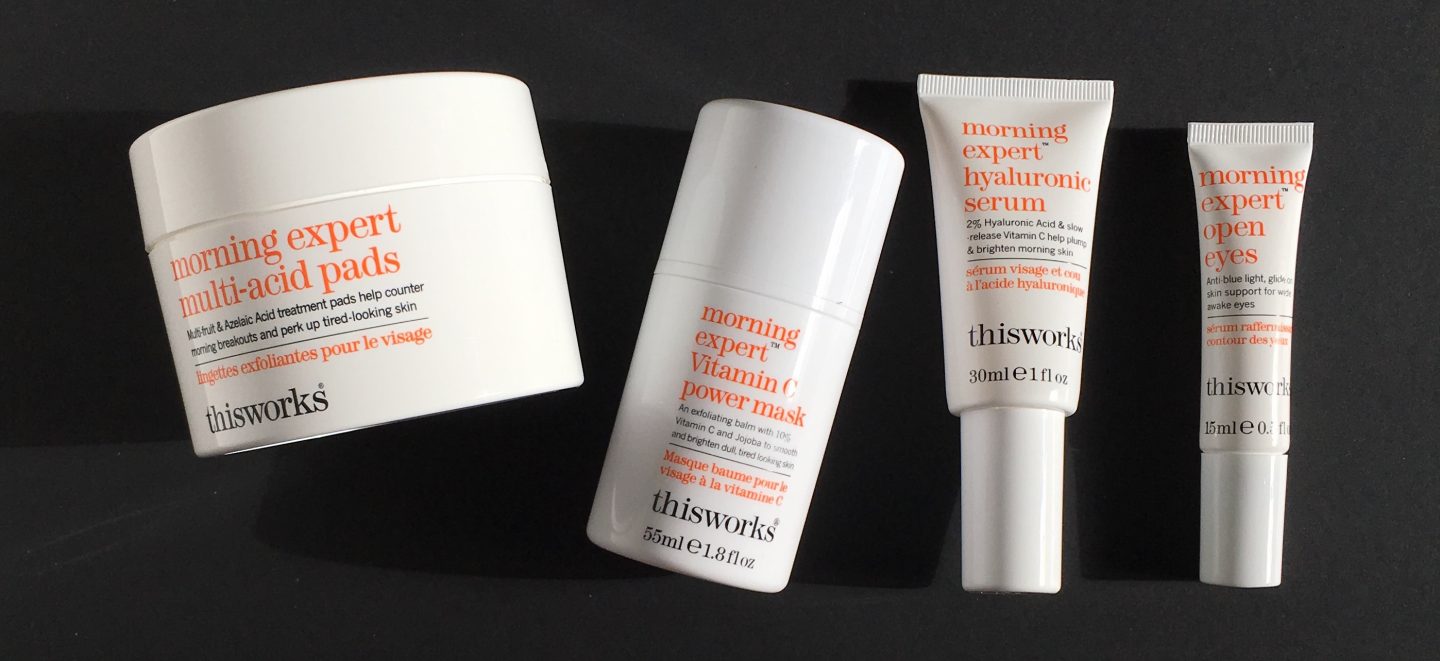 The Morning Expert range, contains a "Superblend of anti-skin-fatigue natural actives and brain sharpening essential oils – or a functional fragrance". To help with both an inner and outer glow.
Starting off the review with the Morning Expert Hyaluronic Mask. Which is described as 'an invigorating exfoliating mask with 10% Vitamin C and Jojoba to smooth, cleanse and vitalise lack-lustre skin'. My first impression was that it doesn't have the traditional mask consistency but rather more like that of a scrub.
It's a gel like consistency with micro beads. The directions suggest dampening your fingers and working the product on to your face. Then leave it on for 10 minutes. I have about 2 minutes to spare in the morning, so that's all I can give it, 2-3 times a week.
The results are definitely instant. I noticed a much brighter and softer complexion. Plus the mild exfoliation helps prep my skin for a smoother makeup application. Morning Expert Hyaluronic Mask retails for $60 CAD.
Morning expert Multi-acid Pads
These blemish pads use blemish busting acids to help unclog pores and provide a radiant glow to the skin. Ingredients like the vitamin Niacin help with radiance and Liquorice root helps to calm any active breakouts and inflammation. I absolutely adore these in the morning! It truly is like a kickstarter for your skin.
Morning expert Multi-acid Pads retails for $50 CAD.
Next up is the Morning Expert Hyaluronic Serum. Intended to brighten tired looking skin, this serum can be worn under makeup. I will say it definitely helps with the appearance of firmer looking skin. However, if you're going to be wearing this under your makeup. I would suggest not over-working it in to your skin. As it tends to start flaking.
Morning Expert Hyaluronic Serum retails for $57 CAD.
Lastly, but definitely one that caters the most to my skin care concerns is the Morning Expert Open Eyes.
Ingredients like Giant Kelp and Persian Silk Tree to help de-puff and brighten eyes. Whether I get 4 hours of sleep or 8. My eyes will have you guessing which one it is. My eyes are always puffy in the morning, more than the average person.
The metal application on the eye cream is life changing. The cooling touch helps facilitate the de-puffing process, much more quickly than with the cream alone. Morning Expert Open Eyes retails for $45 CAD.
The This Works Morning Expert range is available online, exclusively at Sephora.ca.
Samples kindly provided. All opinions are my own.