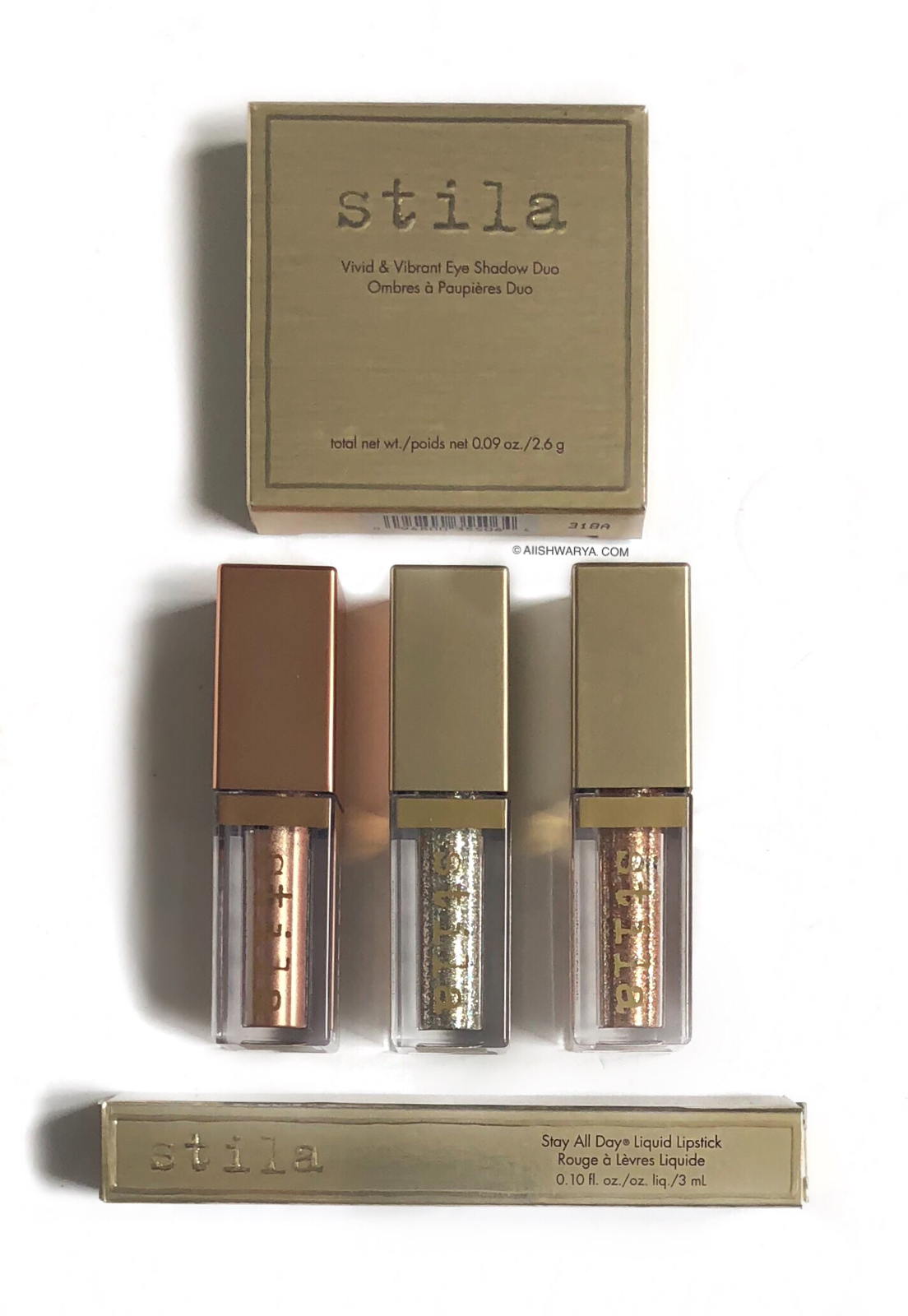 How is it mid-October already?!? With November just around the corner, it officially marks the beginning of the Holiday season for me. With the blink of an eye it's Christmas and then hello new year! Since many, actually pretty much all, Holiday products have already hit the stores. I wanted to share some  Stila Cosmetics Newness with you.
The Stila Cosmetics Newness I'm bringing to you today, includes:
Magnificent Metal Glitter & Glow Liquid Eye Shadows aren't a new release. However, they are a new addition to my collection. Currently available in 16 shades and retailing for $31 CAD.
I tried out the shades Diamond Dust and Kitten Karma.
Stila Diamond Dust Magnificent Metals Glitter & Glow Liquid Eye Shadow is a platinum silver shade with an immense amount of silver and gold flecks. There isn't any base colour, but rather a clear 'gel' if you will, holding the glitter together. Stila refers to this as a 'water infused texture' and the description is bang on. Which means it'll look best when applied to an opaque base. Otherwise it'll look quite unevenly applied if worn by itself. It looks absolutely stunning when applied over top of eye liner. I used a very fine eyeliner brush to apply it directly onto the liner base. The liquid consistency takes some time to dry down, so you have plenty of time to perfect your application. It wore for well over 10 hours, with little to no fall out.
Stila Kitten Karma Magnificent Metals Glitter & Glow Liquid Eye Shadow is a rose gold shade, with copper and silver flecks of glitter. Kitten Karma compared to Diamond Dust, this has a semi-opaque colour base to it. So you could potentially get away without applying a base shade underneath. It has the same consistency and dry time as the shade above. It's absolutely stunning on the lids and I'm quite surprised at how toned down it appears, given its glittery formula. Although its intensity and colour payoff can just as easily be amped up. I paired this with a nude'ish clear gloss, to keep my eyes as the focal point.
Moving on to the Shimmer and Glow Liquid Eye Shadow. Which is a new release and is available in 17 shades. Each liquid shadow retails for $31 CAD.  
I tried out the shade Kitten, which is a rose gold shade with pink undertones and metallic finish.
Compared to the Magnificent Metals, the Shimmer and Metals has an opaque colour payoff. The applicator is the same sponge applicator. With this formulation you have slightly less time to perfect and work the product on to your lids, the way you want it, before the product sets.
I can best describe it as a 'liquid glow jelly'. A little definitely goes a long way, so refrain from applying too much at once on to your lids. The Shimmer & Glow shadows can easily be layered to increase the intensity or paired with other shadows.
The texture is thin and granted it's 'water infused texture' description, provides a lightweight feel. It wears incredibly well; longer than you probably need it to last. With no transferring.
Vivid and Vibrant Eye shadow Duo is also a new addition to Stila's line up. Currently available in 10 shades. Each eye shadow duo retails for $26 CAD.
The shade I tried out is Amethyst which couldn't be anymore perfect, as that's my birthstone!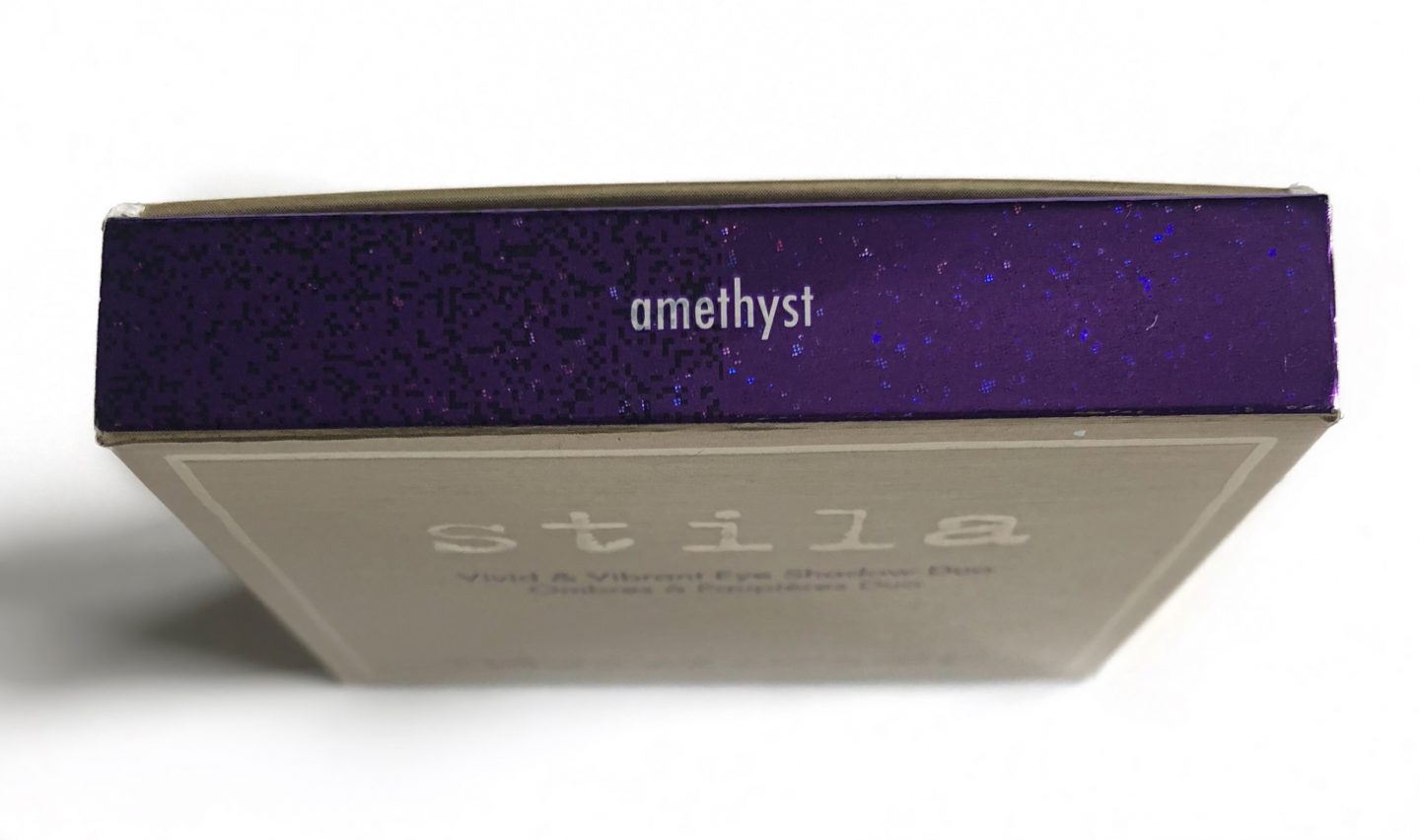 The shadows come housed in a duo compact. The two shades are split down the middle, one with a velvety sparkle finish and the other is a bold, metallic finish. Just a note that they're both the same shade, just with different finishes. Which allows you to add dimension to your eye look, while using the same colour.
The shadows are incredibly pigmented, however given it's glittery formulas. There is quite a bit of fallout. I would definitely recommend using an eye primer or eye shadow base.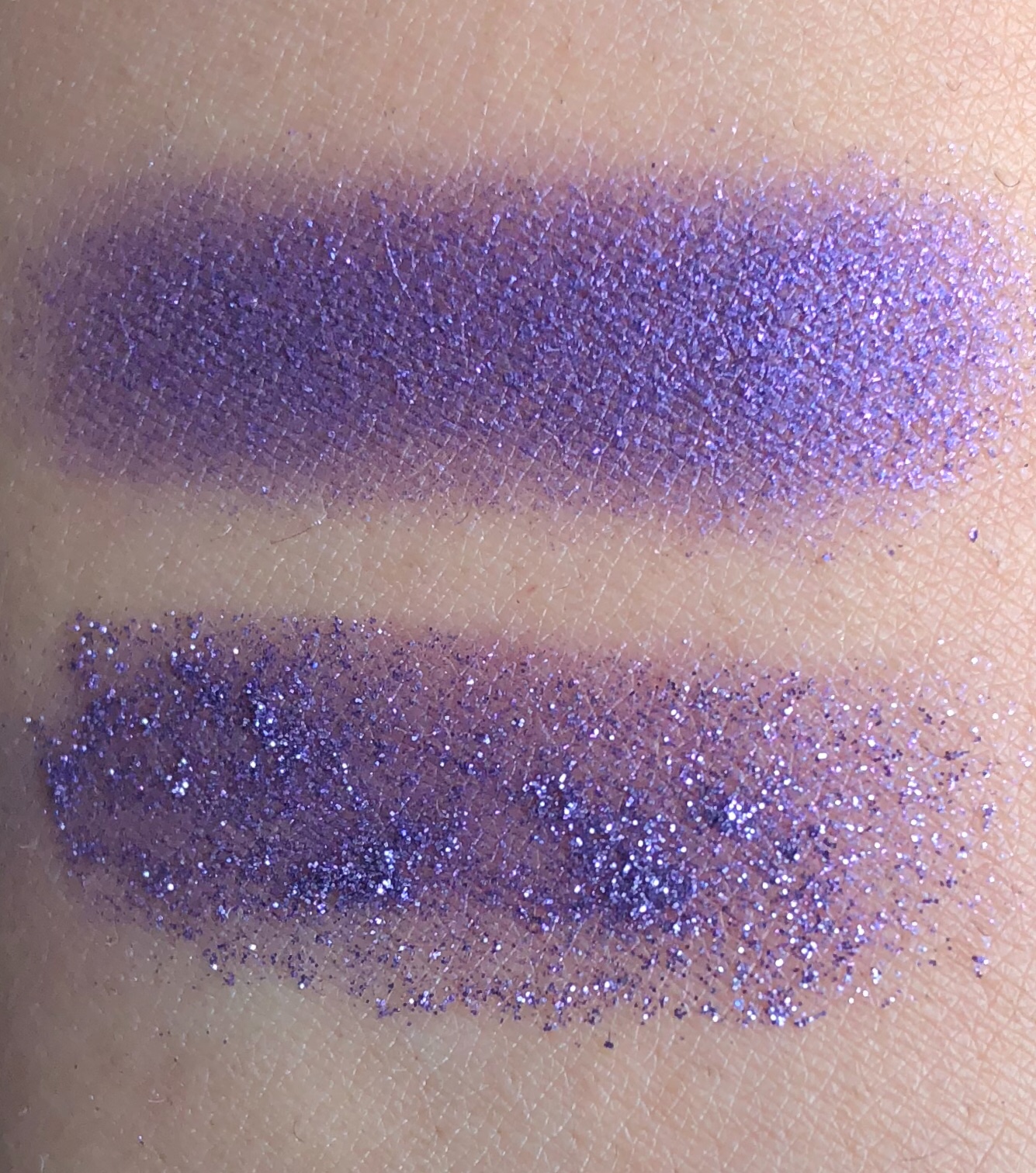 Amethyst is a very bold shade and hence why it's appropriately a part of the Vivid & Vibrant Collection. So it's a colour I'd rarely where, but since Halloween is right around the corner. I'll definitely be putting it to good use!!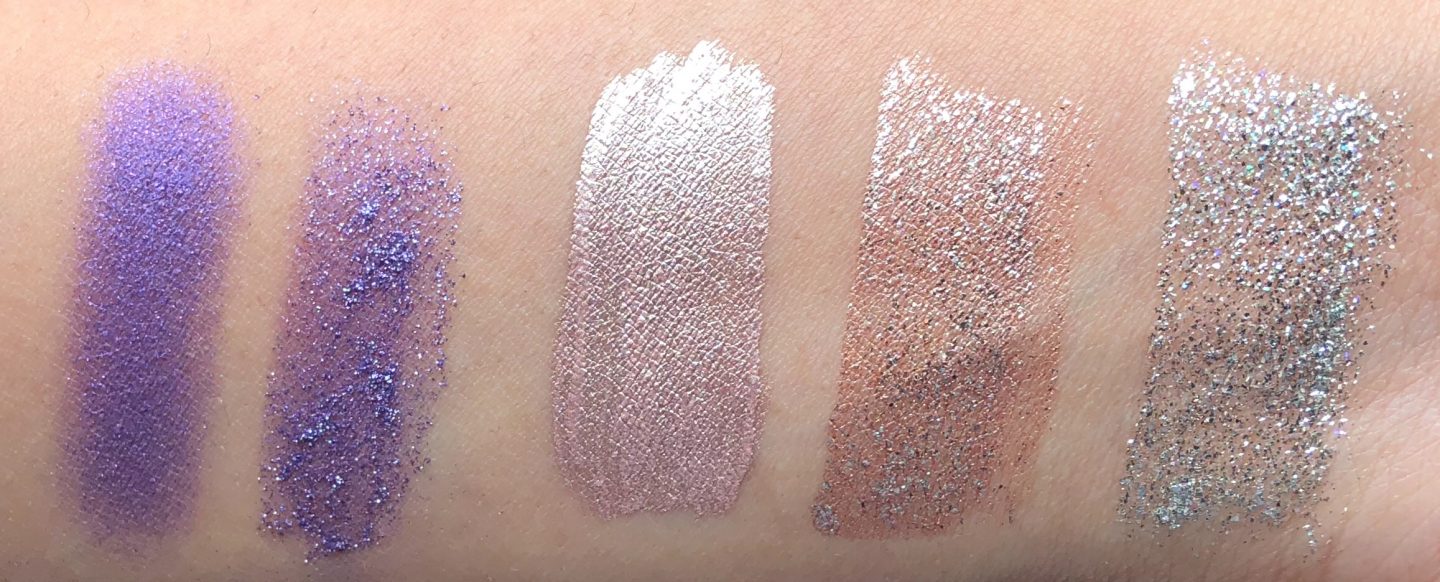 Lastly, but definitely one of the most special products from their line up is the, Stila Stay All Day Liquid Lipstick! One of the very first products I ever tried from Stila was their liquid lipstick. I was instantly hooked after that and got everyone around me raving about the liquid lipsticks as well!If this is your first look at a Stila Stay All Day Liquid Lipstick then here's a quick rundown. This Fall season they launched 6 new shades! Each retailing for $29 CAD.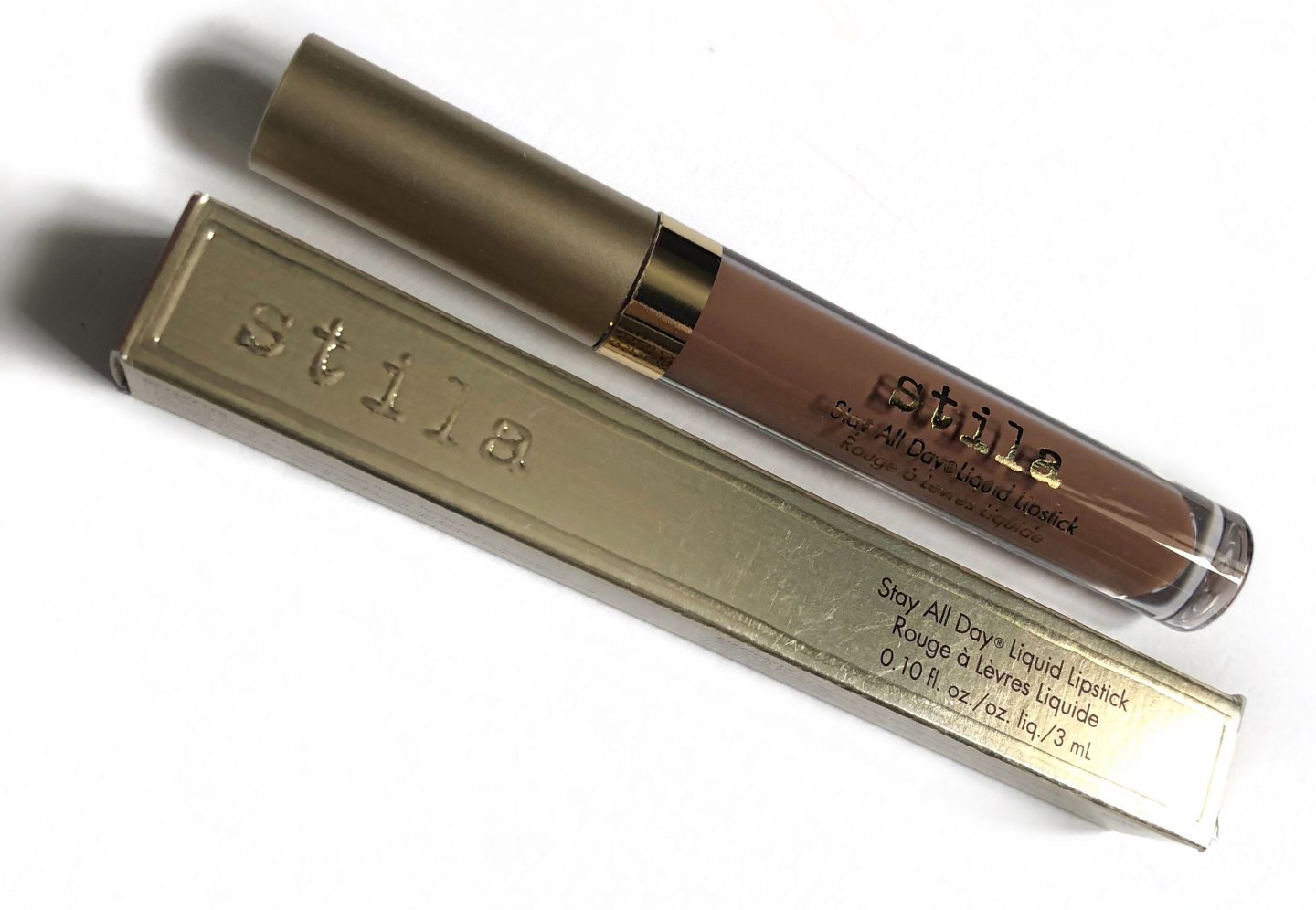 I tried out the shade Fia.​ A muted, medium brown shade.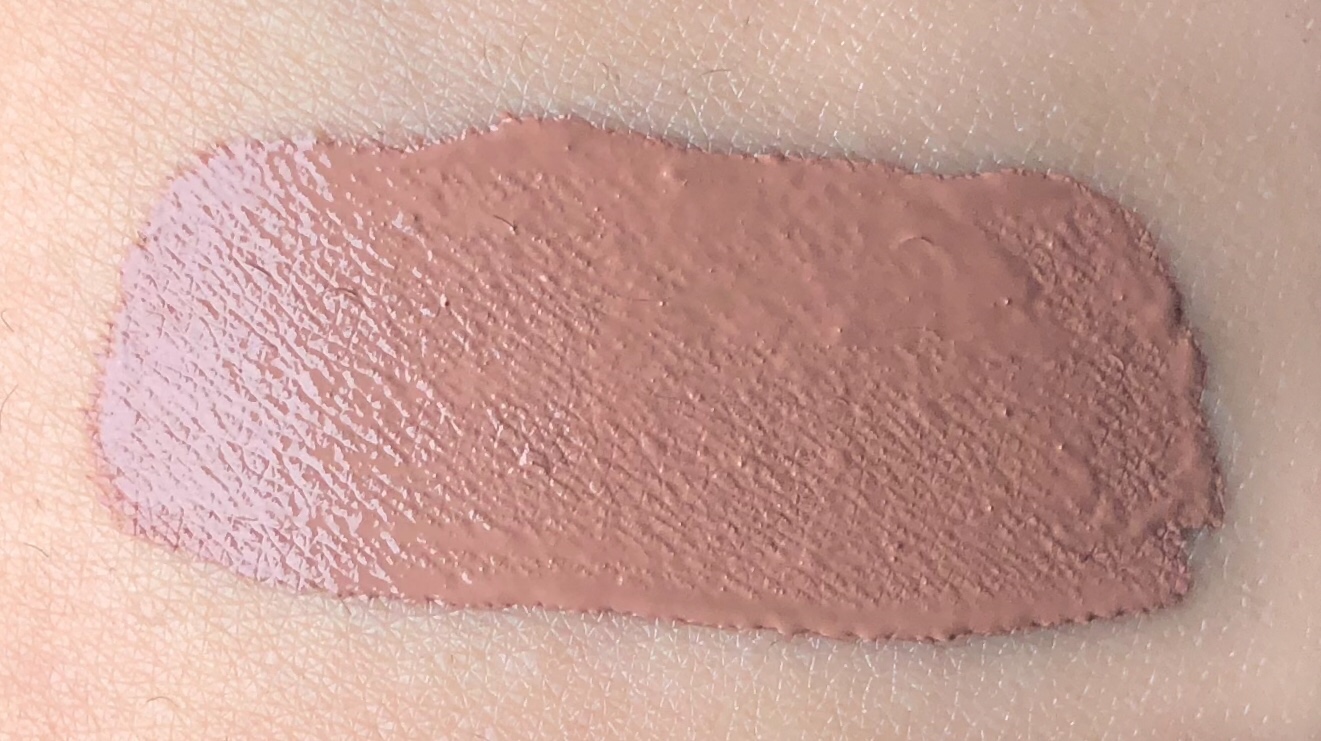 Think buttery formulations, comfortable wear, incredibly long lasting and beautifully matte! I may sound like a redundant infomercial, but this is a product I actually repurchase and gift others, as I know it's an all around favourite.
It'll wear beyond 12 hours and still look like it was freshly applied. I've come home from 16 hour hospital shifts and have been asked if I just applied a fresh lip!!! Formulated with Vitamin E and Avocado Oil, your lips won't crack but rather still be soft. The liquid lip is non transferring and water resistant, so drink away!
I'd love to hear if you plan on or have already picked up some Stila Cosmetics Newness of your own!
Stila Cosmetics is available online and in store at Shoppers Drug Mart, Murale, Sephora.ca, beautyBOUTIQUE.ca, and Stila.ca​.
Samples kindly provided. All opinions are my own.