L'Oreal Infallible Pro Glow Concealer is one of the latest additions to the Infallible ProGlow lineup. A range of 8 shades from pale to dark. It promises to sculpt, highlight, correct, and conceal imperfections with "glowing coverage" for up to 16 hours of wear.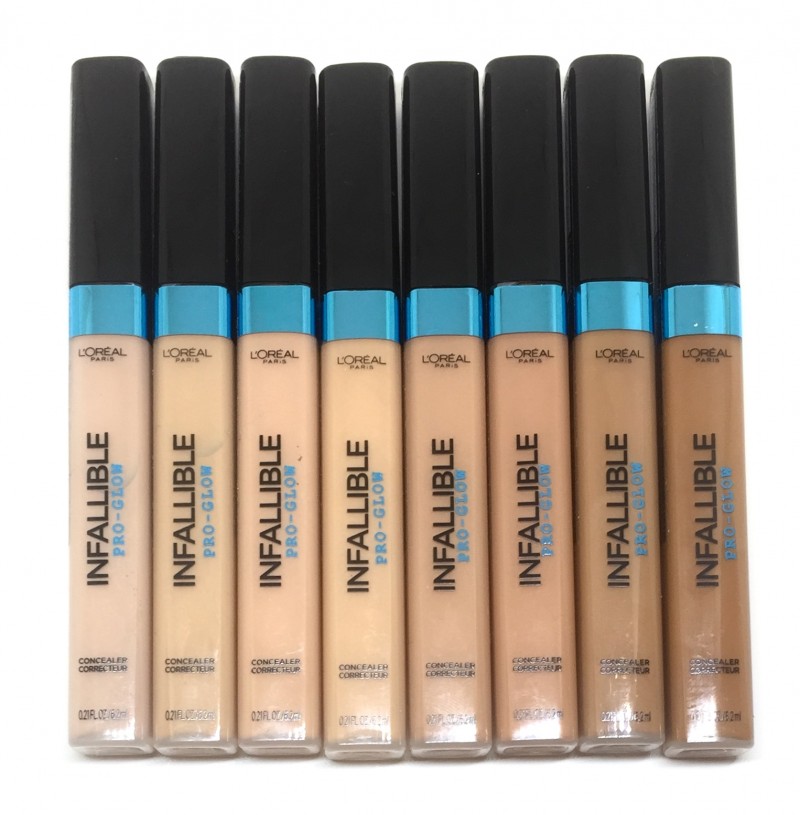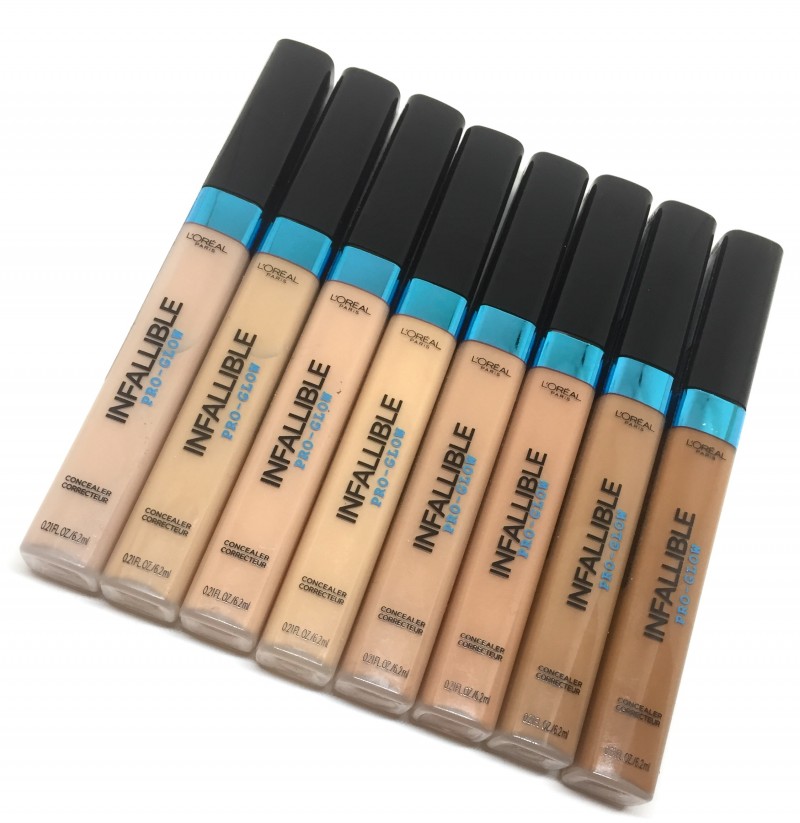 I'm all for any product that suggests it will give luminous, glowing skin. The L'OREAL Infallible ProGlow Concealers seemed to be different from any of the concealers I have tried out lately because they didn't have that matte, full coverage finish I'm used to. They're much more similar to brightening/highlighting pens. Given that it has a much more fluid formula, it allows it to be used multi-purposefully as a contour and highlighting product. Instead of just for concealing.

My first impression was a positive one as I loved the light it drew to my under eyes. Which is a really nice change compared to my full coverage concealers and pressed powders that recently have been making my under eyes appear dehydrated.
The ProGlow Concealers aren't marketed to be colour correcting, full coverage concealers, however you can layer them to achieve your desired level of coverage without appearing cakey.
I tried out the shades 01-08:

L-R: 08, 07, 06, 05, 04, 03, 02, 01

8 shades are not merely enough for an exact match for every complexion out there. However I found the various undertones of the ProGlow Concealers will cater to a lot of people. Providing multi-uses out of one product. For myself, I found shade 04 to be a really nice shade to highlight under the eyes. Shade 05 worked really well to spot conceal and shade 06 to colour correct any pigmented/blemished areas.
With the darker shades I received, mainly shade 08, I experimented with contouring and was pleasantly surprised with the results. I like a subtle contour and with my always rushed makeup application. I'm constantly afraid that I didn't blend in my contour enough. The ProGlow Concealer gives the perfect amount of buildable intensity for your contour. If you're looking for a more sculpted look, simply layer on the ProGlow and set with a contour powder of your choice.

The concealer provides well over 12 hours of wear with minimal creasing.
I genuinely like what the L'Oreal Infallible Pro Glow Concealer does for my dry skin type. Its sheerness just might be the answer for those looking for that no makeup, makeup look.
L'Oreal Infallible Pro Glow Concealers retail for $9.99-$14.99 CAD and are available at Shoppers Drug Mart, London Drugs, Walmart, Ulta Beauty and other retailers where L'Oreal makeup is sold.